This is not a sponsored post. I just really liked it!
Have you ever wondered what it's like to stay in an historic, traditional Japanese building? What it's like to join Buddhist monks for a morning prayer session? When Katie and I were planning our trip to Japan, we wanted to make sure we squeezed in some traditional, cultural aspects of seeing the country. One of the activities that I was able to locate, was spending a night's stay in a Buddhist temple!
Journey to Mount Koya
We started off our journey in the afternoon out of Kyoto. Our journey involved a couple transfers, some trains accepting the JR Pass, others not. As we got further and further from Kyoto, it felt increasingly rural and remote.
We had only one major city we stopped at along the way for a transfer. That was the city of Nara, known for its social deer population. We only had time to grab food in the Nara train station though. We browsed the many food choices, and came across some sushi-looking meal that was wrapped in a green leaf. Naturally, we assumed it was just a wrapper and not to be eaten, but we asked the employee to be sure. She, mistaking what we said, or the other way around, said that we can eat the leaves. We bought some and got back on the train.
While we were riding along, we gave the snacks a try. The leaves were super dry, and had the texture of sandpaper. We both kept chewing until we decided that we just couldn't continue eating the lead and unwrapped it. It turns out that our first instincts were correct and that the wrapper is not meant to be eaten. The other riders on the train must have thought we were crazy!
The trains we transferred onto got older, and less nice as we want on. It was clear that this part of the country did not see as much money or make as much money since they were so far removed from the city. The United States isn't alone in the rural/urban divide.
Hashimoto, Wakayama Prefecture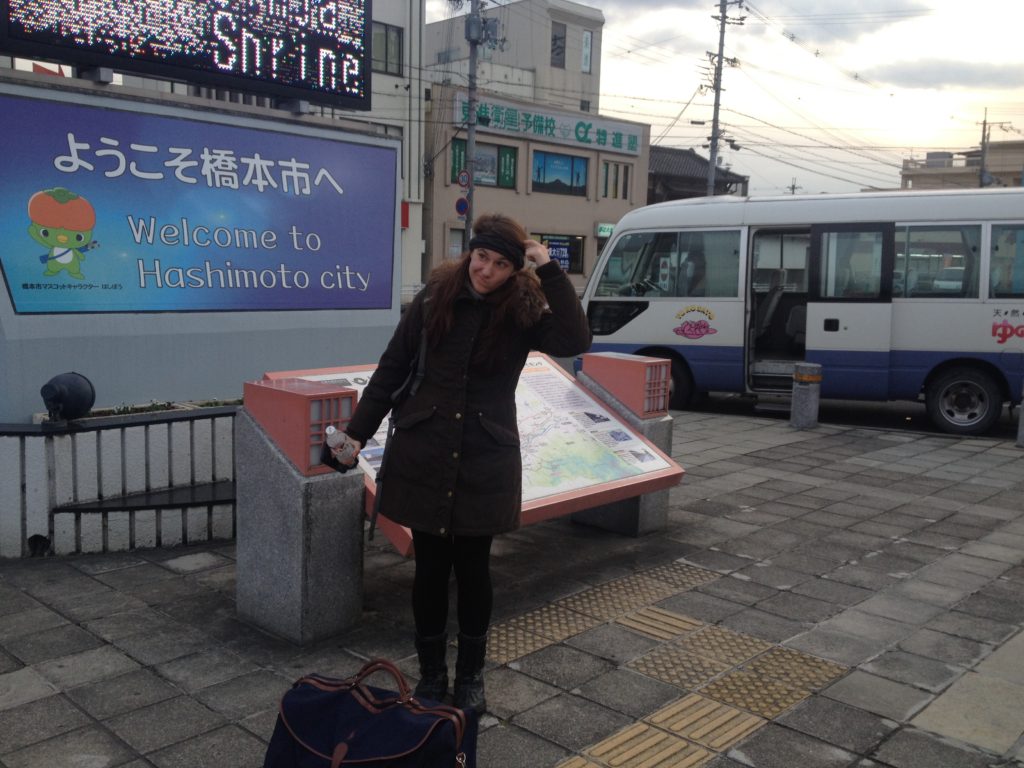 At one of our transfers, we stopped in a small town named Hashimoto and had a half hour to kill. This town looked like time, and the economy, had forgotten it. I feel bad writing that, but it definitely seemed like it suffered economically at some point.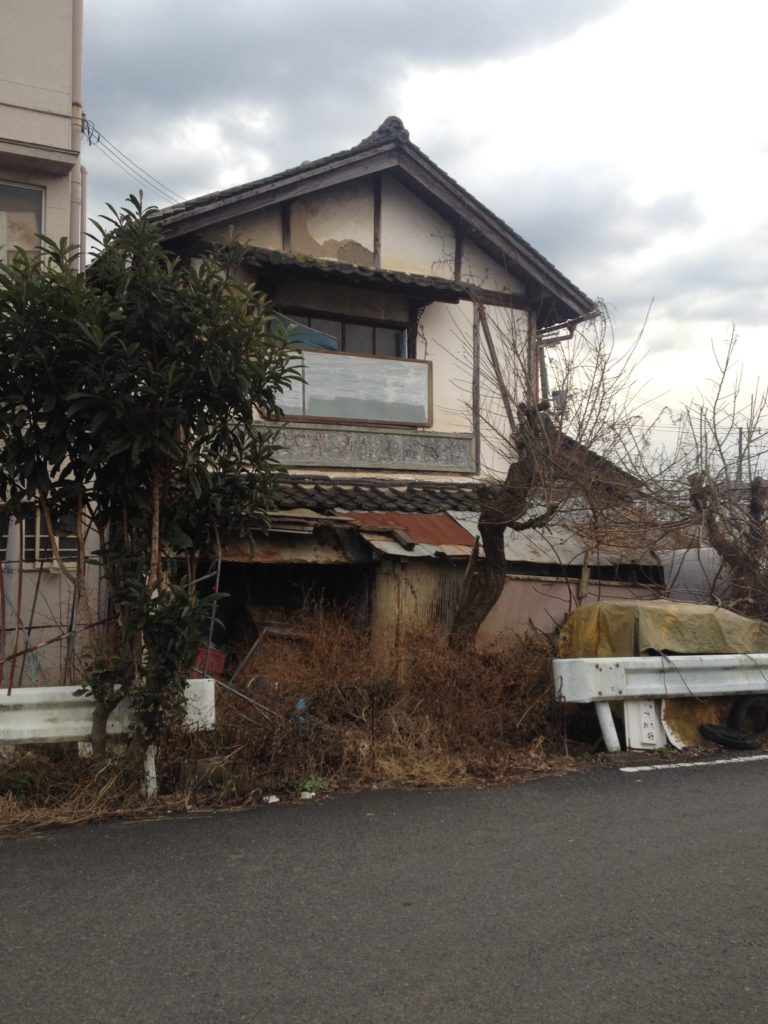 We wandered the streets a little bit, and found a giant dirt pile where a house must have once stood, and a wacky train crossing sign.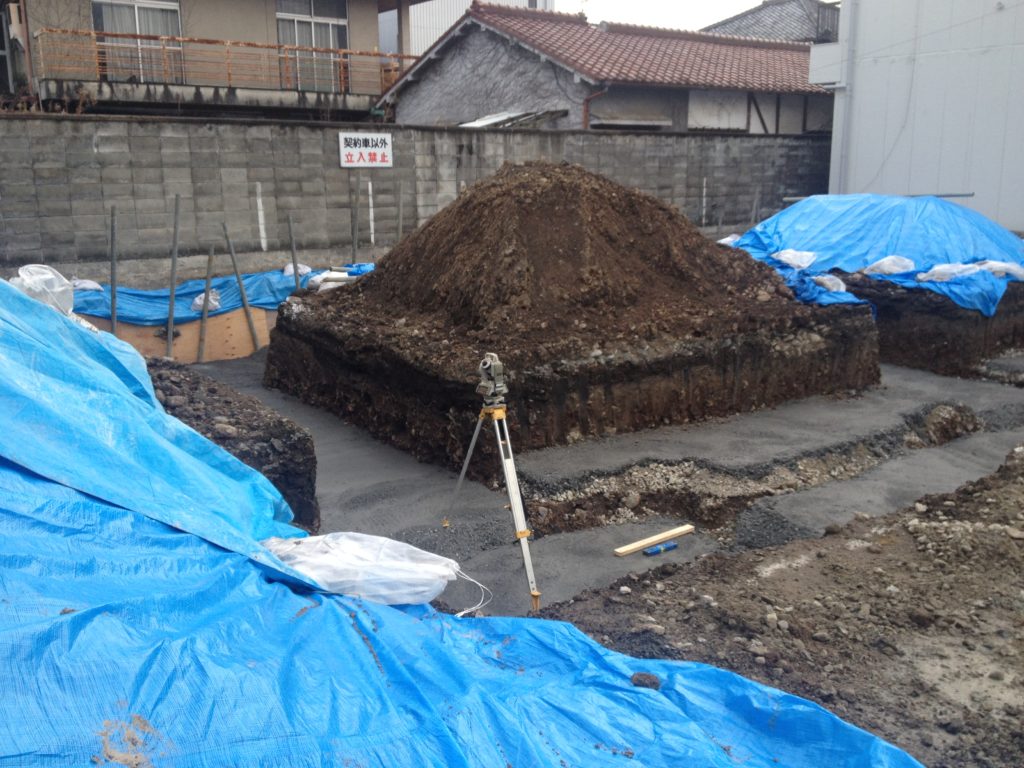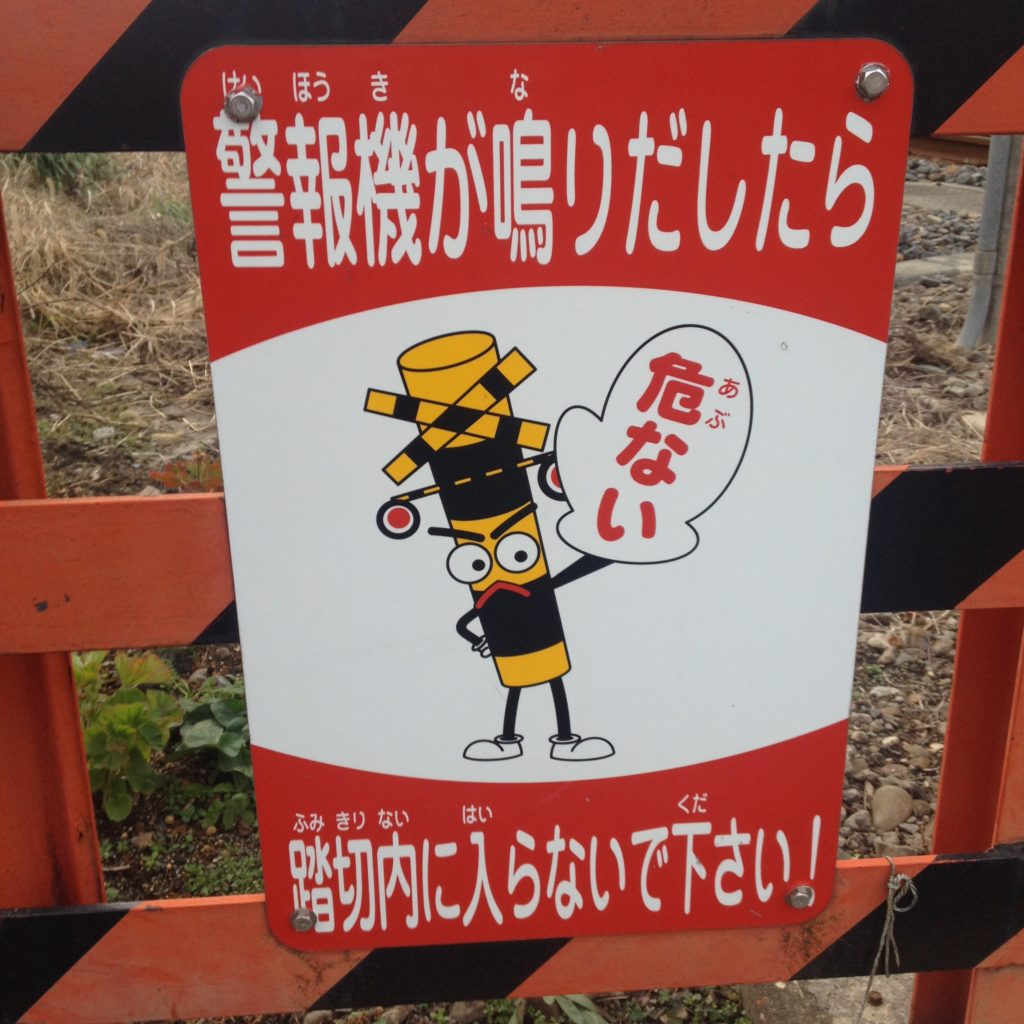 While I was walking along, I heard a child say "Nice to meet you, my name is _____." He was clearly learning English and saw a chance to practice it. I was a little thrown off, since we don't say "nice to meet you" prior to the introduction in America, but it was cute nonetheless. We looked over and there's a bunch of children in a playground, and the child repeated the phrase again so I said hello back to him. I think he had reached the extent of his English knowledge, so he turned around and went back to play. It struck me that for someone living out here, learning English must be difficult to practice as they must rarely get non-Japanese visitors in this small city.
After we strolled a few streets, we headed back to the station for the next leg of our trip. The cities seemed more and more remote. We started to head into mountains with beautiful pine trees. I remember it reminded me a little bit of the mountains in Peru because we were surrounded by them.
As we ascended, we started to see traces of snow. This was one of our many reminders on our trip that we had travelled to Japan in the Winter.
Eventually our train stopped at the last station. It led to a cable car/railway that went straight up the mountain over a 5-minute or so ride.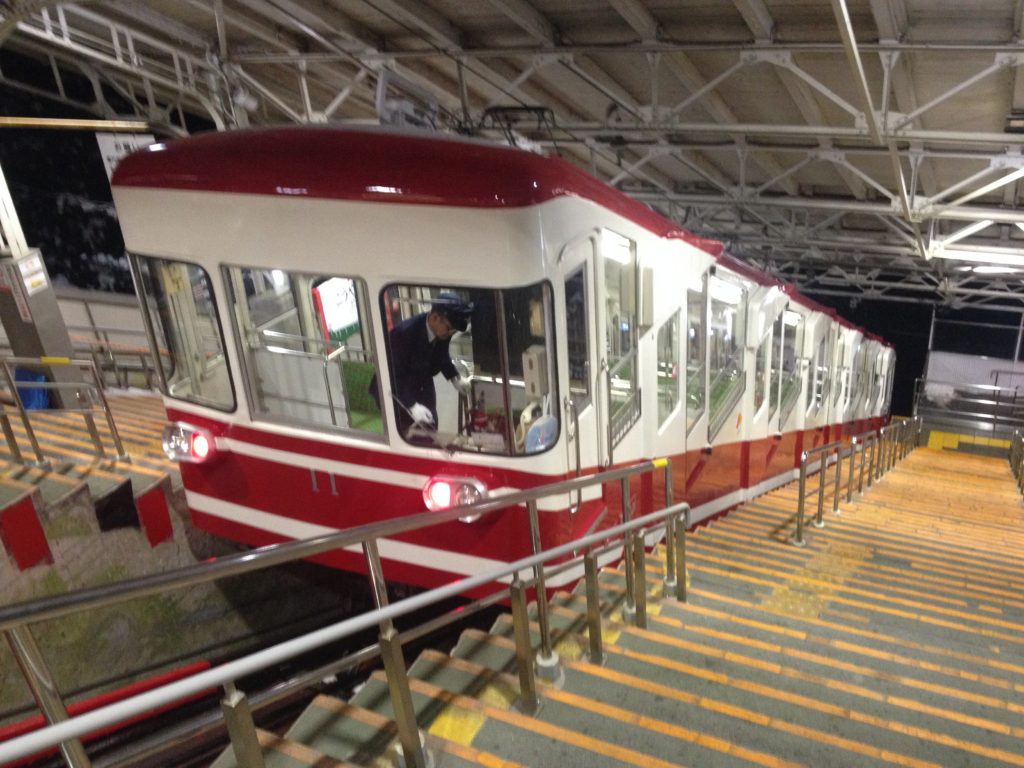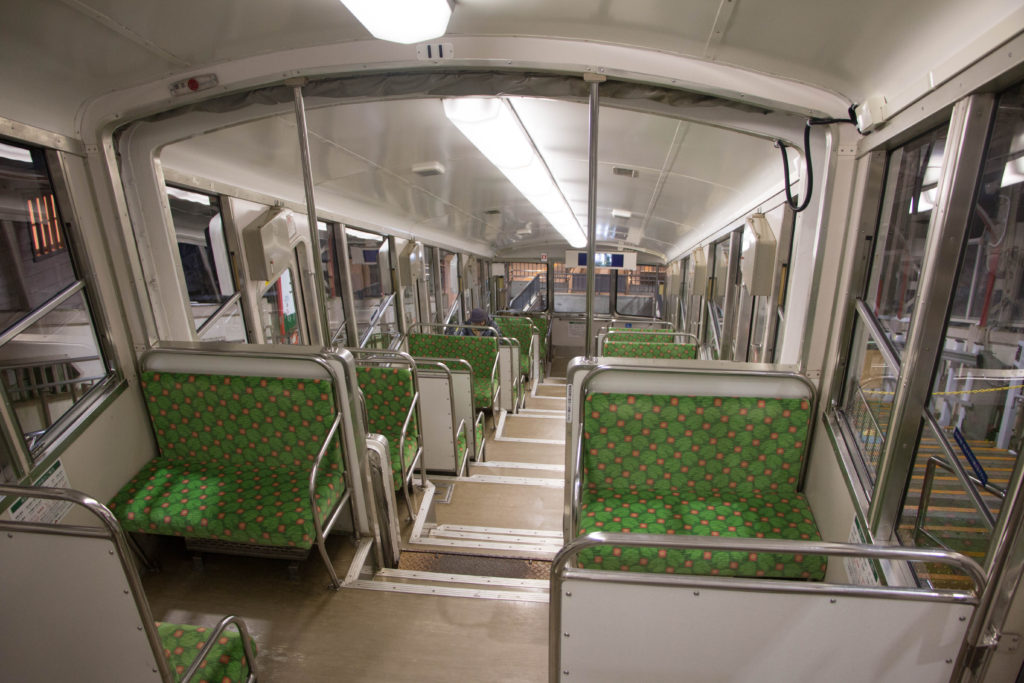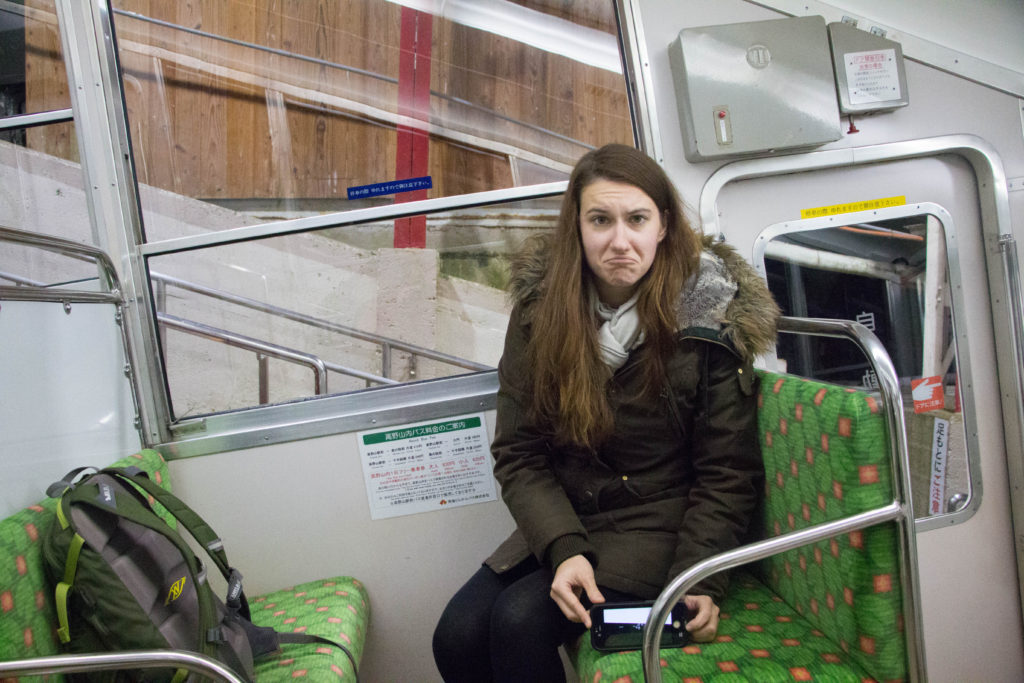 It was night time at this point, and we had a pretty cool trip up a snowy mountain, and then a bus ride to the downtown area of Koyasan, along a windy, snow-covered road.
It was both beautiful to see the snow-covered pine trees, and terrifying to be driving in a large bus on a road that had about 8 inches of snow on it.
Koyasan (Mount Koya)
Located a couple hours south of Kyoto by train is a town called Koyasan. The town almost entirely consists of Buddhist temples. The form of Buddhism they practice there is called Esoteric Buddhism, which, from what I understand, pretty much only exists in this one location.
From the "Guide to Koyasan" that I picked up at the cable car station:
Koyasan was founded about twelve centuries ago by the great Buddhist monk Kobo Daishi Kukai as a center for Shingon Buddhist training. His wish was to establish a monastery deep in the mountains. He wanted it far from worldly distractions where Buddhist monks could practice and pray for peace and the welfare of the people. Emperor Saga granted him the use of this land in 816..

In July 2004, Koyasan was registered as a UNESCO World Heritage Site…
We were dropped off downtown and had to attempt to locate our place with minimal directions. Basically we had to count blocks and look for a sign far off from the road. The place had no cars driving around, no people on the streets. The snow made the town completely silent. It was beautiful.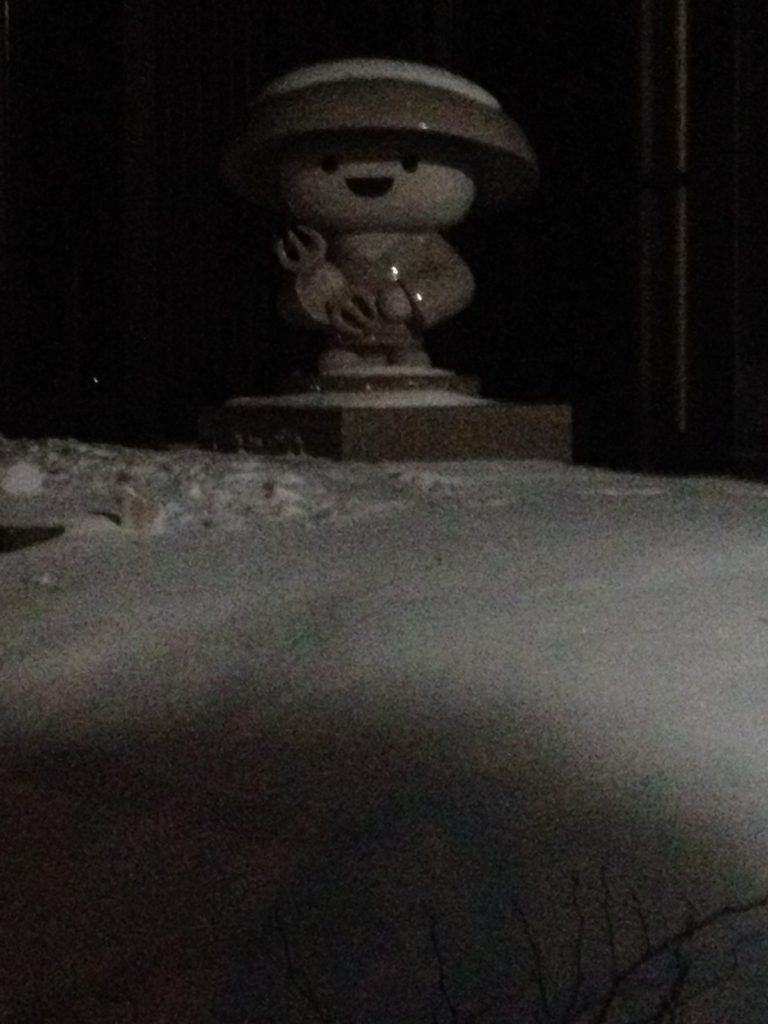 We walked a little bit and eventually located the Yochi-In, a shukubo, where we would be spending the night.
Shukubo (Temple Lodgings)
Further along in the guide, it describes the temples…
Temples that provide lodging to guests are known as shukubo. Originally these were simple lodgings for itinerant monks. The number of these lodgings expanded greatly in the Edo period along with the increase in visits by pilgrims. In 1832 there were 1,812 temples in Koyasan. Due to destruction by fires and also the combining of small temples into larger ones, there are now 117 temples here of which 52 provide lodhings. Koyasan temple lodgings offer Shojin Ryori (Buddhist vegetarian meals) to overnight guests.
Yochi-in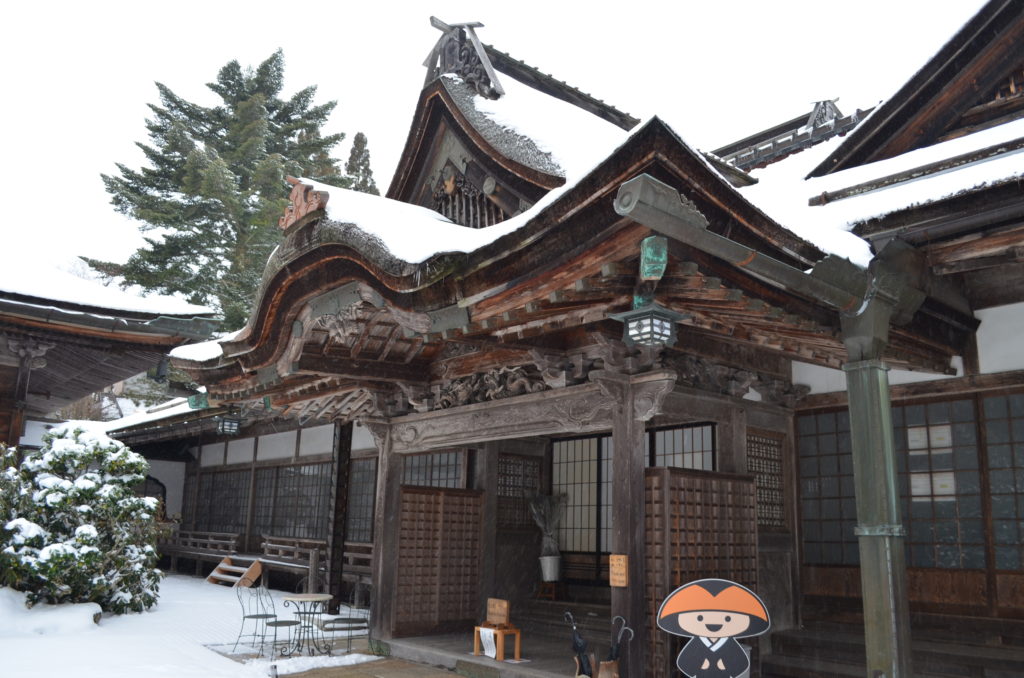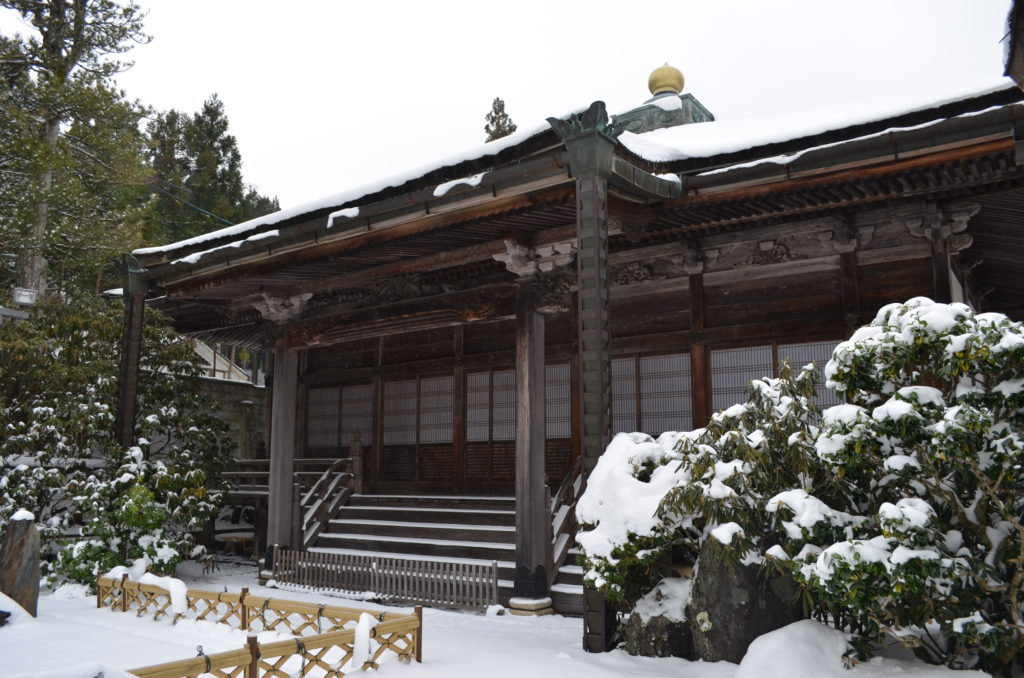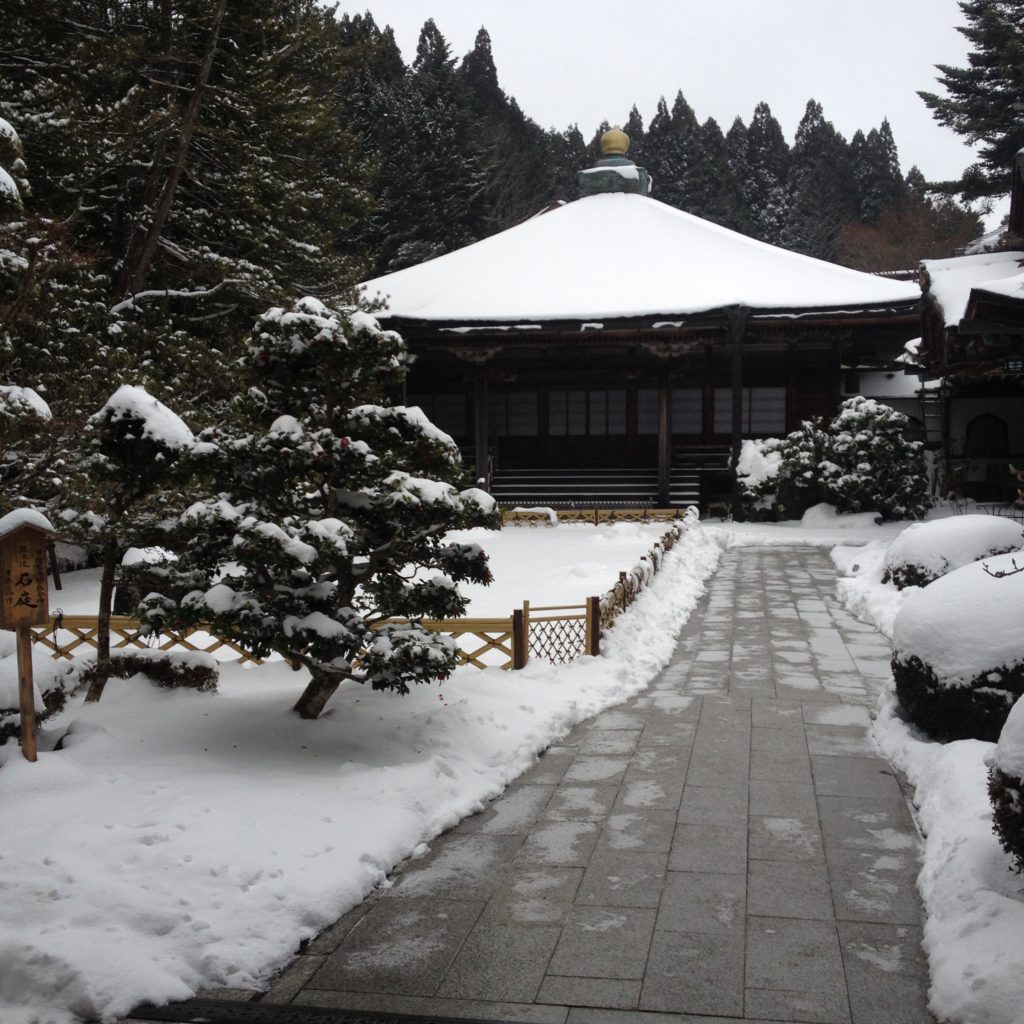 I came across this place while searching for somewhere to stay in Koyasan on booking.com. It had a reasonable price and included a free vegetarian dinner.
We show up at the front door where we are greeted and informed that it was only us and another pair of travelers staying in the entire temple (one of the benefits of travelling off season). We were asked to leave our shoes in a shoe cubby outside. I dreaded the thought of waking up next morning and stepping into freezing cold shoes as I headed out.
We received a quick tour of the hallways, where the bathrooms were, and on to our room. This place was legit.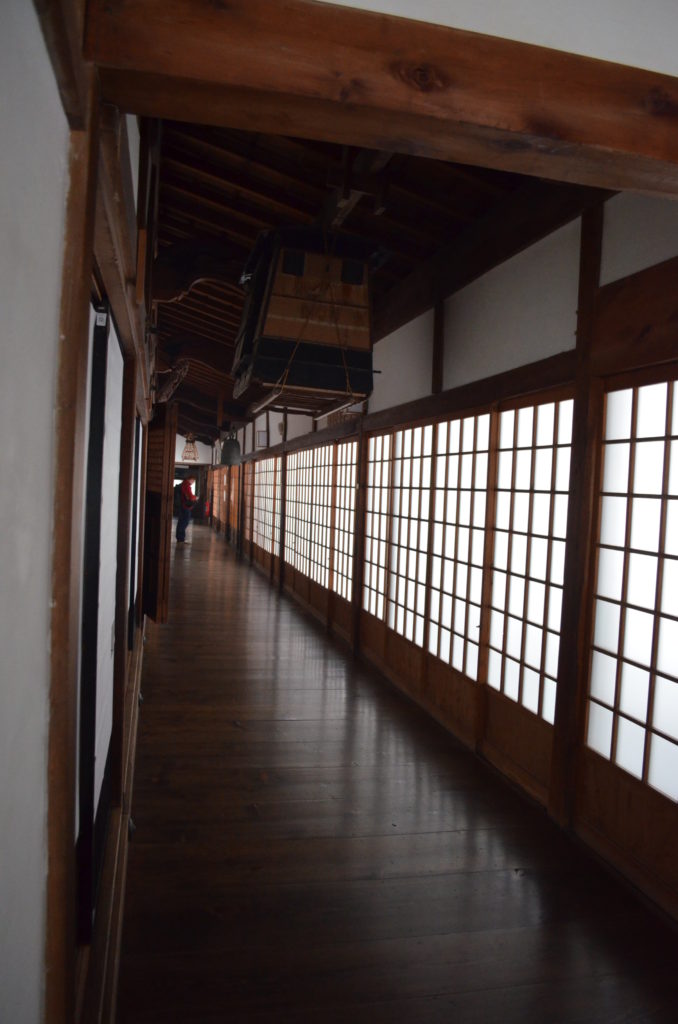 The building was really old, it had the tatami mat rooms, wooden corridors, and sliding doors on several sides of the rooms. Katie and I were thrilled to be here. Once we got settled in, we heard a knock at the door and were invited to our dinner in the corresponding room.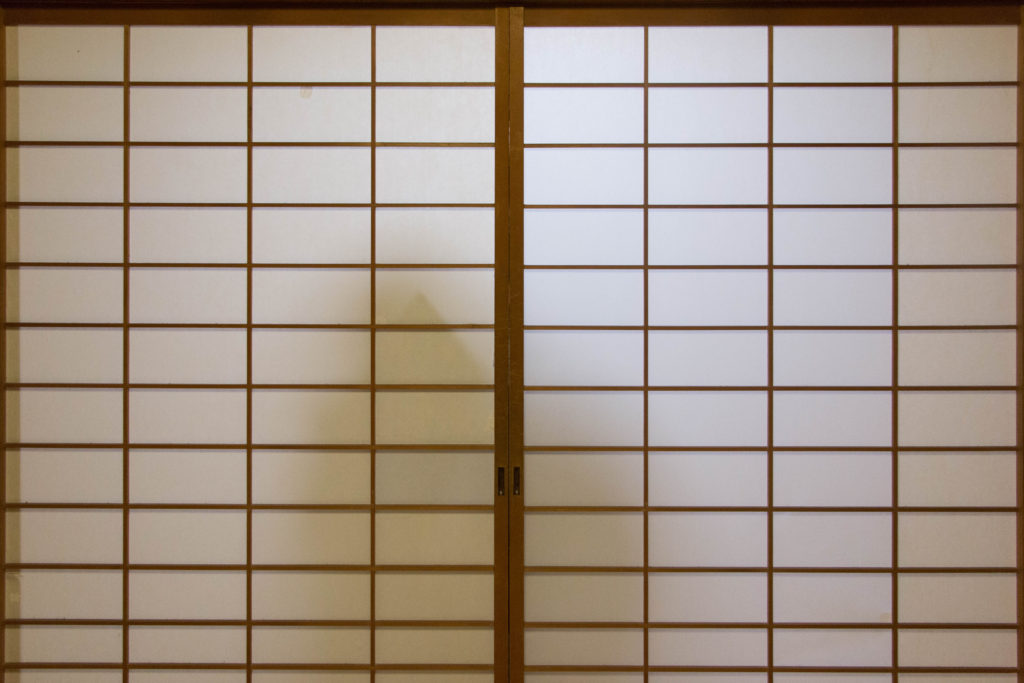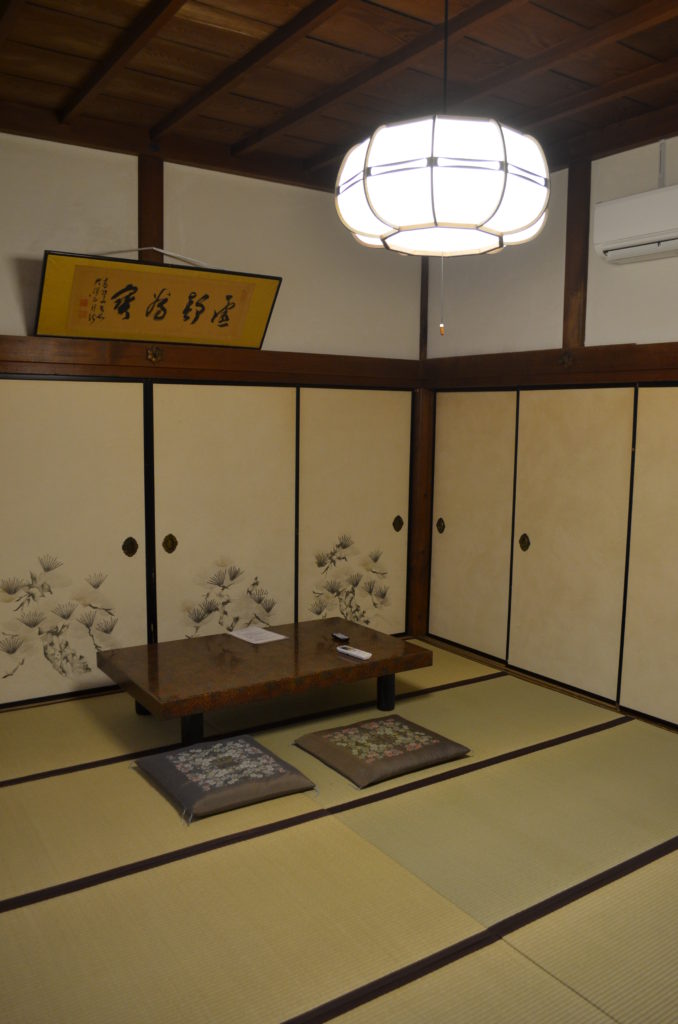 Buddhists believe taking a life is wrong, so they are vegetarian. Our meals included some specialties from Koyasan: Koya-dofu, a type of freeze dried tofu, and Goma-Dofu, a tofu prepared in a way to give it a very silky texture. Our meal included a grilled dish, a deep-fried dish, a pickled dish, a tofu dish, and a soup dish, along with white rice and tea of course. I couldn't have asked for a better meal.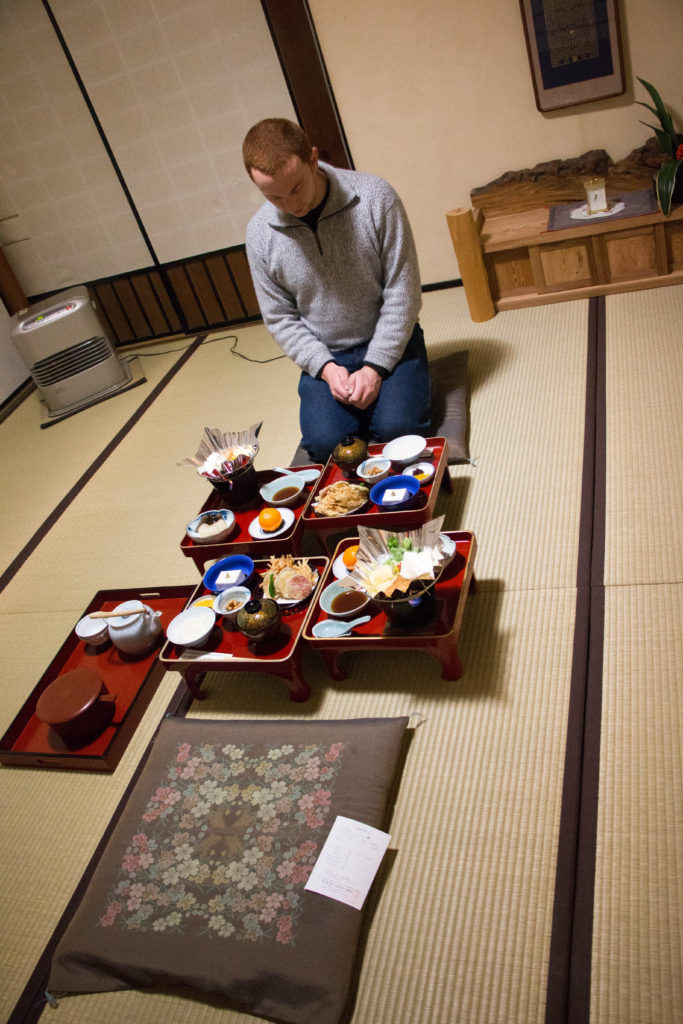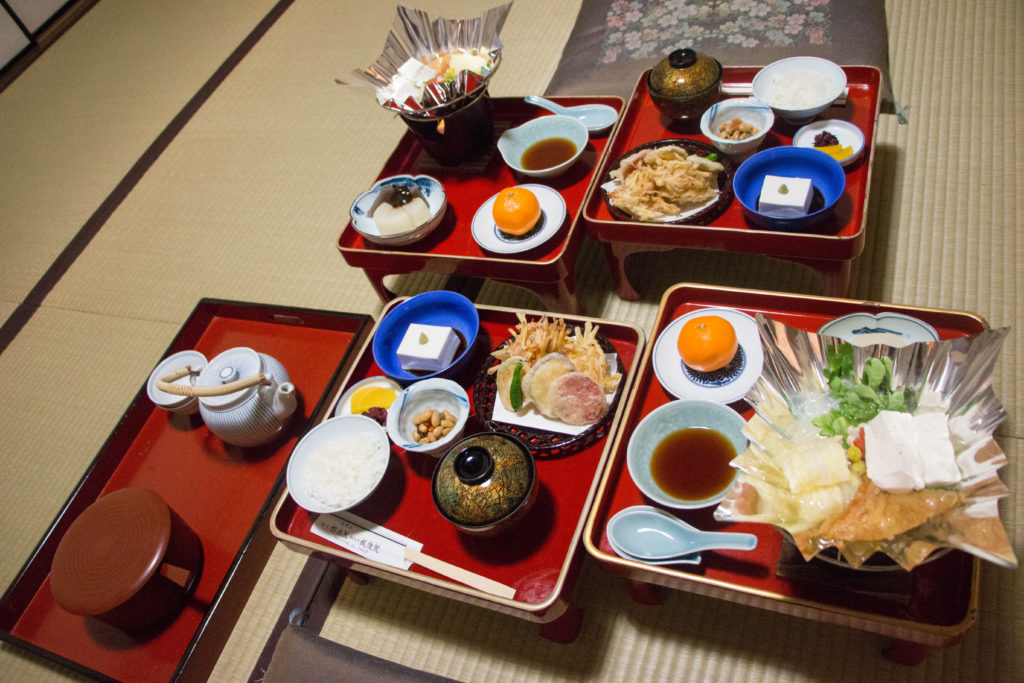 After dinner we got settled and hung out in our room since we were really happy with the whole experience. We threw on our yukata robes which were nice and cozy, and a really welcome treat when we neeed to step out of our rooms to use the bathroom as the hallways had no heating. There was a thermometer on the walls, and I read 31 degrees Fahrenheit. The cold in the hallways was no joke. Thank goodness for heated toilet seats!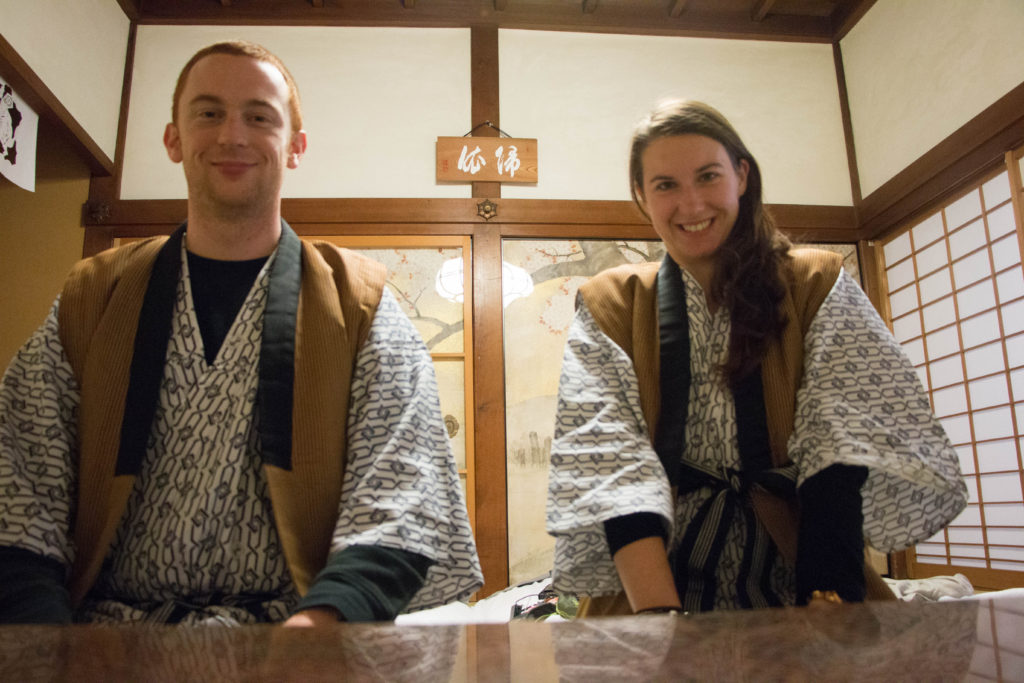 The next morning we were greeted to the sound of a gong being hit repeatedly and very loudly. There was no sleeping through it. We were invited to come sit in on a morning Buddhist prayer ceremony which was a treat to watch. I was a little too cold and sleepy to really appreciate it though. I spent most of it shivering away.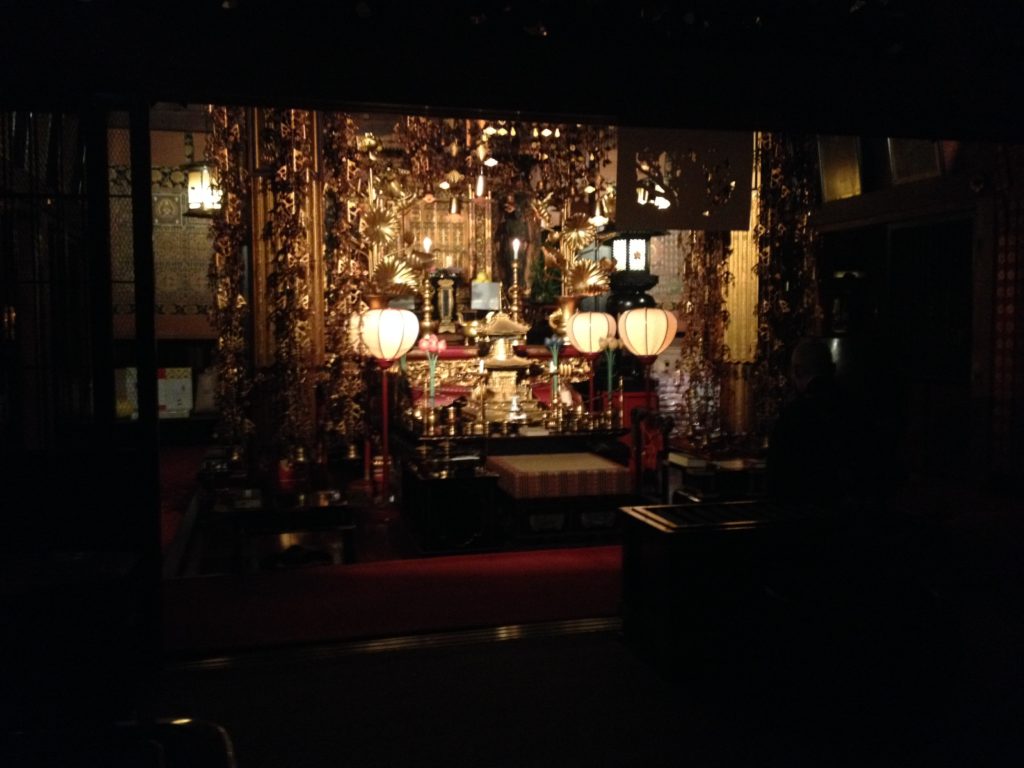 Our fun experience was tempered a little bit by our need to head out to catch a couple-hour train to Osaka. We were both sad that we hadn't allotted more time to Koyasan. Knowing what we know now, if we ever go back (which I would totally love to), we would give ourselves more time there.
Walking Around Town
Katie snapped some photos of the town in the daylight.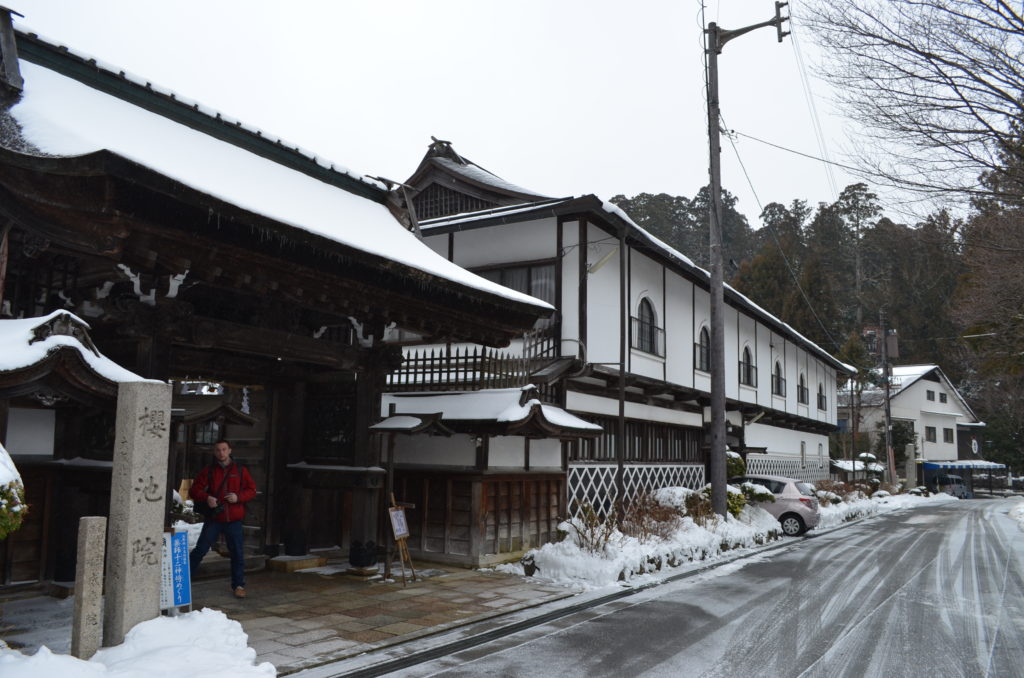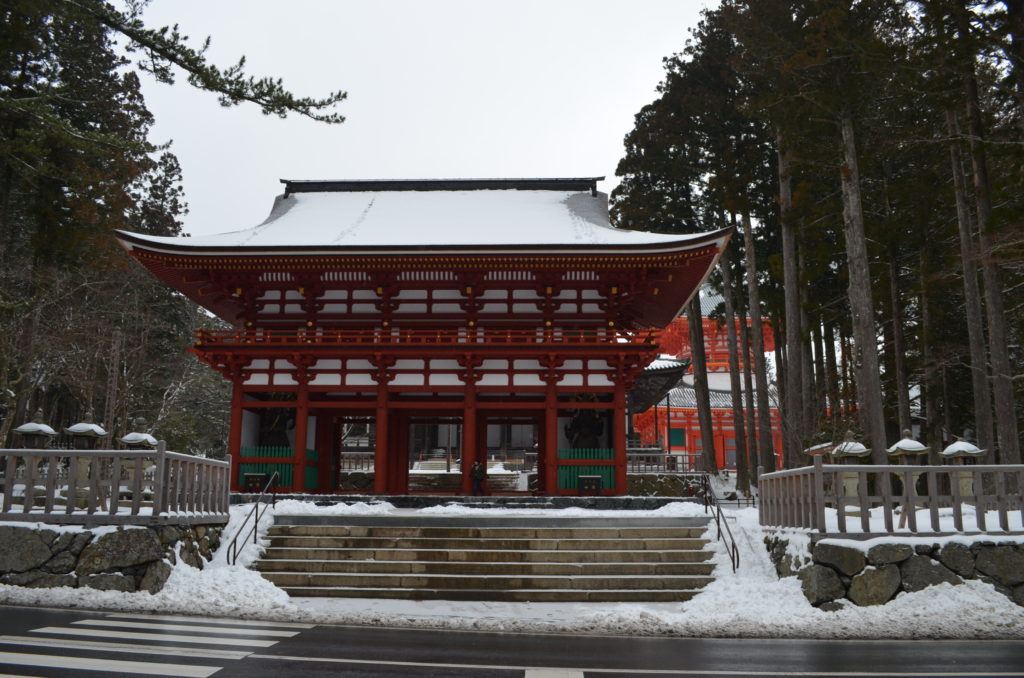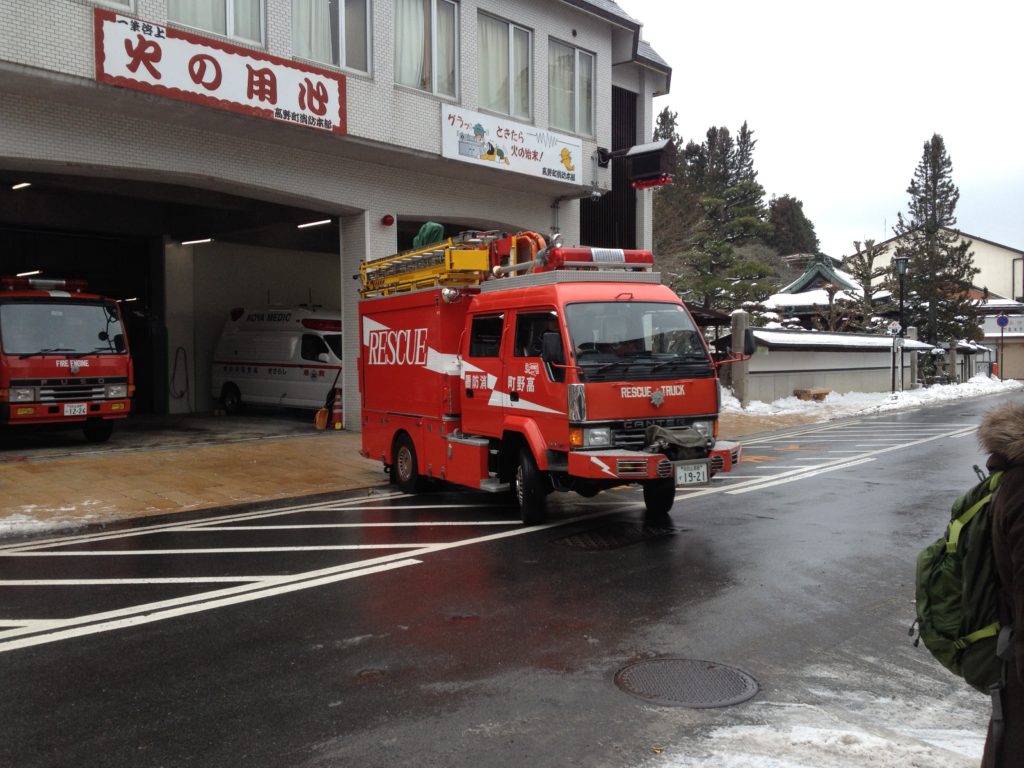 Sites to Check Out
There are a number of popular sites to see while here. We, regretfully, hadn't scheduled enough time to see any of them:
Konpon Daito (Great Pagoda)
Kondo (Golden Hall)
Fudodo – The oldest building in Koyasan. It was built in 1197.
Daimon – The main gate of Koysan
Tokugawake Reidai (Tokugawa Mausoleum) – Built in 1643 by Iemitsu, the third Tokugawa shogun.
Okunoin – A massive cemetery with over 200,000 gravestones and pagodas. I really wish I had had time to see this. It would be great to see in the Spring, but in the Winter snow, it also would have been pretty cool.
Some More Photos
Further Information
From their provided brochure:
The Chinese letter, YO means cherry blossoms, CHI means pond and IN means temple…

YOCHI-IN was originally built by one of the Emperor, called Kakuho-Shinno  So this is a very historical and prestigious temple.
If you are interested in booking a stay at the Yochi-In, you can book here.
Contact Information:
Koyasan Yochi-in, Seikei-in
293 Koyasan, Koya-cho, Ito-gun
Wakayama, 648-0211 JAPAN
Tel: 0736-56-2003  Fax: 0736-56-3628
The Koyasan brochure information was provided by the Koyasan Shukubo Association.
600 Koyasan, Koya-cho, Ito-gun
Wakayama, 648-0211 JAPAN
Tel: 0736-56-2616  Fax: 0736-56-2889