Colombia is a country whose cuisine is most closely associated with arepas. While delicious, there's definitely other things to eat there besides that.
We want to tell you about some of our favorite places where we grabbed a bite to as well as some places to grab a drink and cool down.
As we already mentioned La Tapería the other week, I won't include that one again on this list.
Girasoles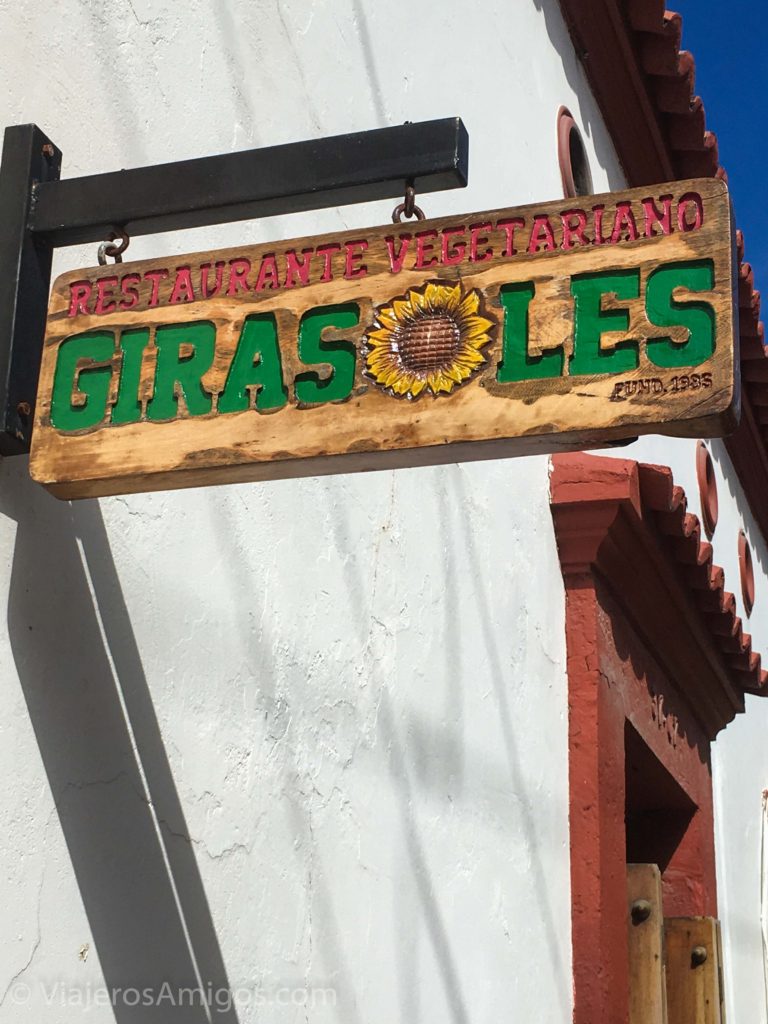 South America in general isn't the most vegetarian-friendly place, so we were surprised to find a vegan restaurant in Cartagena.
Located on the corner of Calle Quero and Carrera 9, Girasoles has a daily breakfast and lunch menu that is sure to leave you happy and full. They have positive reviews on TripAdvisor as well as the Vegetarian/Vegan form of Yelp, HappyCow. To top it off, if you decide you need some herbal medicines, they sell those in a side room as well.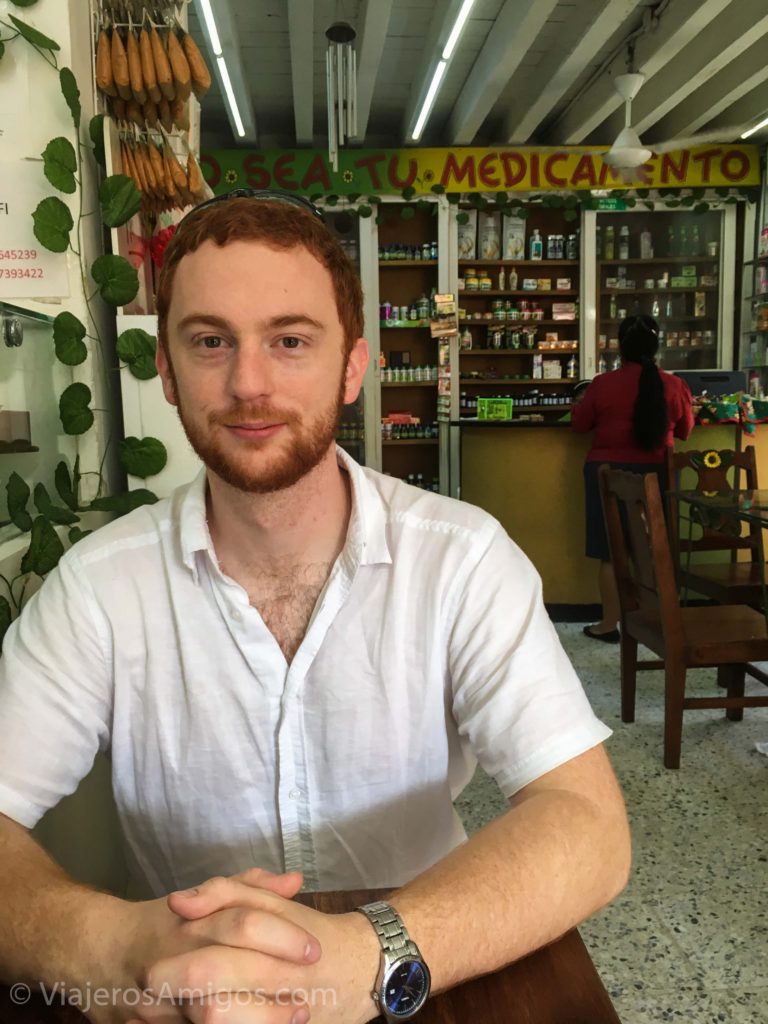 We loved this place so much, we actually grabbed food from it four separate times.
The first meal was a vegetarian lunch that for two of us cost $33,000 COP ($11.55 USD) combined. It was very filling and delicious so we decided to head back the next day for breakfast.
For our breakfast one of us had delicious tofu and veggies while the other substituted tofu for eggs. Along with the coffee and papaya, we tried a drink called Aveena which is some sort of oat drink with cinnamon. This meal cost us $17,000 COP ($5.95 USD).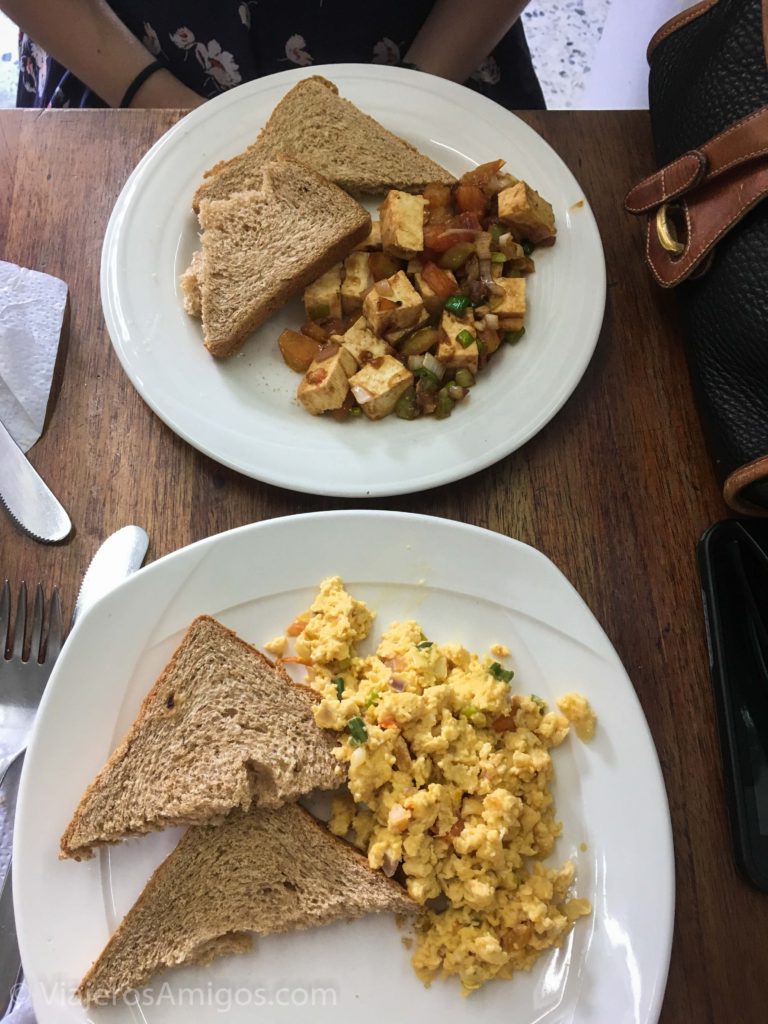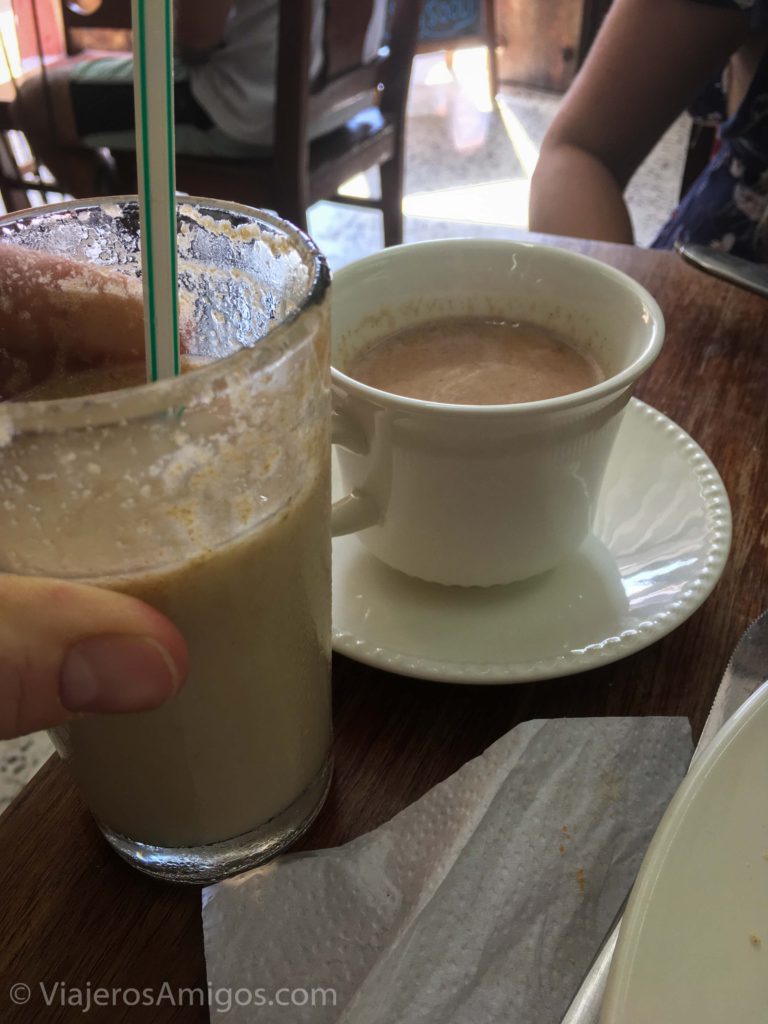 Well that wasn't enough. So we went for breakfast on another day for $19,000 COP ($6.65 USD). This time we got one with tofu and the other with vegan sausage. I also got an horchata drink which had no seasoning. It was basically plain rice milk. Most horchata I've had has been seasoned well and is a delicious drink…hey, I didn't say I had to love everything about the place!
Finally, on our last day we bought a couple empanadas to eat in the airport for $12,000 COP ($4.20 USD).
As good as this place was, one annoyance we had was that with each visit, I had tried to get a side of arepas and, each time I asked, they didn't have any. This happened throughout the week, yet every other street corner had a street vendor selling arepas. They seemed to only have half the ingredients for their meals at any given time, so be prepared to order something different off of the menu.
Bacco Trattoria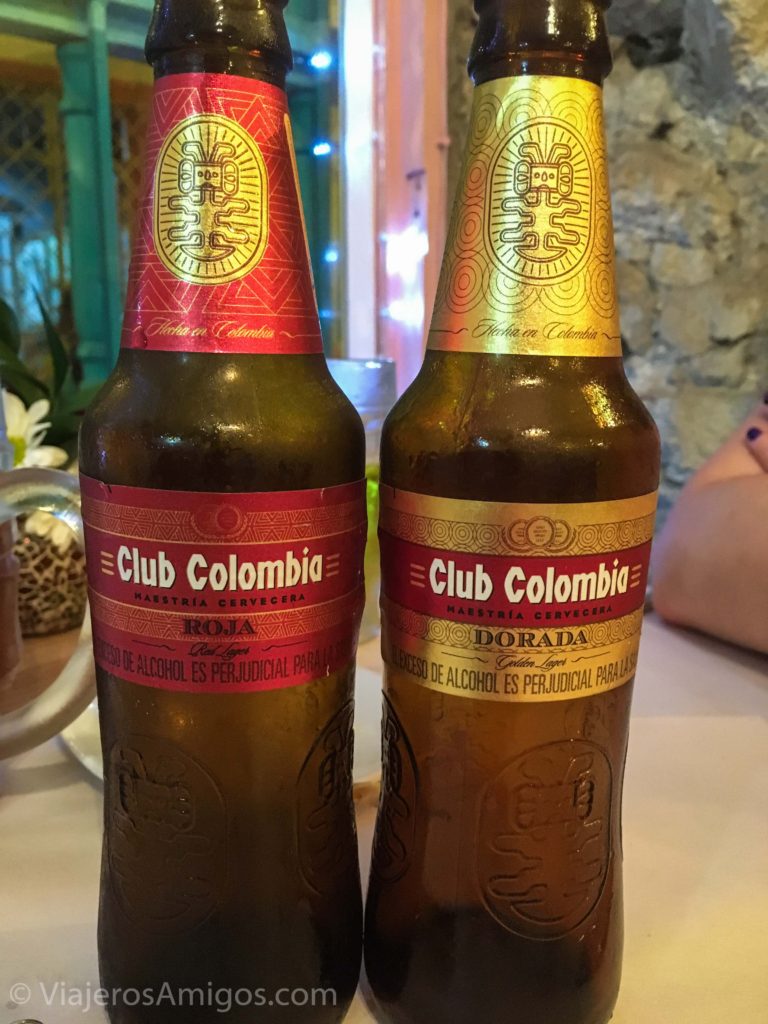 Located on Calle Quero, one block east from Plaza Fernandez de Madrid, is a quaint little pizza restaurant named Bacco Trattoria.
We passed it several times as we were staying at an Airbnb on the same street.
They had a dinner deal of one small margarita pizza and two beers for $30,000 COP ($10.50 USD). Katie and I shared the pizza with a salmon topping added on for $8,000 COP ($2.80 USD), to come to a total bill of $42,218 COP ($14.78 USD) after taxes.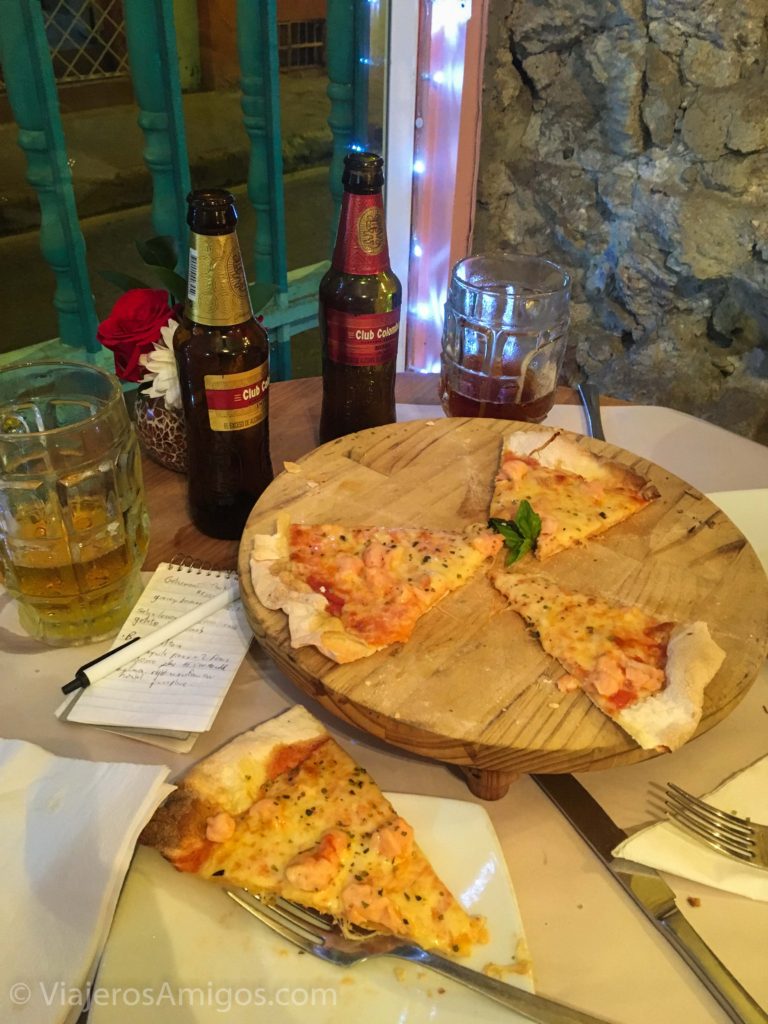 This was actually one of the more expensive restaurants we ate at, but since we were going to get more food later that evening, we only split the one meal so it only came out to about $7 USD and change per person.
The Street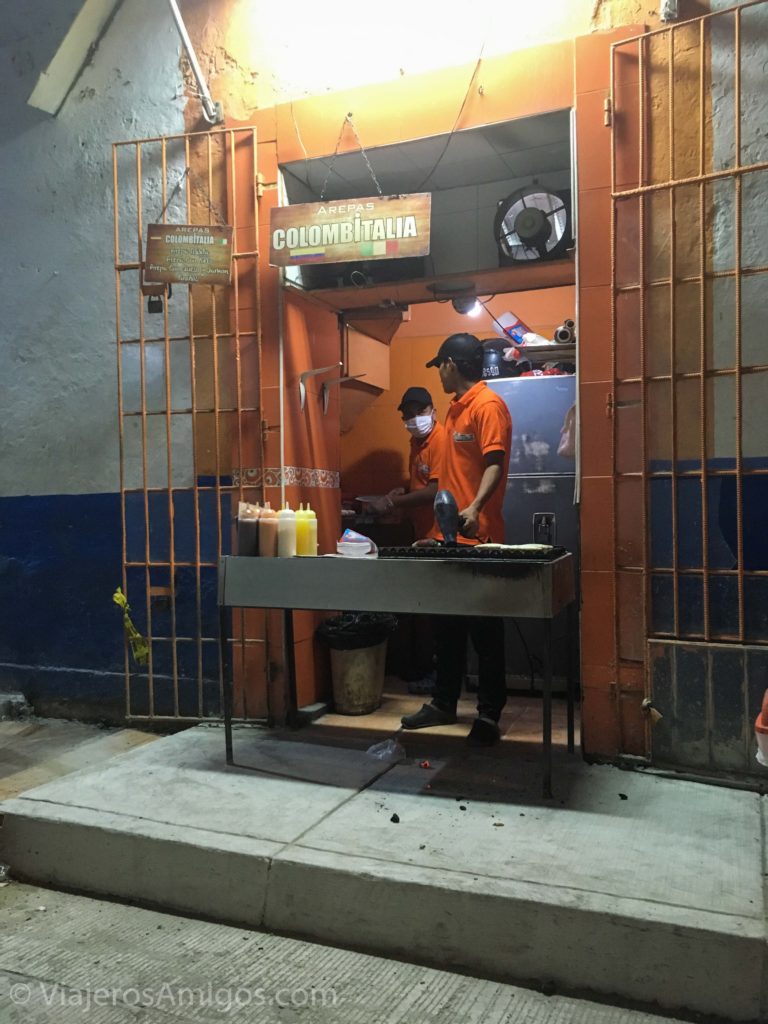 Averaging $5,000-8,000 COP ($1.75-$2.80 USD) for an empanada or fruit smoothie, the street vendors are the way to go. You have to be willing to take a risk, but we ate pretty well off of street food and barely spent any money between us.
This one place in the Getsemaní neighborhood named Colombitalia had two people standing in a 4×3 ft  room/doorway cooking over a charcoal grill. It's located on Calle San Andrés, right across the corner from the Café Havana.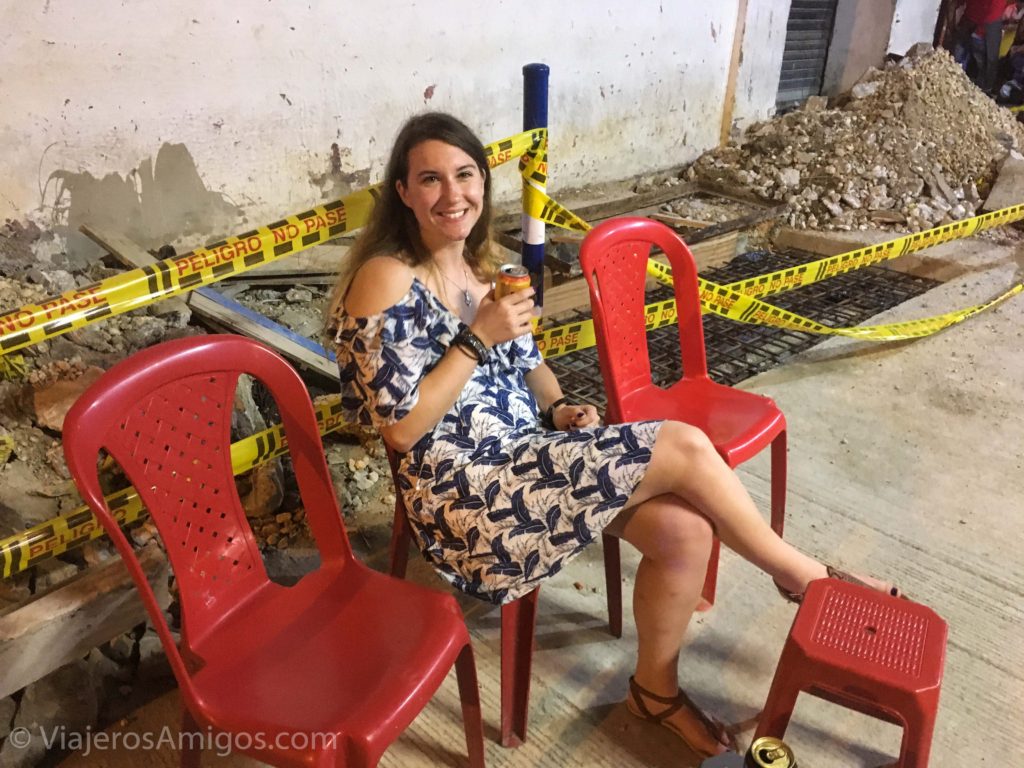 They pretty much only made arepas, so Katie and I ordered some for $6,000 COP ($2.10 USD), and bought 2 cans of beer next door for $5,000 COP ($1.75 USD) to enjoy while they cooked and blasted music toward the street.
Ábaco Café y Libros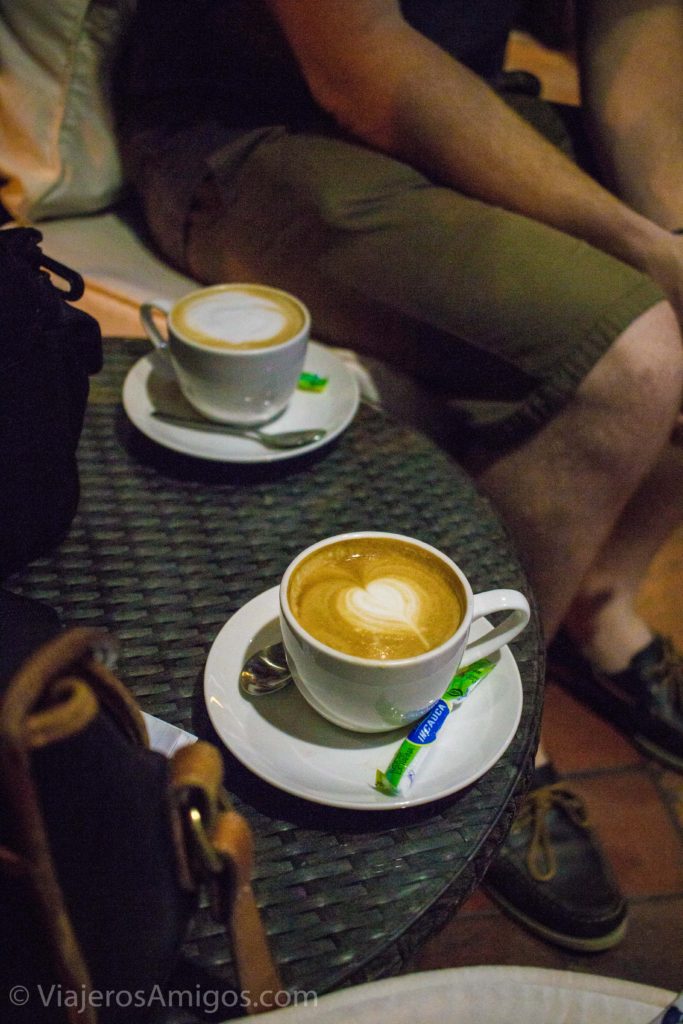 Feeling thirsty yet?
Located on the corner of Calle de La Iglesia and Calla de La Mantilla, Ábaco Café y Libros doubles as a café and book store. It is a great place to come in and escape the intense mid-day heat.
We came in here to relax in comfortable air conditioning and do a bit of reading and relaxing.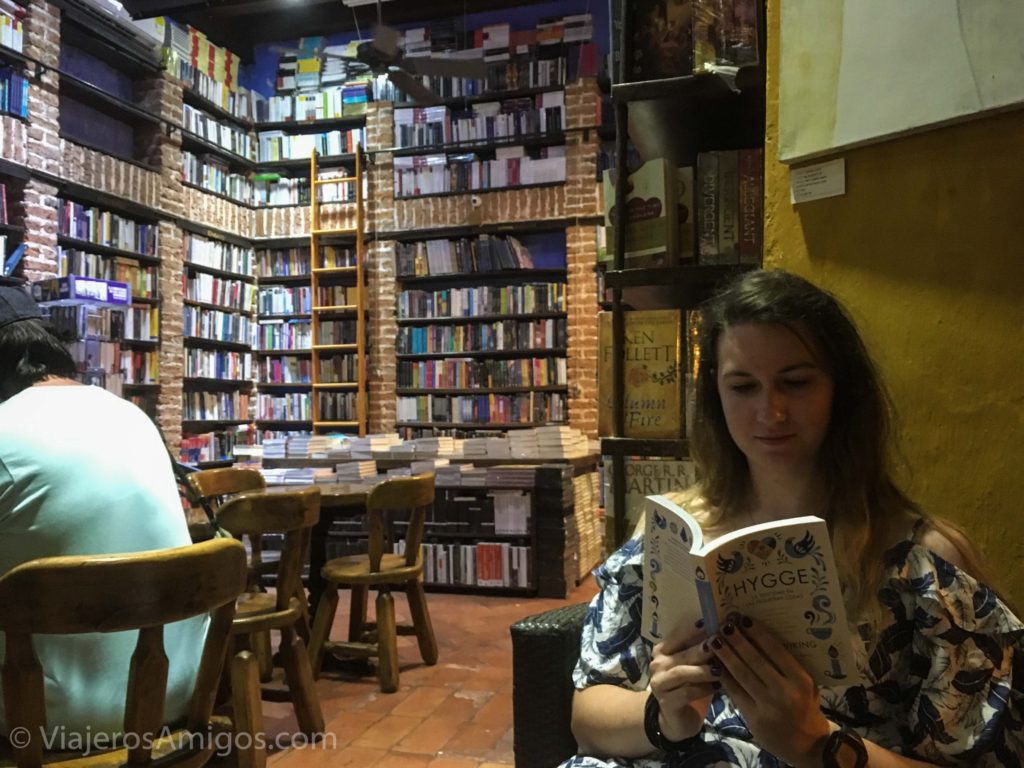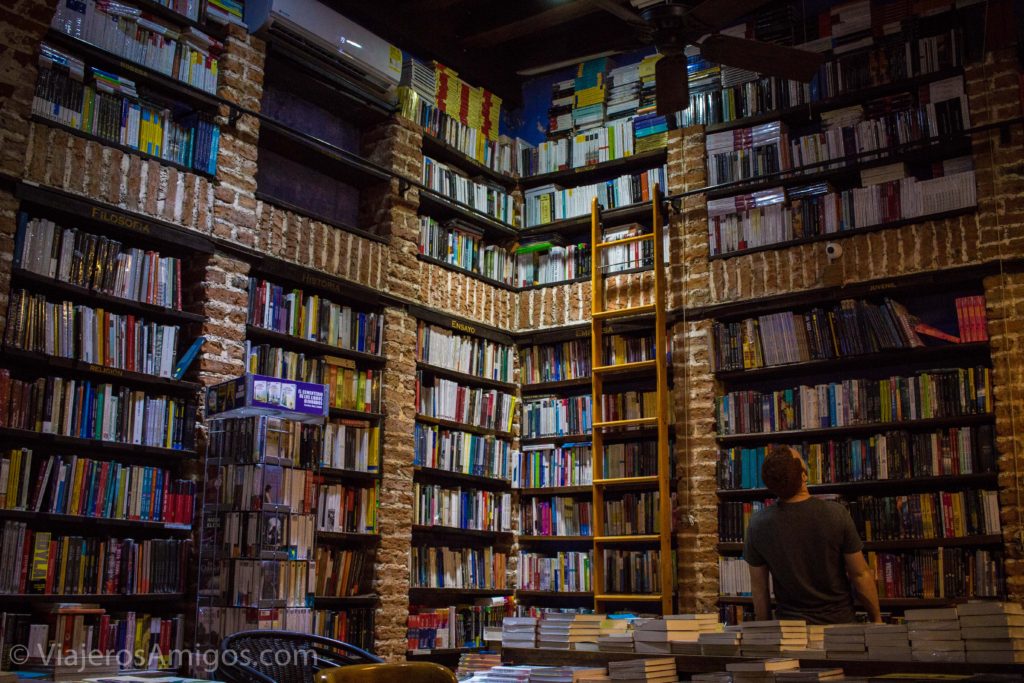 Just to give an idea of some prices:
Caramel Latte and decaf Latte for $13,749 COP ($4.72)
2 fruit smoothies for $21,450 COP ($7.51 USD)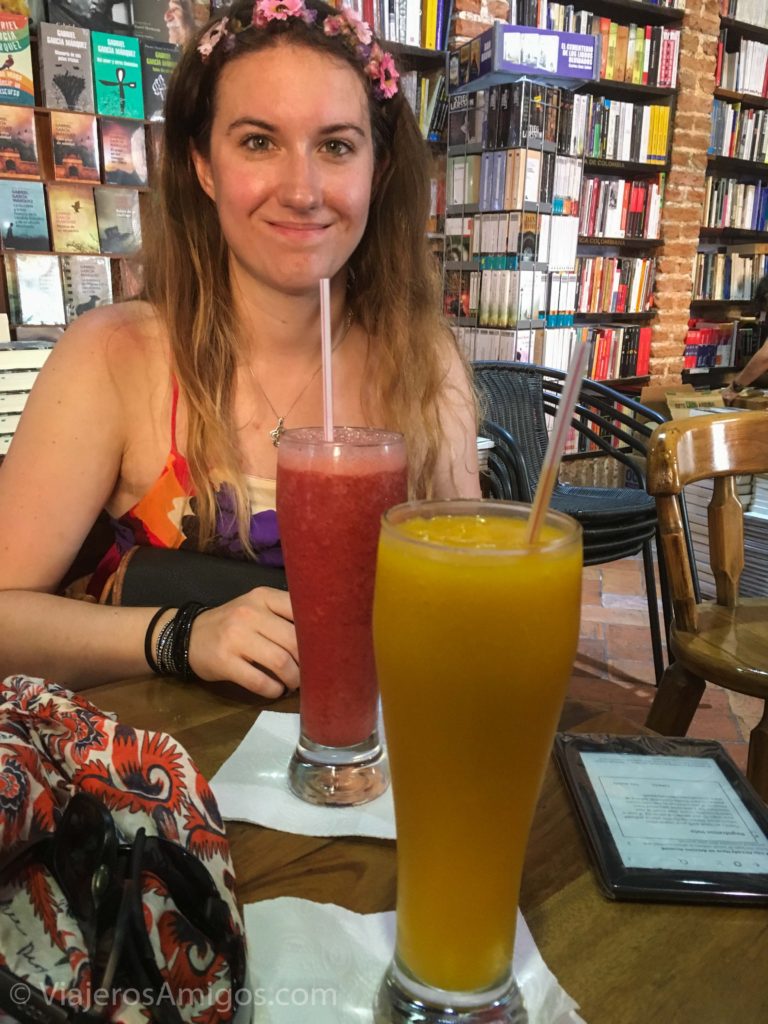 I could not get their website to load properly, so I've provided a link to the music they play over the radio in the store.
Cartagena Craft Beer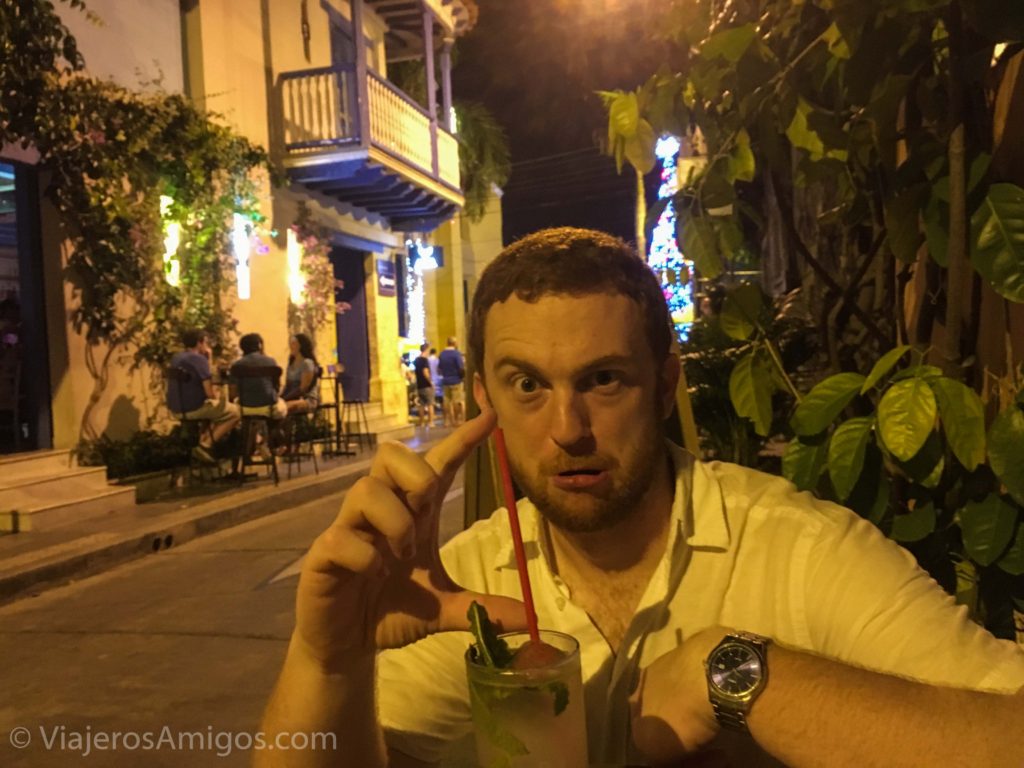 This bar in Getsemaní is right off of the Plaza de Trinidad. It is a lively area where locals and backpackers all hang out. We were drawn to this place for the 2 for 1 mojitos special for $20,000 COP ($7.00 USD). It came with some chips in some honey sauce and guacamole as a little appetizer. We sat out on the street at a little table made from an old sewing machine.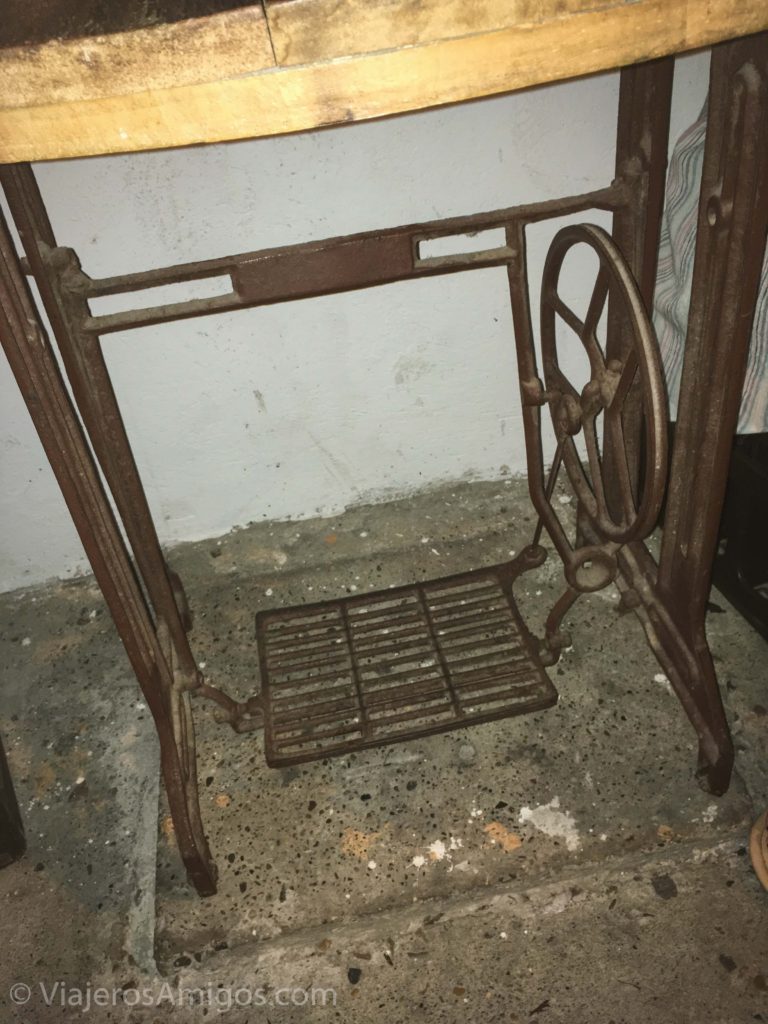 Since we were there for the margaritas, we didn't actually try any of the beer, but they do make their own.
KGB Bar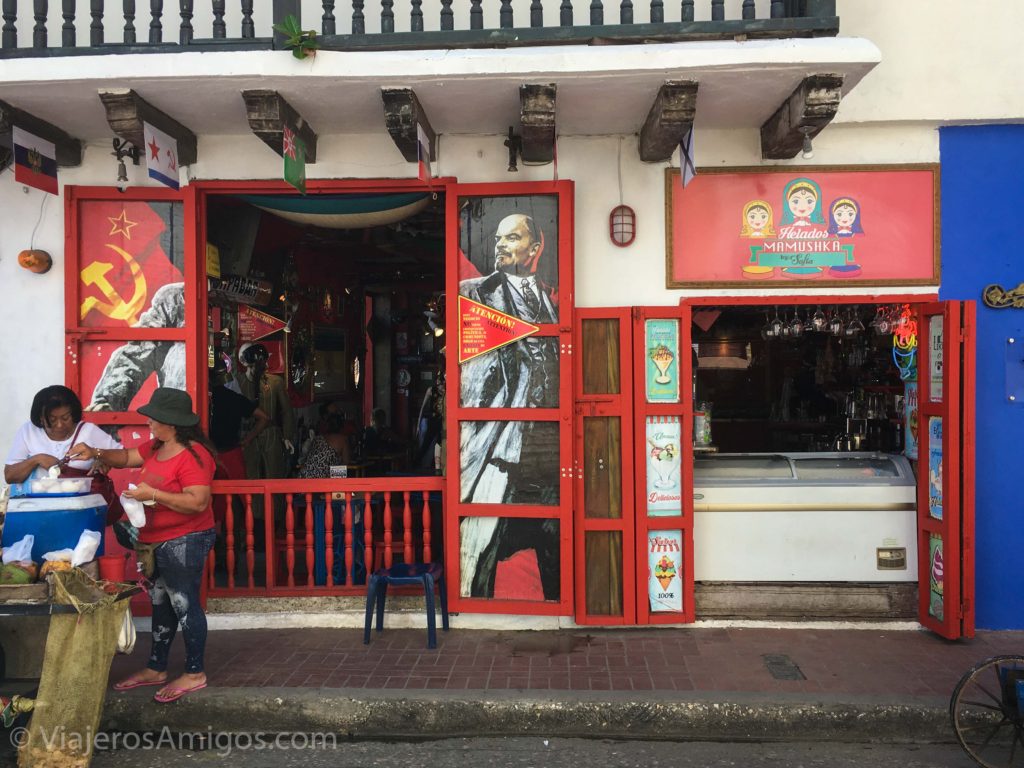 This bar on the Northwest corner of the Plaza Fernandez de Madrid was a fun visit out of the ordinary.
The bar is dedicated entirely to the former Soviet Union. It is decorated with all different posters and military apparel. The back room was made up to look like an old Soviet submarine. It was pretty neat.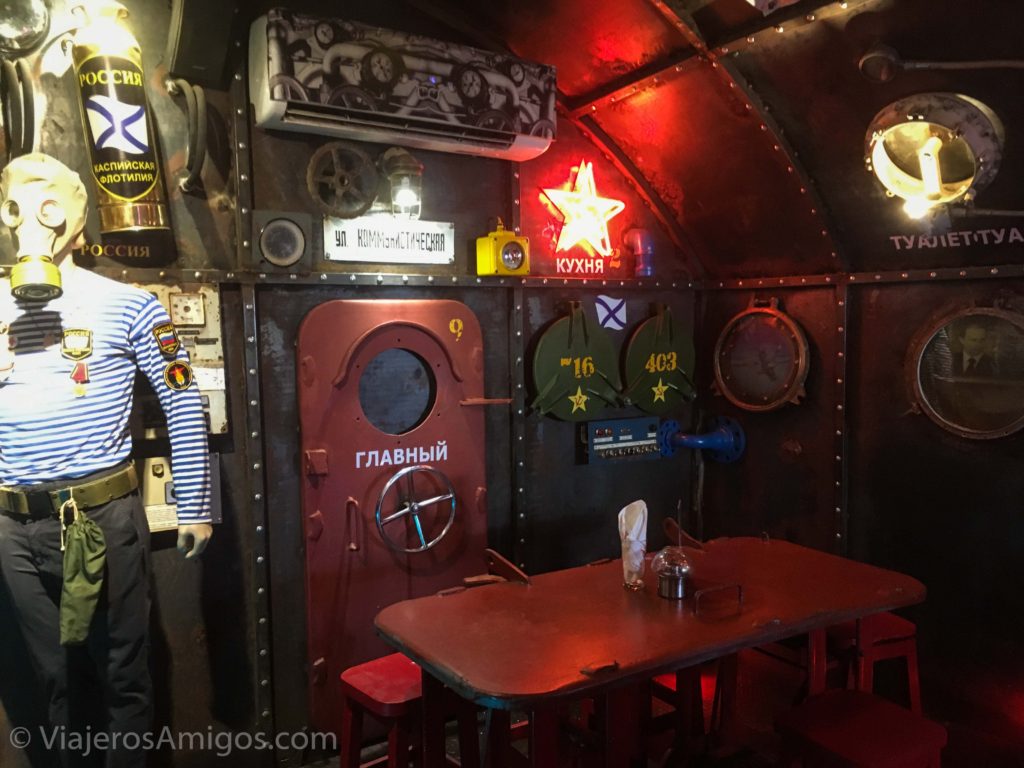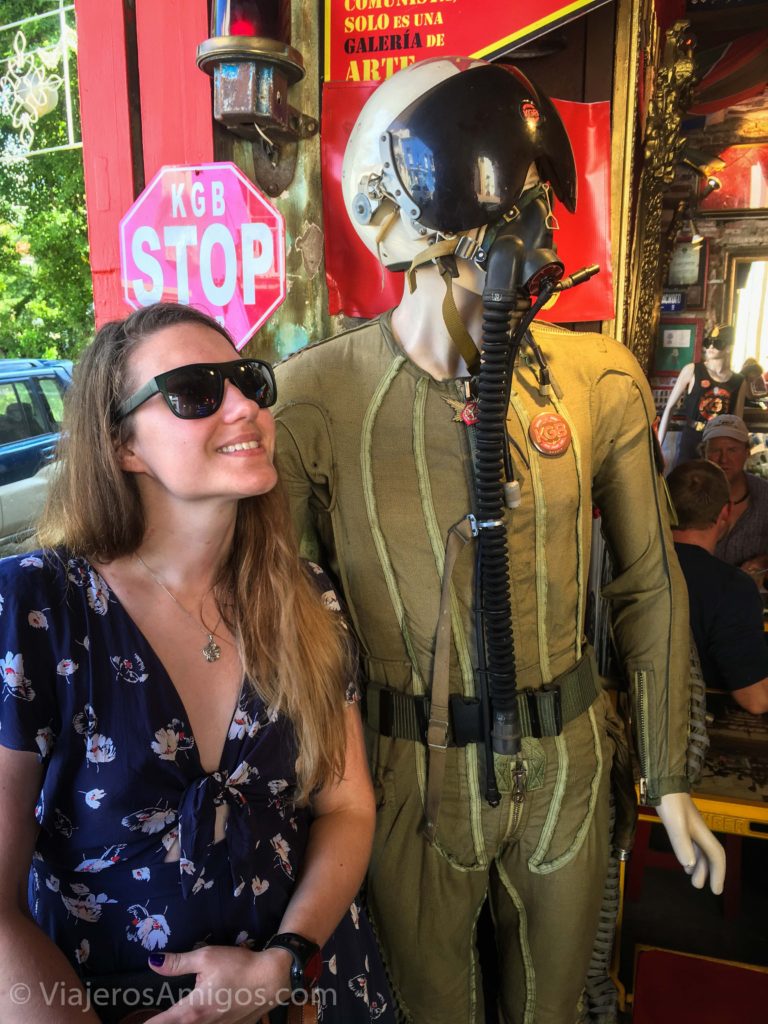 We ordered two mojitos for $44,000 COP ($15.40 USD) and did some people watching through the open windows. The music here was a bit too loud and didn't follow the Soviet theme, but it's a fun place to grab a drink.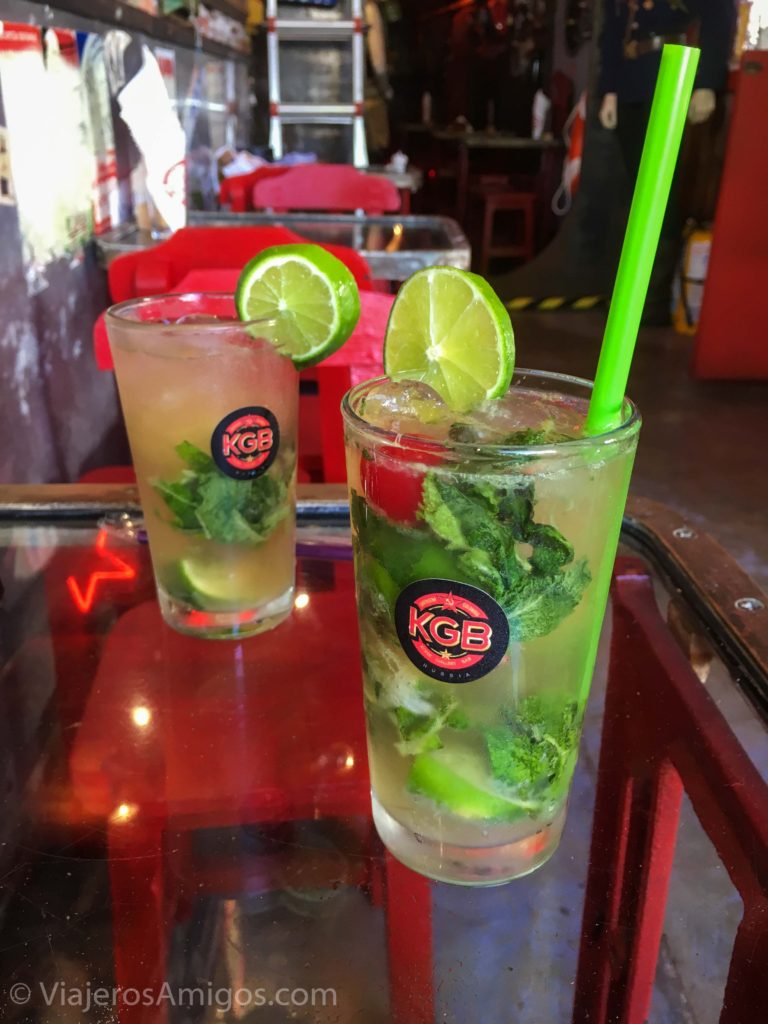 Choco Museo
Finally, about two buildings South of the KGB Bar, is the Museo Del Cacao (Cacao Museum).
This place is dedicated entirely to making chocolate. There is a free sample room with an educational bit the chocolate-making process. They also run a make-your-own chocolate class during scheduled hours (for a fee) which sounded like fun, but we were all set for time.
While there is a free museum, the main purpose is to sell their products. They sell chocolate liqueurs, soap, incense, lotion, nibs, candles, and even pasta! You can sample many of these items while you are there.
Are there any places you've been to in Cartagena that you want to share with us? Let us know in the comments below!