Northampton is a small town about a half hour North of Springfield. It's mostly known for Smith College, a private, all-women's college that is the largest member of the Seven Sisters. It also happens to be a very liberal city.
During our visit, we saw countless Toyota Priuses. We have our fair share in Connecticut, but this was on an entirely different level!
Where to Stay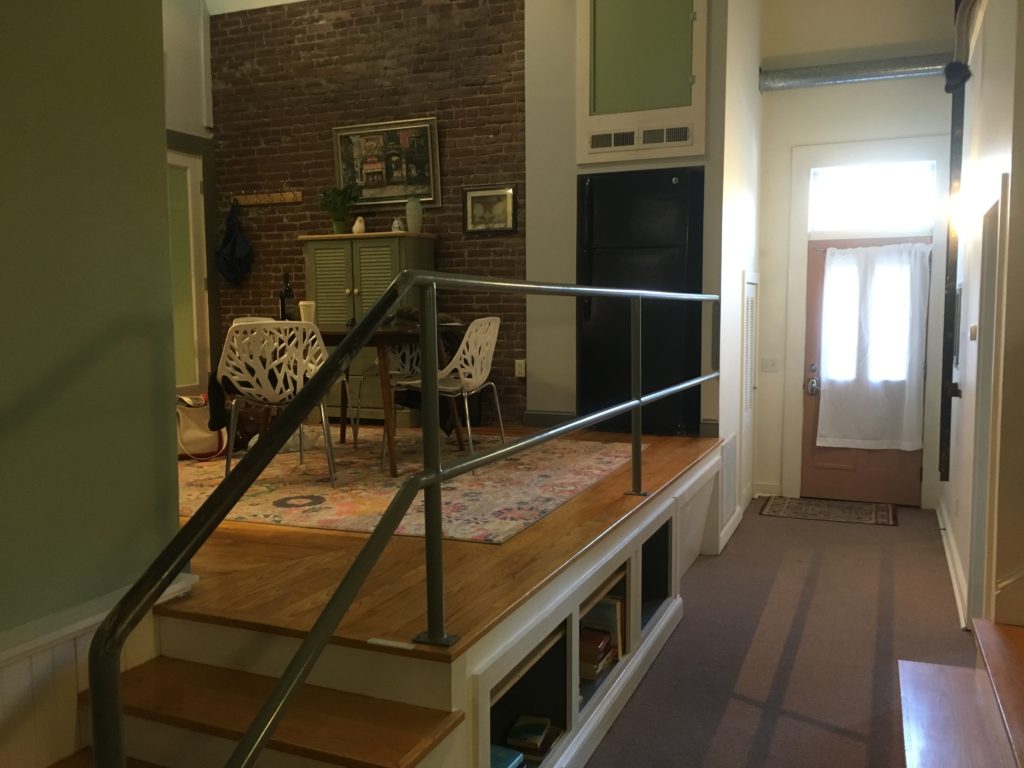 There are hotels in the area, but Katie and I usually try Airbnb locations first. They are always unique and allow us to feel more at home.
We stayed at this really cool place in neighboring Florence, MA.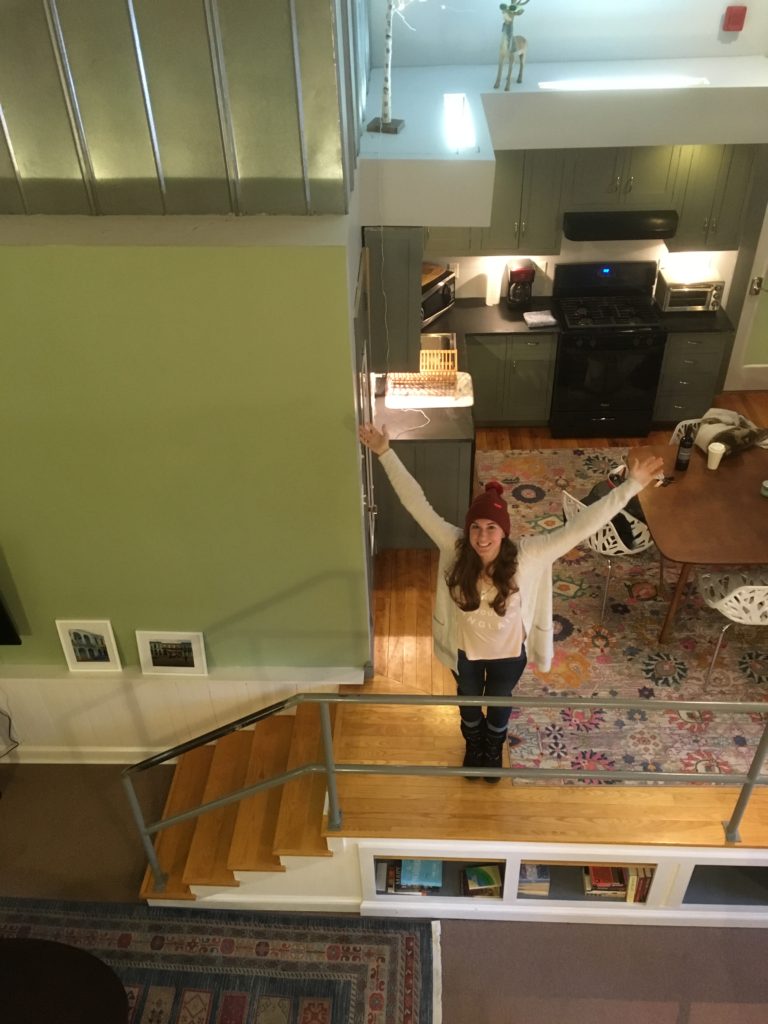 The place was built out of an old renovated meeting hall. The front said "Temperance Hall" and it was across the street from a church, so the signs point to it having been built as a meeting place for a local temperance movement.
Our kitchen looked like it was built where an old stage was. Overall it was a nice, cozy place to stay and we'd highly recommend it.
Florence, MA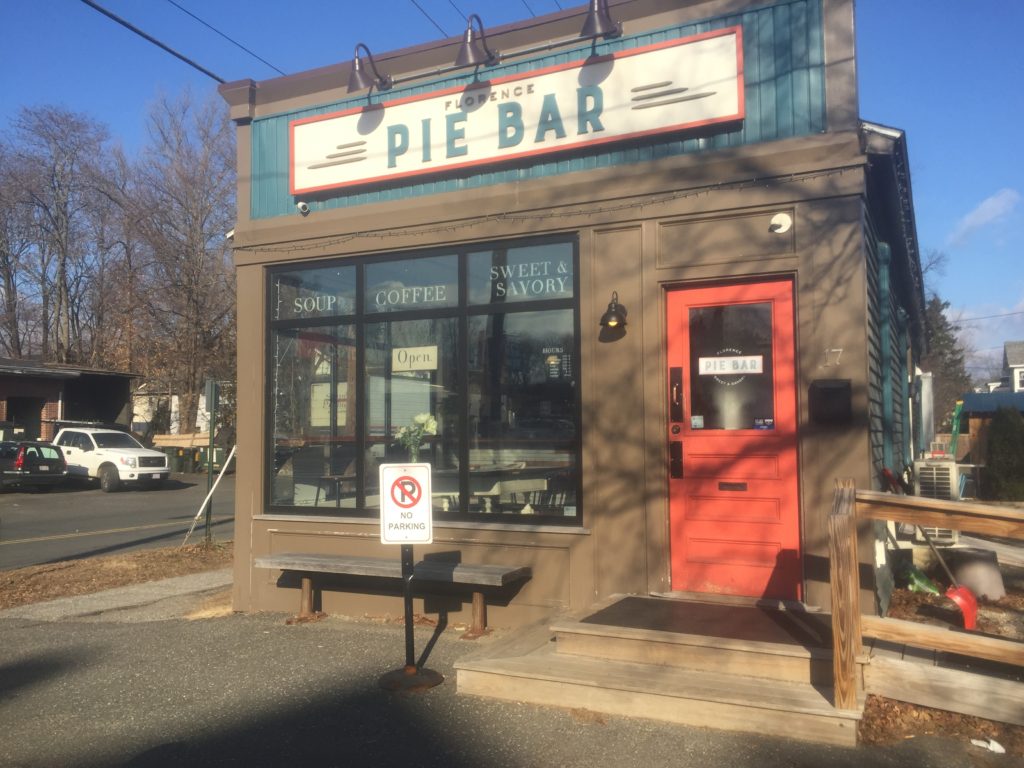 Since we stayed in Florence, we went for a walk to the main street which is only two blocks away.
There are a number of places to grab a coffee in the morning if that's your thing. There are also a couple of pizza places, an independent book store, and a brewery called Brew Practioners.
It doesn't sound like much, but Florence is the perfect little community to wander around with if you're looking for a leisurely stroll and meal.
If you're looking for lunch, check out Cooper's Corner, which is a deli, grocery store, and package store all-in-one. Order the "Hummus Among Us" sandwich or the "Blazing Wrap." We both added Chipotle Gouda cheese to our orders and it blew us away.
If you want to start your day off in a different, yet relaxing way, walk over to the Florence Pie Bar. They have a breakfast special that comes with a coffee and a slice of pie for $5.00.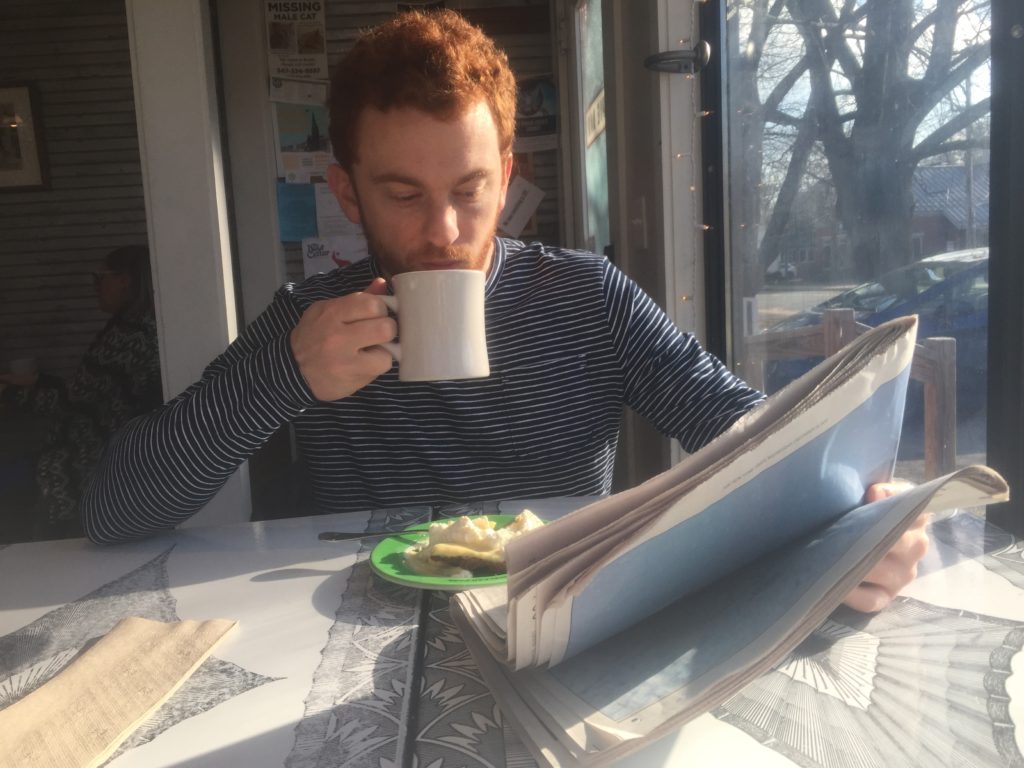 I ordered a slice of eggnog crème pie and Katie ordered a raspberry/cranberry mix pie. If you aren't sure what you'd like, they are happy to give you samples of the pies they have.
After you order, grab a copy of the day's newspaper, or take a seat by the window and relax while you people watch.
Downtown Northampton
Downtown Northampton has plenty of shops and restaurants to check out. There is a small mall inside of a very old, creaky building. I may not have sold the mall, but it's a nice setup inside. The architecture of the original building, particularly the staircases, makes it worth checking out just for that alone.
Also on Main Street is the historic Northampton Town Hall. It mixes various architectural styles that result in a unique appearance. It both reminded me of a castle, and of the Salt Lake Temple in Salt Lake City.
If you're hungry, you will have quite a selection of foods downtown. If you want Mexican, you got it! Italian? Moroccan? Sushi? It has it all.
Smith College
Smith College's campus is massive. Looking on a map on campus, it appears that half of the buildings are just dorms, but we were amazed away by its scale. Katie and I attended the University of Connecticut, which has a big campus, but this felt larger thanks to the way it wraps around a large lake.
If the weather is nice, go for a stroll and explore. It will impress.
A Couple Hours in Springfield, MA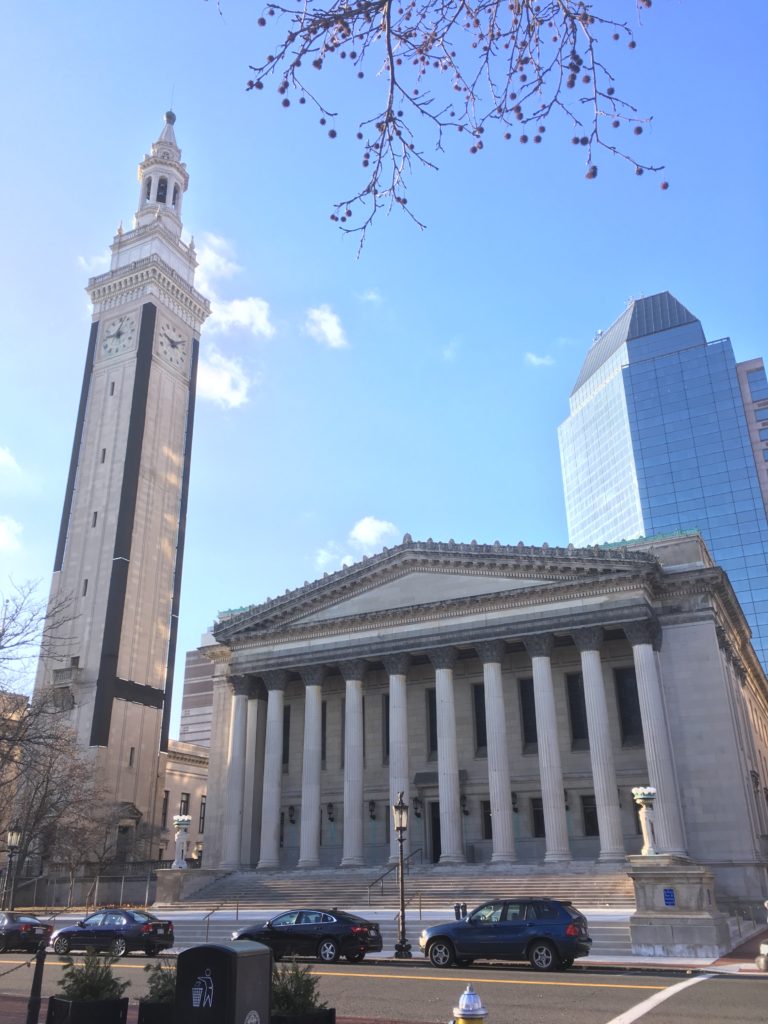 This certainly isn't Northampton, but it's only a half hour South, so it's easy to stop by. While Springfield doesn't have too much to offer for a visitor, the downtown is surprisingly nice.
Springfield has a new (and rather small) casino that lies right off I-91 smack dab downtown.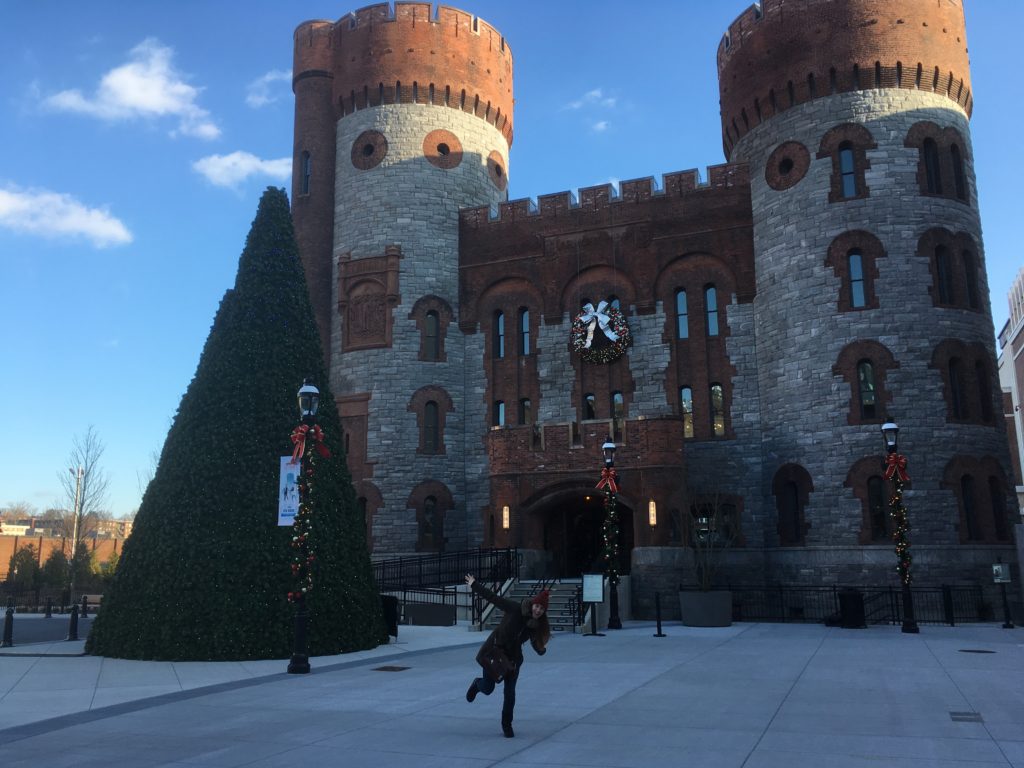 Next door is the old Springfield Armory which has been emptied out and houses a few vendors selling their crafts.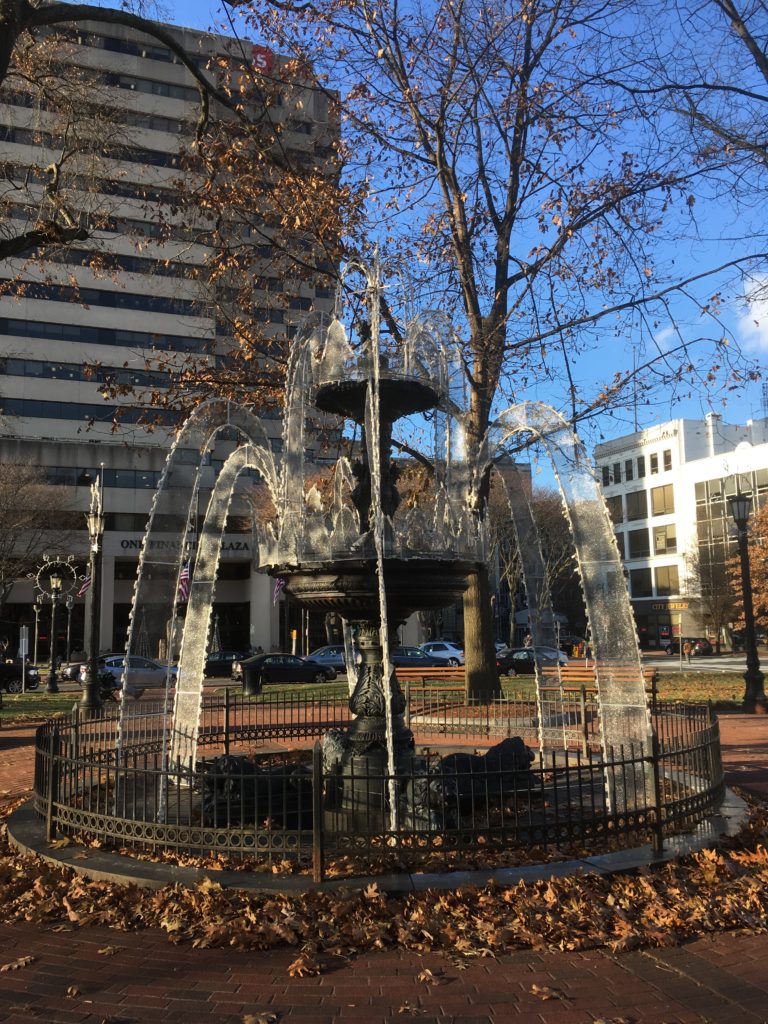 We checked out the small green which had a nativity scene set up and some Christmas decorations. They set up decorations to make it look like the fountain was still running, despite being shut off for Winter.
The reason for our Springfield visit was to do an escape room. We chose Springfield's Great Escape. For our visit, we chose "The Archaeologist" room which involved finding the "hidden entrance" to a castle.
If you choose this room, bring someone along who knows how to handle a whip!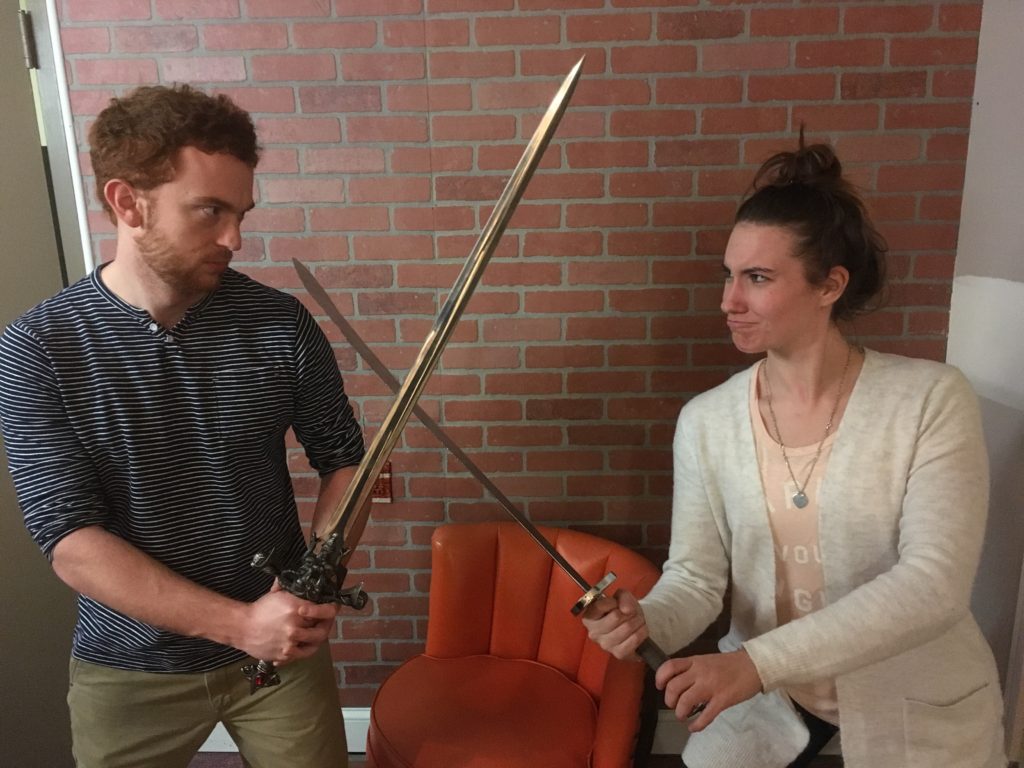 While we encountered a couple technical bugs in the room (the operator swore that was the first time it happened), we still succeeded in finishing the puzzle, and you can tell that the employee working there really enjoyed the creations they come up with.
Further Information
31 Main St, Florence, MA 01062
413-586-1684
Sun-Th 6am-9pm; Fri-Sat 6am-10pm
17 Main Street, Florence, MA 01062
413-341-3283
Sun 9am-6pm; Mon closed; Tues-Sat 830am-6pm
249 Main St, Northampton, MA 01060
413-586-5875
Sun 4-9pm; Mon- Wed 430-9pm; Thurs 11am-3pm/430pm-9pm; Fri-Sat 11am-10pm
Katie ordered artichoke heart ravioli with xato sauce (Spanish roasted almond sauce with olive oil and garlic). I ordered spinach fettuccine with aglio olio sauce (Extra virgin olive oil, roasted garlic, fresh basil & red pepper flakes). The xató sauce was my favorite part of our orders.
Haymarket Café (vegetarian/vegan cafe and restaurant)
185 Main St, Northampton, MA 01060
413-586-9969
Sun 8am-10pm; Mon-Sat 7am-10pm
Amanouz Café (Moroccan and Mediterranean restaurant)
44 Main St, Northampton, MA 01060
413-585-9128
Sun-Th 8am-10pm; Fri-Sat 8am-11pm
We highly recommend this place. We ordered an appetizer of dolma (stuffed grape leaves). Katie got baba ghanoush and I ordered musaka. Both came in thin pita pockets.
141 State St, Springfield, MA 01103
413-363-0679
Mon-Thurs 11am-10pm; Fri-Sun 10am-12am
$35 standard/$25 students