Travelling with someone who enjoys dancing just for the sake of dancing, I was bound to take a dancing class on one of our trips.
While Katie and I have taken Salsa classes before, and put them to use in Ecuador and Puerto Rico, we figured taking a class in a Latin country would be a lot of fun. Luckily for us, Cartagena has Latin dancing classes.
Crazy Salsa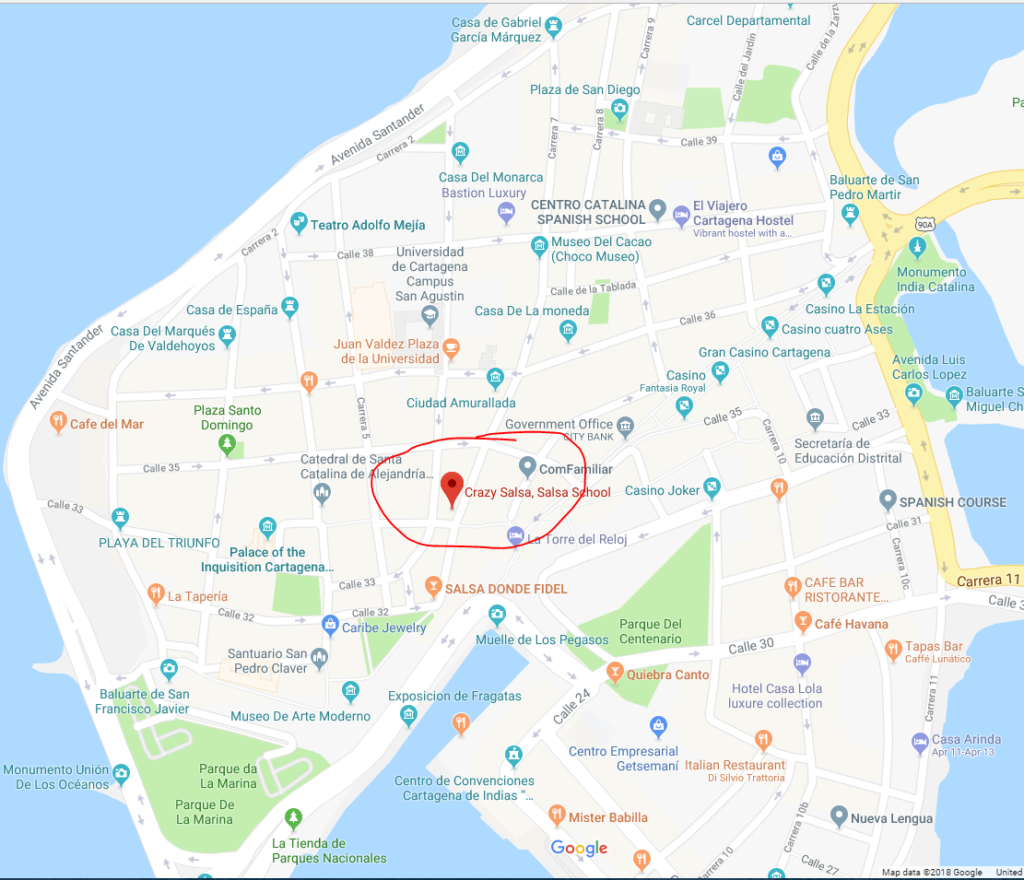 There is a business in the Centro Historico named Salsa Crazy.
They teach many styles of Salsa, as well as other Latin dances such as Bachata and Merengue and they even teach a unique Colombian dance which was heavily influenced by African dances named Champeta.
We decided we would take their introduction class so that we could learn some intro steps to Merengue and Bachata (I've always wanted to try Bachata).
The cost came out to $25,000 COP ($19 USD) per person for a 90-minute lesson. It was about half of what I'd pay at Platinum Salsa in Southington, CT so it was a pretty good deal.
Our Class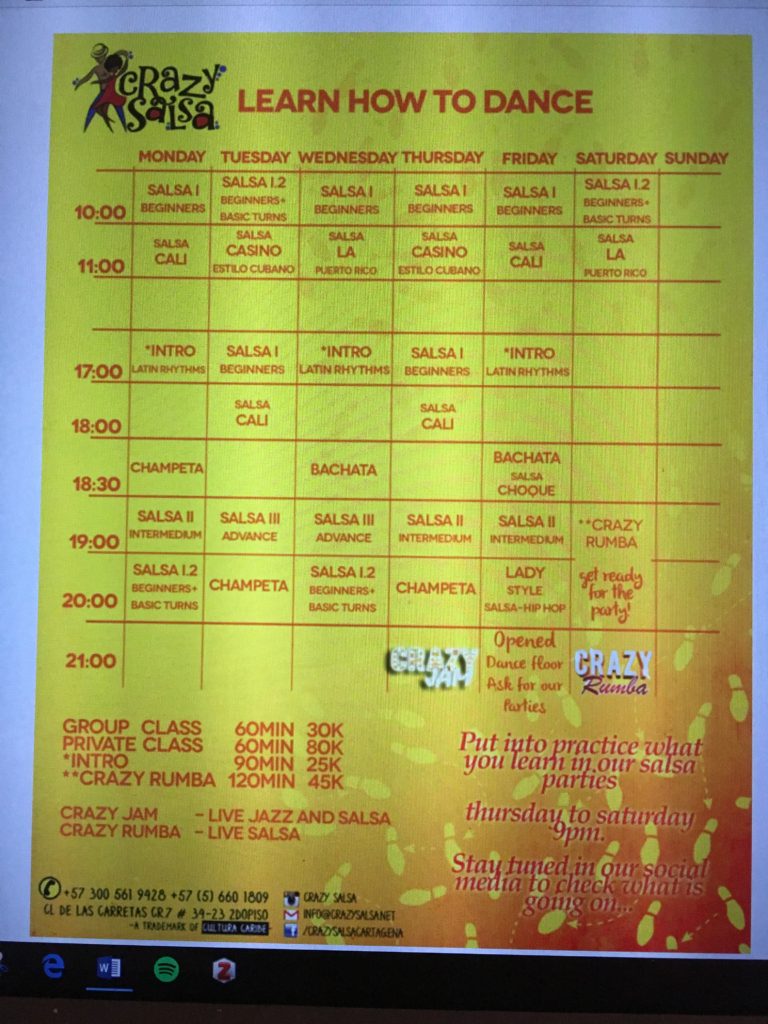 We showed up and there was one other person taking the class; some young male who was in Colombia for a couple months teaching English as a second language. He was quite fluent in Spanish and had decided he should learn to dance while there.
We got started with the class under an instructor who didn't know any English. It turns out that learning how to dance without knowing the spoken language is pretty tough and frustrating.
The Dances
The Salsa part was easy for us as it was just basic intro stuff. We were a little bored with it since we were above that level already.
Merengue is an extremely boring dance. If you like taking a thousand tiny, shuffling steps, then this is the dance for you. If you like to actually move and have fun, maybe skip this one.
Bachata is fun, and the basics are very easy to learn. You essentially just emphasize your hips movements. It's not as fun as I expected it to be though.
Apparently I enjoy Salsa more. Who knew?
Should You Go?
You should give it a dance lesson a try!
If you already know the basics or what type of dance you like, choose a class at a higher level. Doing a class at a basic level when you're already familiar with one of the dances makes that third of the class go by very slowly. We would have been better off going to a salsa club instead of taking a basic level.
However, if you've never danced any of the dances before and aren't a confident dancer, it's a fun, cheap way to learn without feeling judged. At the very least, you get to listen to some fun music.
Have you ever taken a lesson in a foreign country? We'd love to hear about it in the comments.