Let me just start by saying that I was WOEFULLY unprepared to hike Croagh Patrick. I figured it would be like one of the two "walks" we did previously, since hiking is referred to as 'hill-walking' in Ireland.
Croagh Patrick, Ireland's Holy Mountain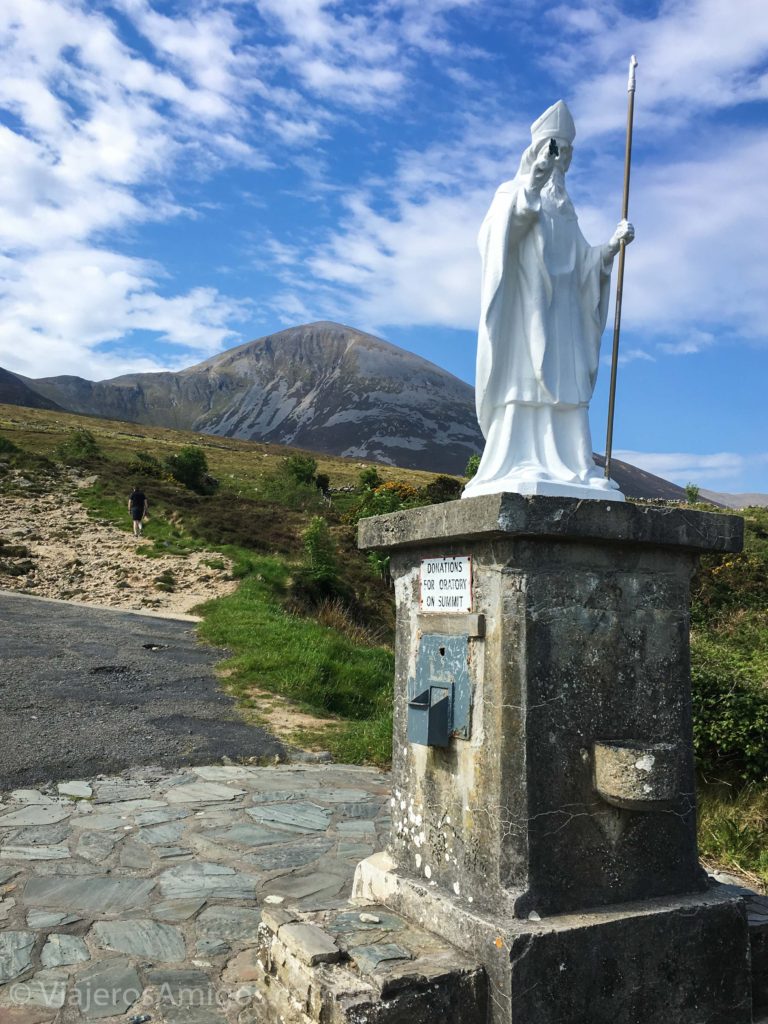 Croagh Patrick is not quite a hill. At 764 meters (2,507 feet) of elevation above sea level, and just under half a mile of elevation gain, its more like a mountain.
It is famous for it's annual pilgrimage to the top by barefoot hikers. According to Outsider.ie,
 "It can be fairly packed at the weekends and in particular during Reek Sunday, which is the last Sunday in July. Around 25-30,000 people hike the mountain that day to follow in the footsteps of early pilgrims, with mass being said in the chapel at the summit."
They do this in honor of the 40 days Saint Patrick allegedly spent on the top of the mountain fasting.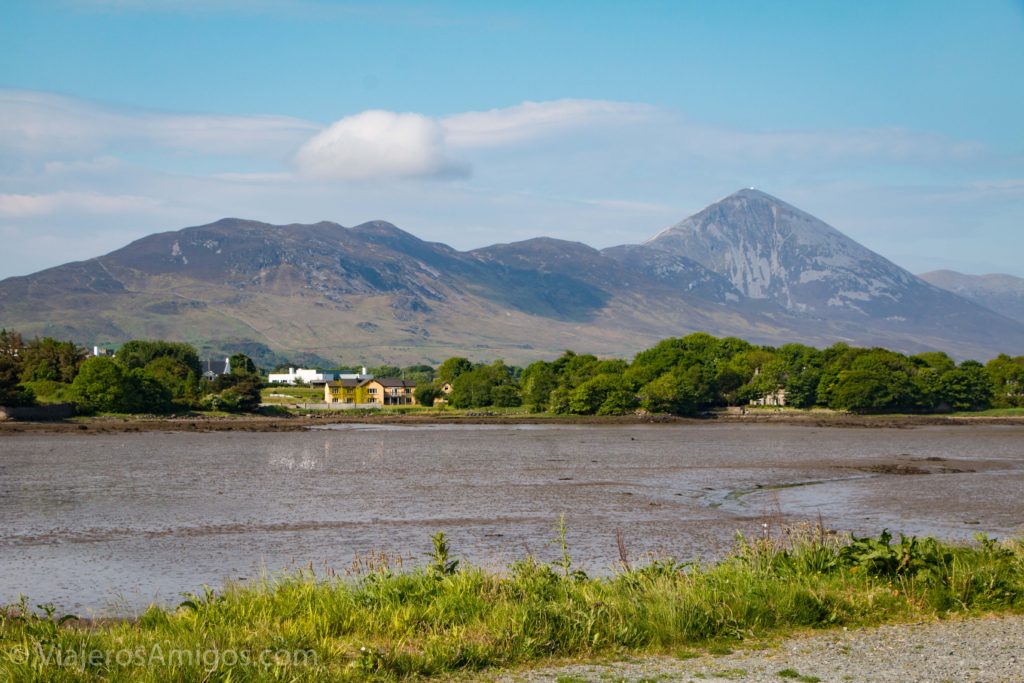 We stayed in Westport the night before where Kevin kept pointing to the hill we'd ascend the next morning. Being a New Englander, it looked much like the hills we have around here so I was unfazed.
That is, until we pulled up close to it.
Arriving at the Mountain
After driving for about 20 minutes from Westport, the parking lot appeared suddenly around a bend in the road. We didn't expect it to be right on the main road like that, but it was convenient and easy to find.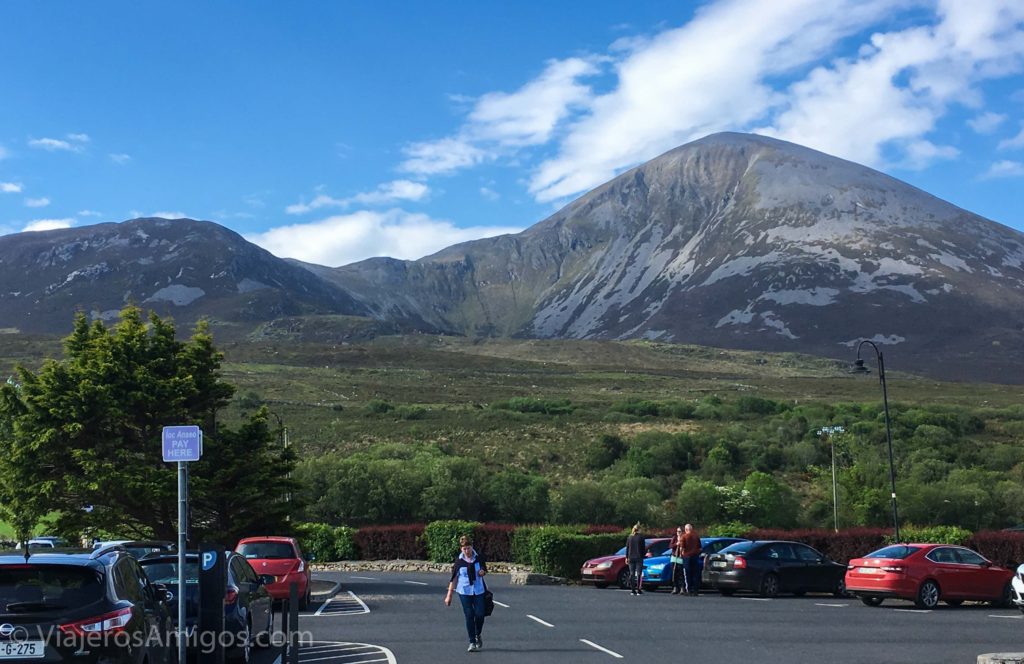 The parking lot was a pay-to-park, with a machine at the end of every other aisle to pay and receive a ticket to display in your car. The machines were quite outdated; only taking coins. They only let you pay for four hours maximum: €1.20 for the first hour, then €0.60 after that.
Kevin was worried that we may take longer than four hours, but I figured we'd have a much shorter hike than that. After spending €3 to max out the time, we used the public bathrooms at the bottom and began our ascent.
Beginning the Ascent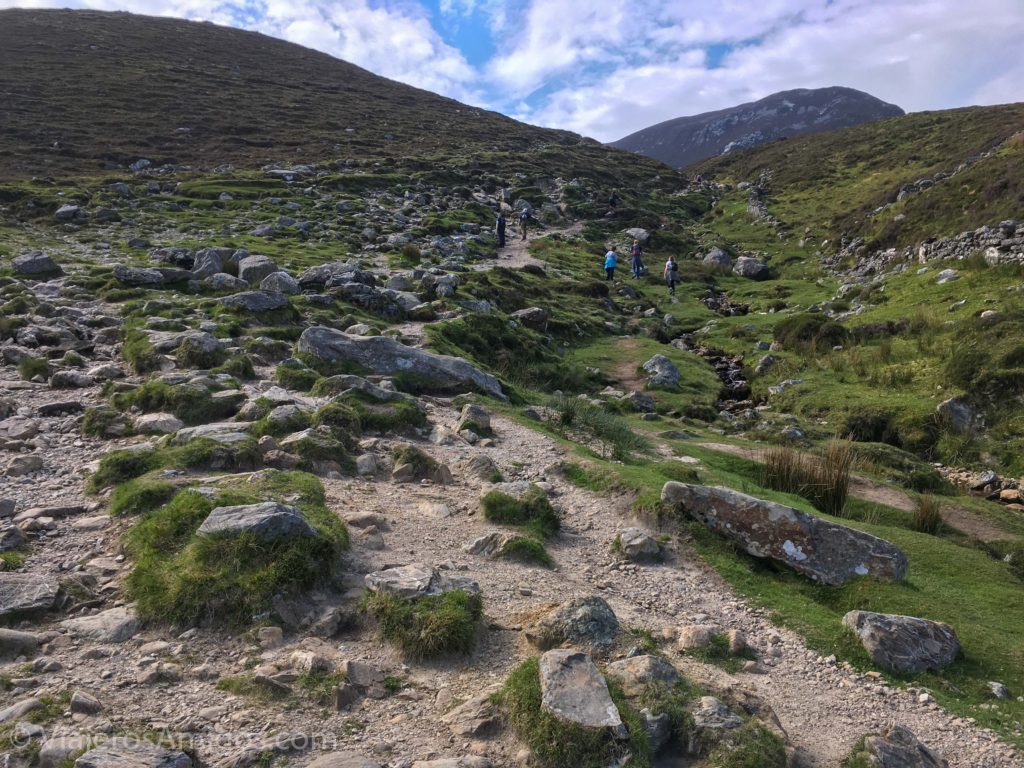 That night I had only slept four hours. I woke up at 6am the morning of the hike and decided to go for a jog since going back to sleep seemed like a lost cause.
This is relevant because, I was kind of a hot mess on the trail. The 45-degree angle of the ground was taxing, and that was before we even reached the beginning of the trail!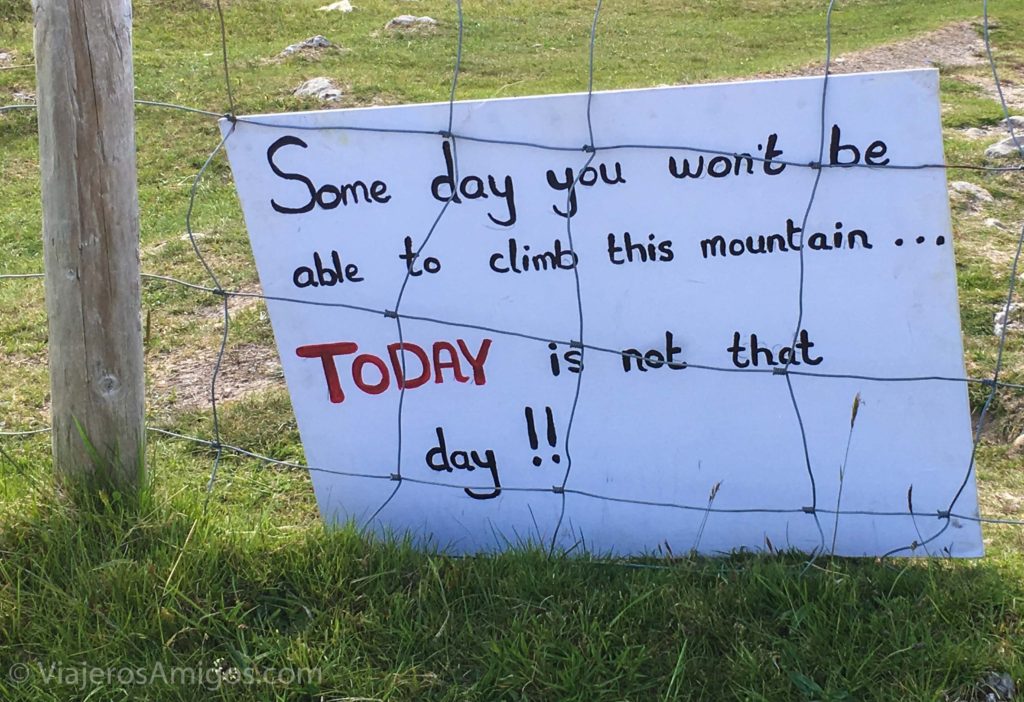 We reached the gate that marked the beginning, judged the signs, and proceeded on through. Kevin, noting my exhaustion, kept reminding me that we could turn around at any time, but I told him I was never doing this again so I may as well finish.
I had very little motivation on account of my early morning run, and because I could clearly see the people suffering the trail high above me.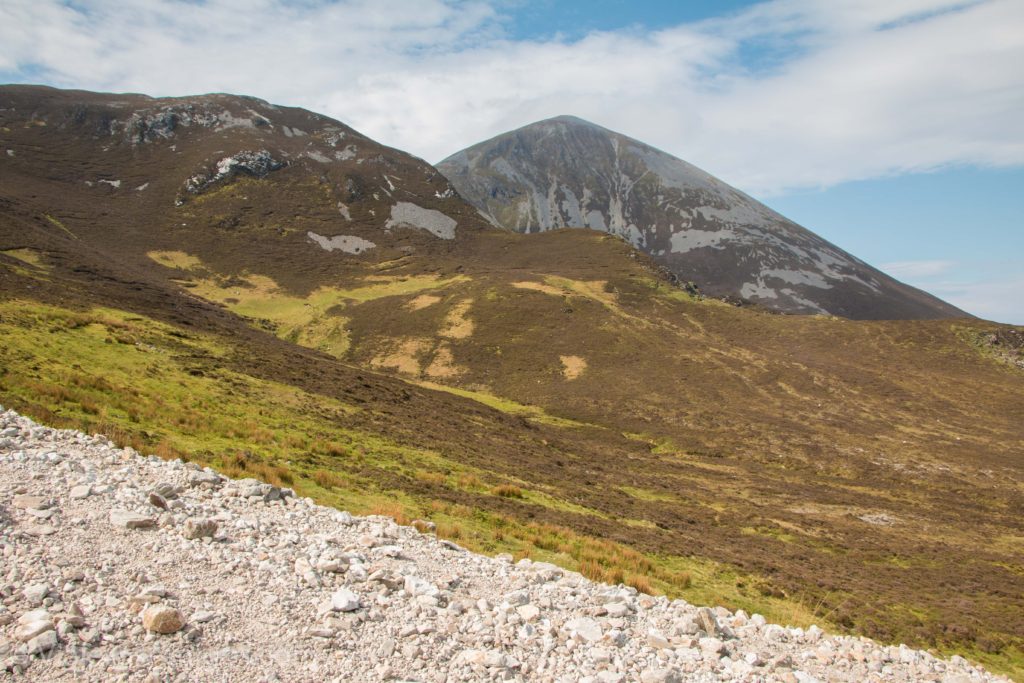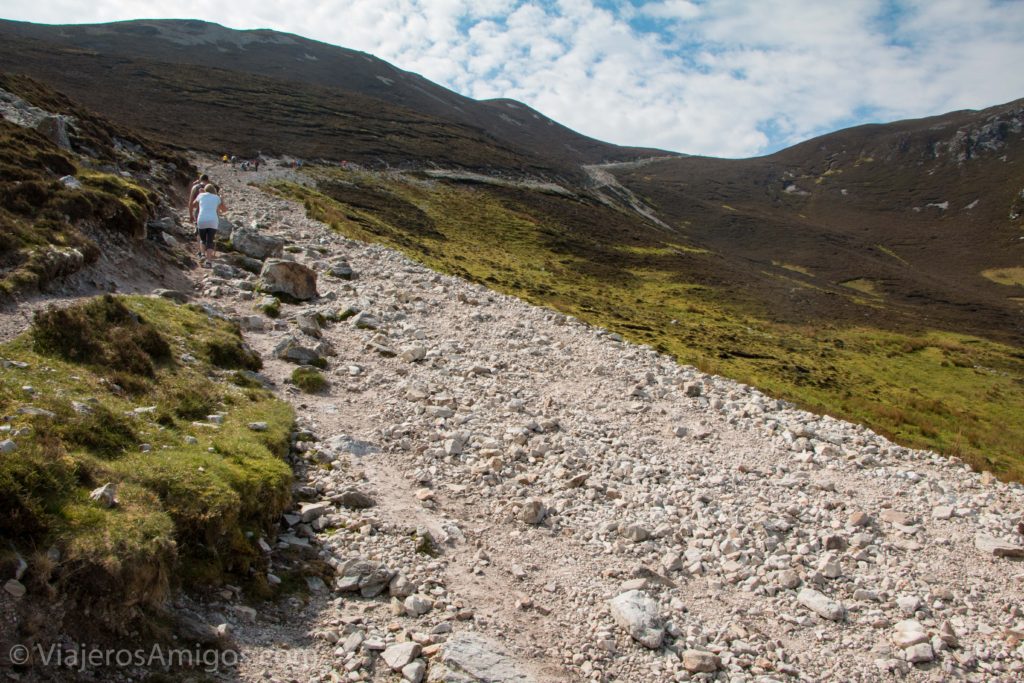 Most of the route is visible to the naked eye, something which I'm not used to as a New Englander.  At least in New England we have the decency to hide our tough hikes with trees!
It was a beautiful day. There were a lot of families with kids, and I wasn't about to be out-climbed by a couple of 6-year-olds, so I trudged on.
Reaching the Ridge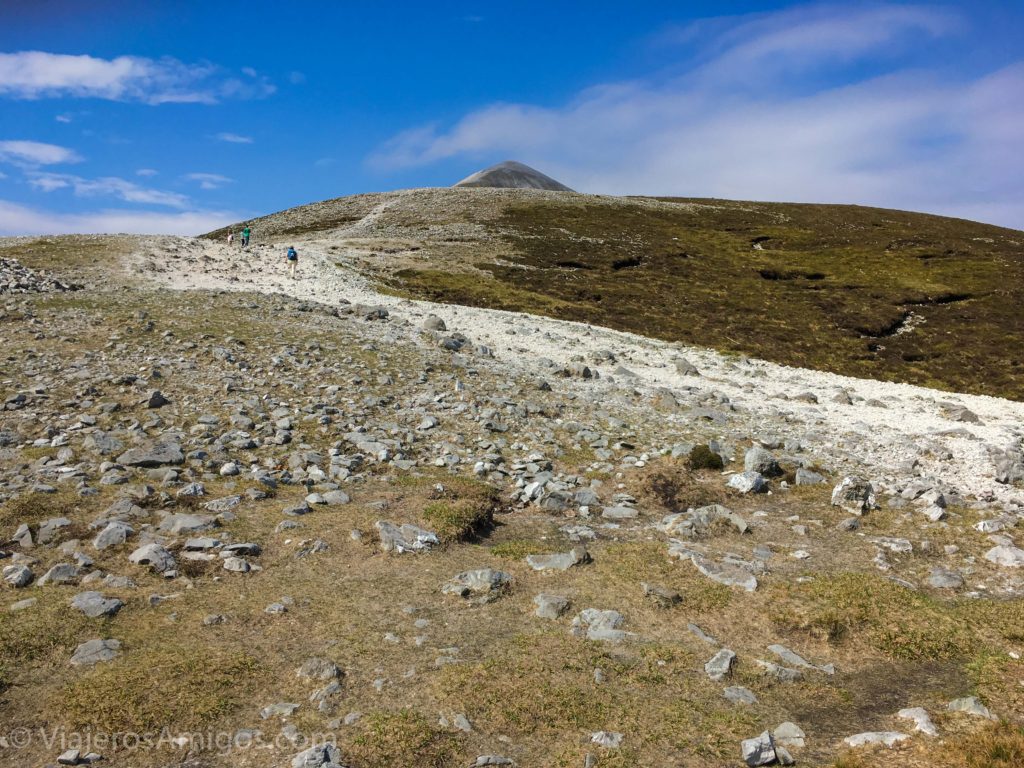 We finally reached the end of what was visible from the road. The trail up until that point had been wide, steep, and gravely, with some large rocks to break it up. Now the trail meandered on in front of us, with slight dips and elevations.
To the left, there was a little pool of water at the bottom of a funnel shaped ditch where we noticed people had written their names in rocks all around it. As we walked on, we noticed more names scattered along the trail.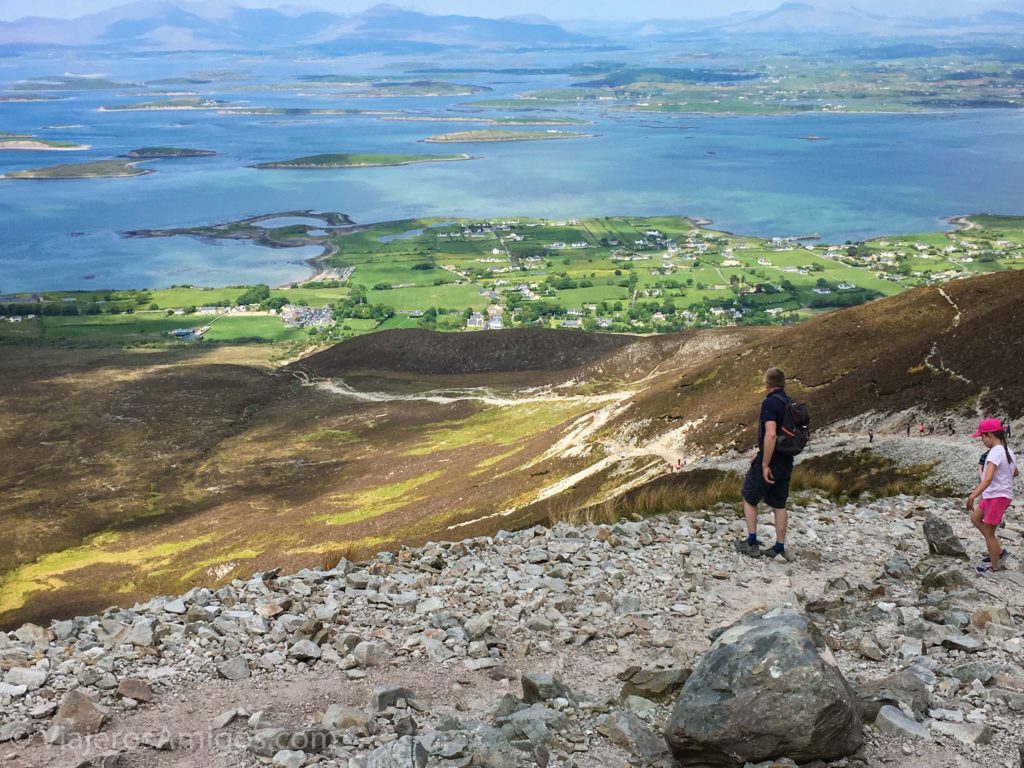 The views along the ridge were pretty good, considering the elevation we had already attained and the lack of surrounding mountains to obscure the view.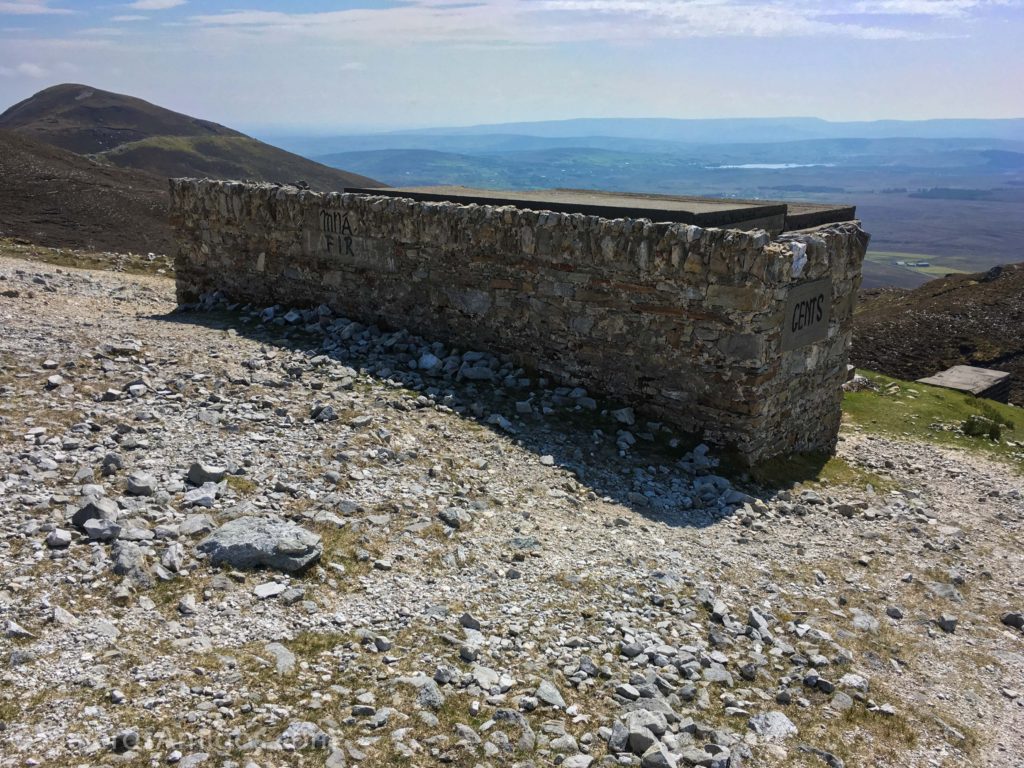 There were bathrooms at this point in the trail too (they were kind of gross), but we moved on along. I just wanted to finish the hike before it finished me!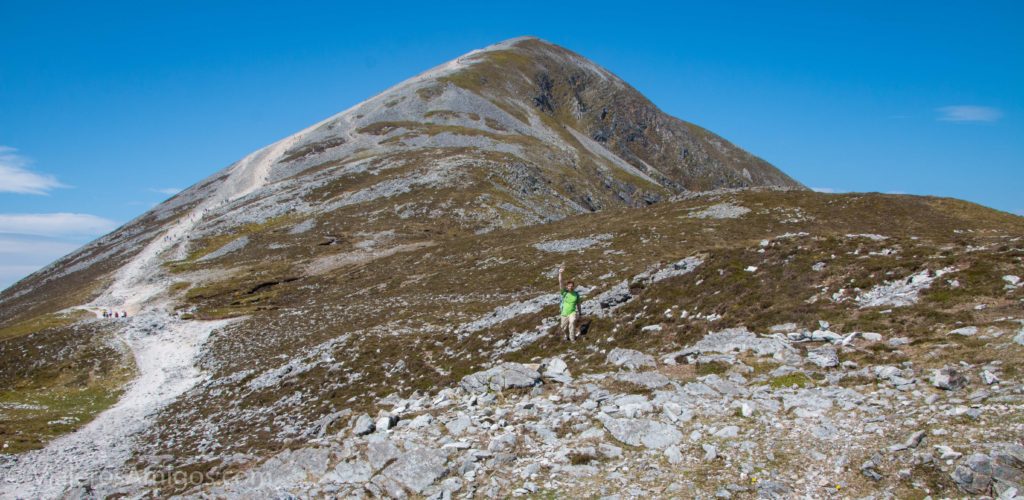 The way the trail was laid out did a good job of hiding the torture that was yet to come.
The Last Stretch: A Scree Field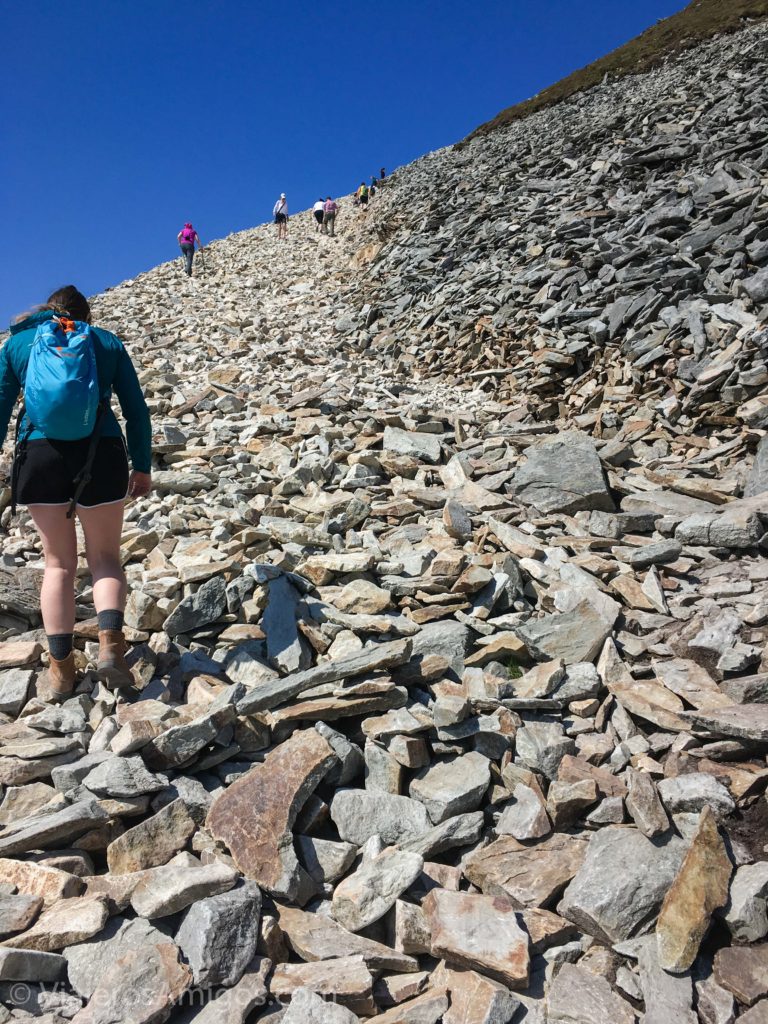 We rounded a turn and all of a sudden, the steep hill that we would have to climb appeared. It didn't look too bad until we started ascending, almost straight up, for the rest of the hike.
What made it more terrifying was the loose rock that we were stepping on, known as "scree".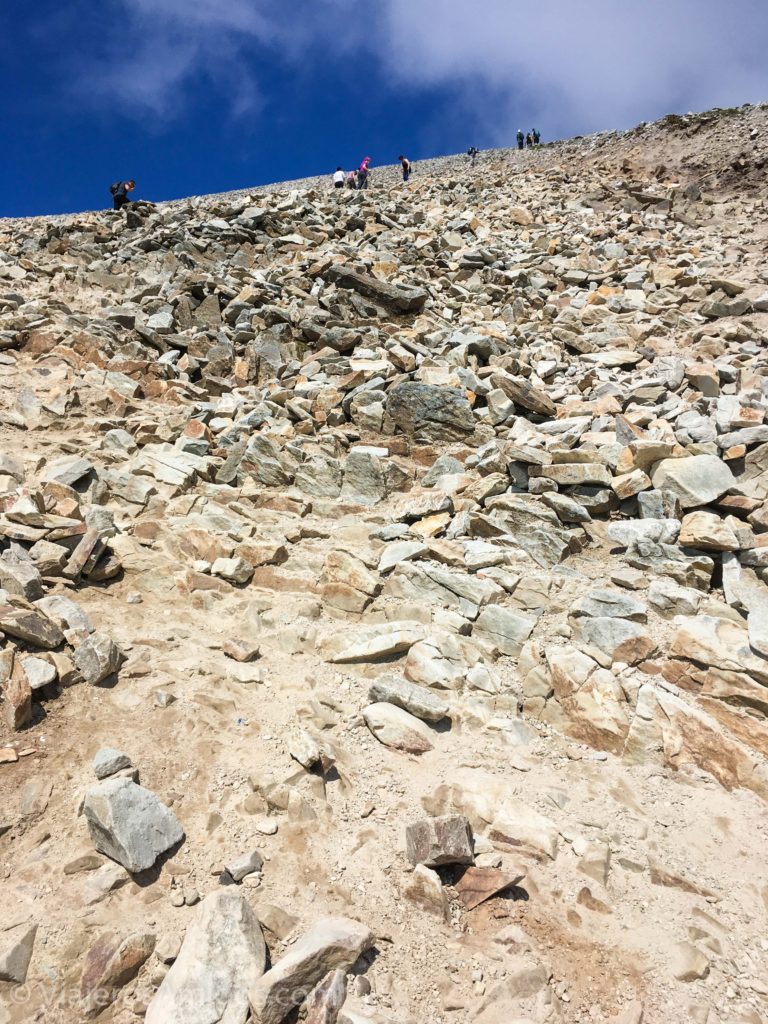 This section of the hike reminded me of my trip to Mount Madison: a bunch of large rocks that seemed precariously perched on top one another, threatening to twist an ankle or cause a rock slide with one wrong move.
I can't remember a hike where the path was so steep for such a long period of time. This was quite exhausting. After another hour of slow moving, we finally reached the top.
The Summit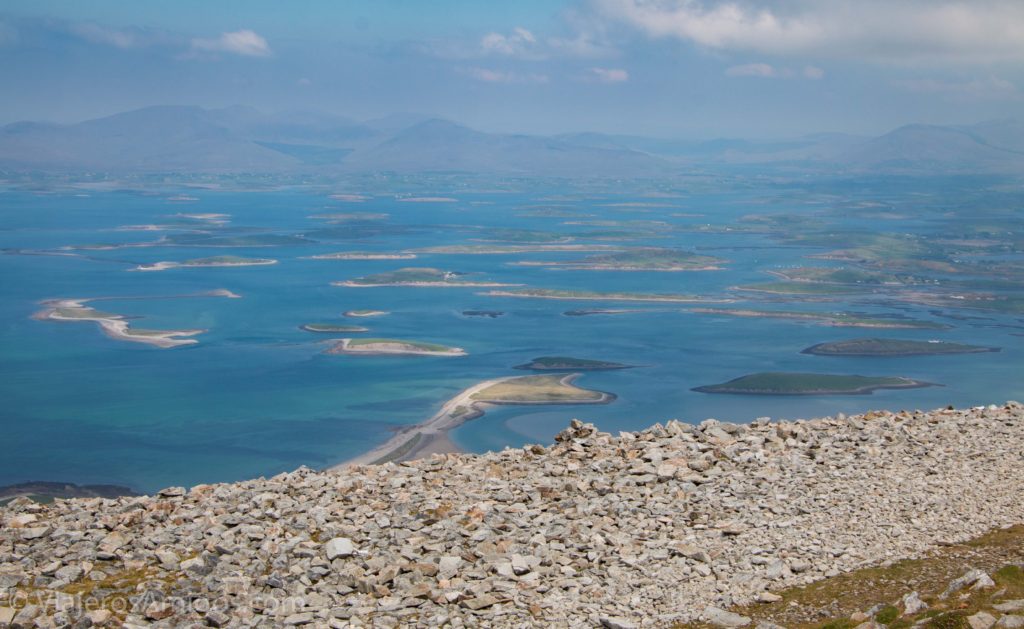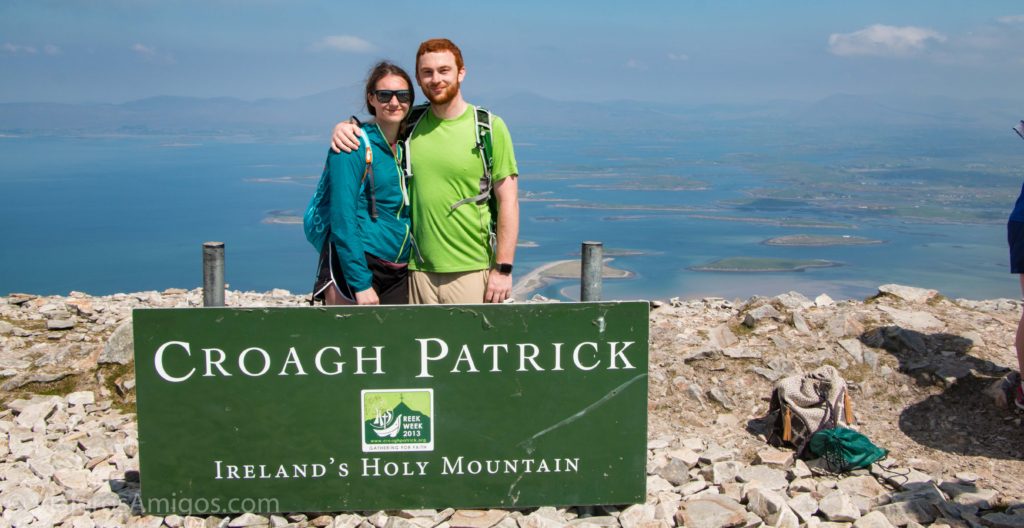 The views at the top were comparable to those when we reached the false summit along the ridge.
The wind wasn't as bad as I normally experience on a mountain top. It was actually quite mild considering it towered above everything in the area.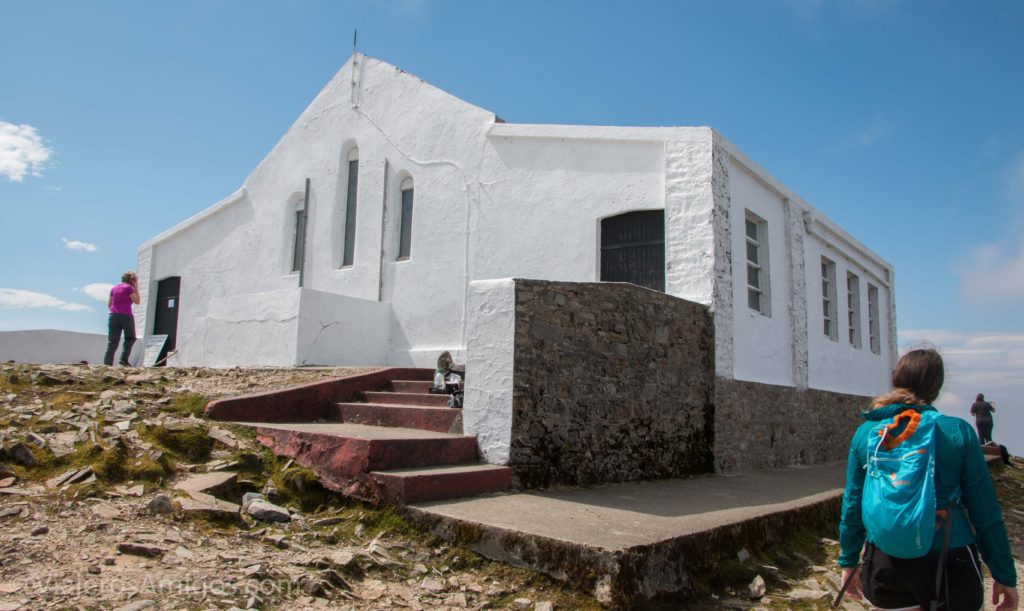 There was a chapel dedicated to Saint Patrick at the summit. It was extremely bare bones and monitored by two attendants. It was also being re-painted that day.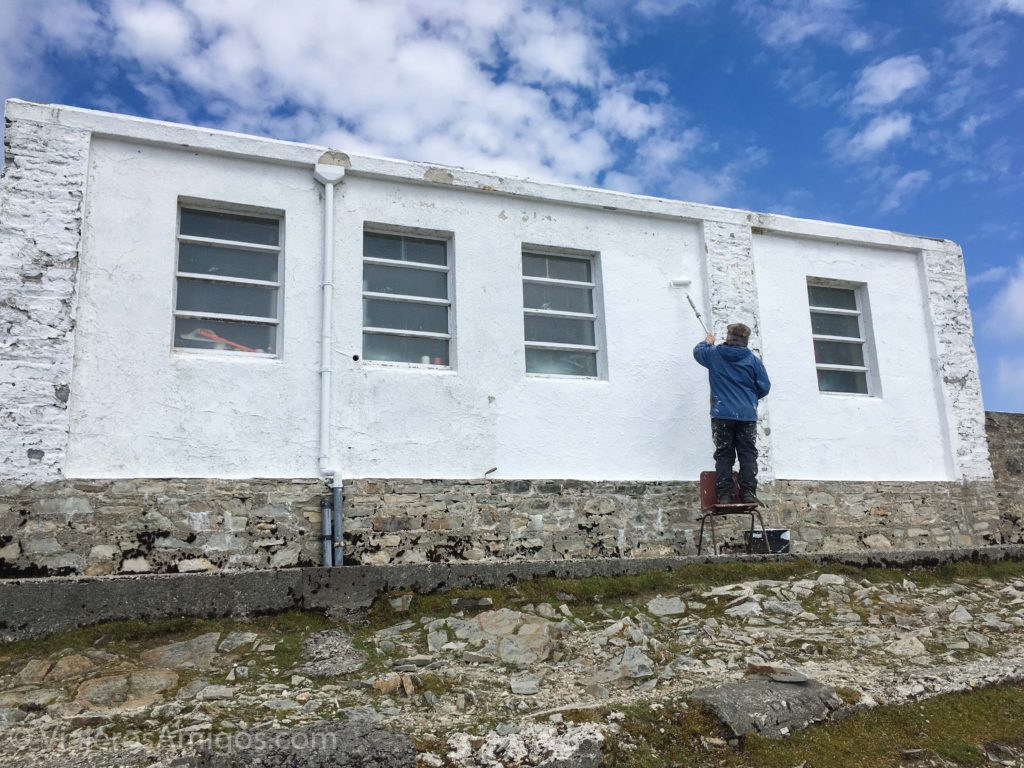 Kevin and I kept wondering, "How the #*&@ do people hike up there once, let alone multiple times, or even daily, with a can of paint?!"
Is there a secret road we don't know about? These Irishmen are hardier than I thought. I also was surprised that there were no concessions at the top for the amount of visitors it gets, and very glad that we had brought some snacks to enjoy.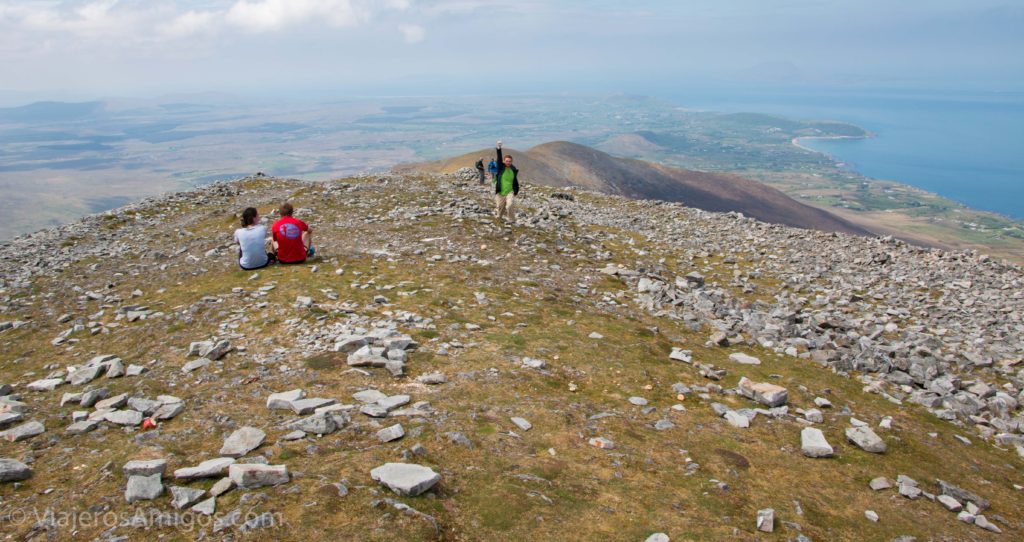 The Slow Descent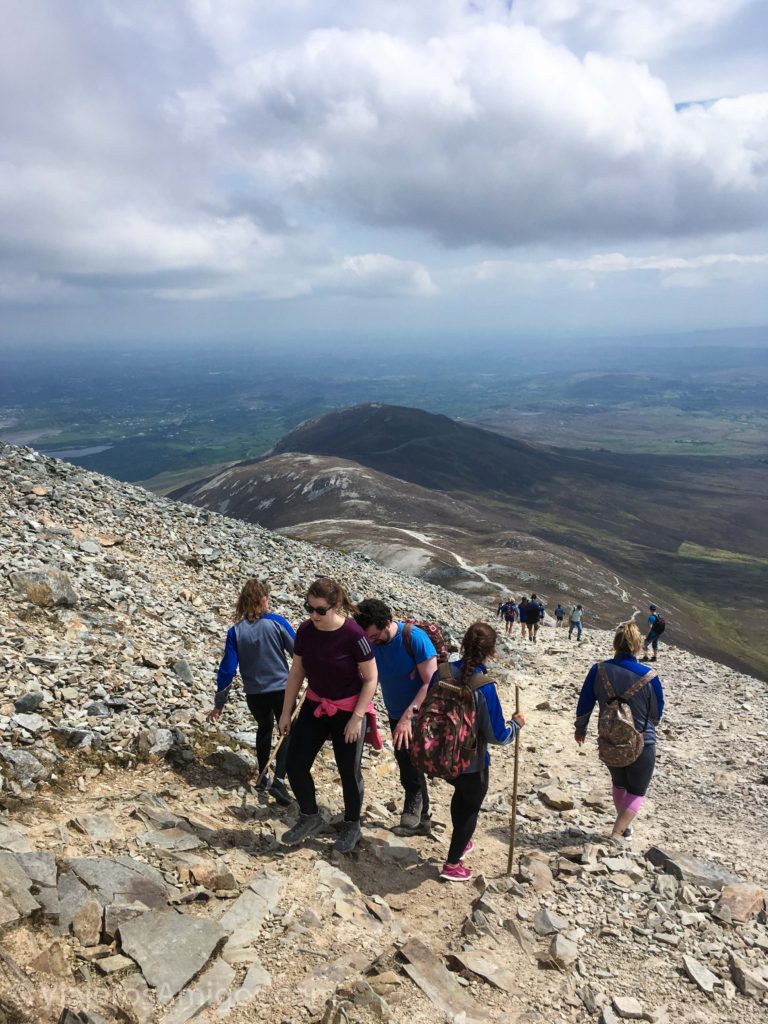 I'm a slow downhill hiker, so the hike took us longer going down than up. What made it worse was some people were enjoying testing their luck with gravity, running down the loose rock and rudely causing small rockslides.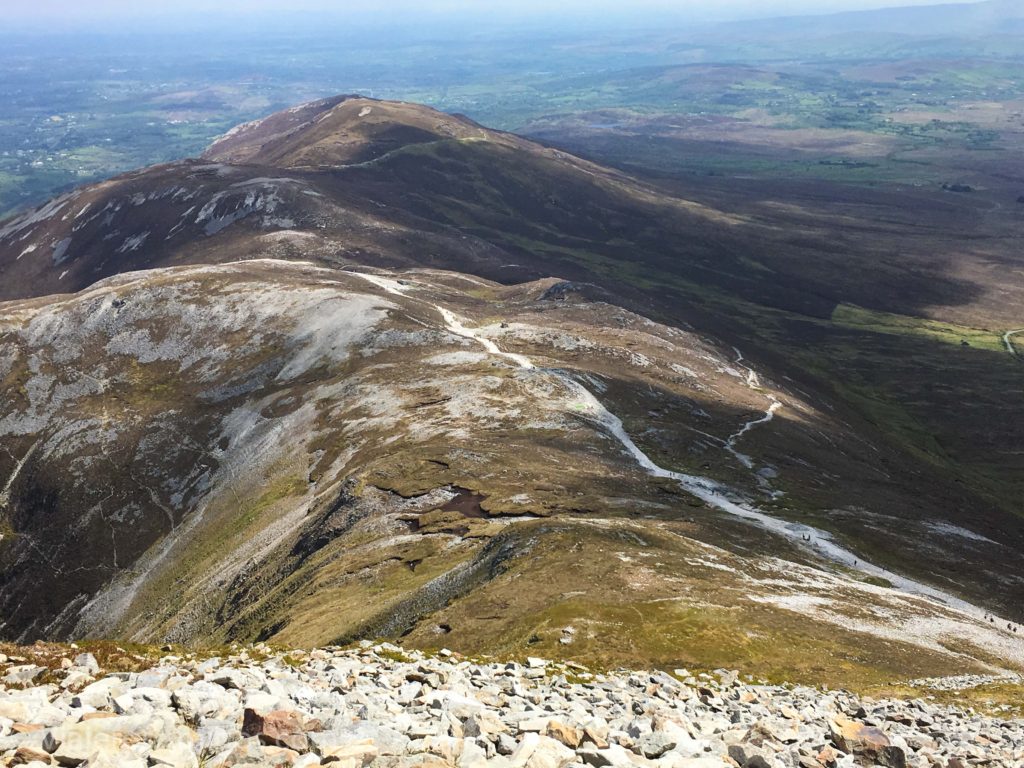 We managed to make it down just shy of the 4-hour mark, with enough anxiety about a parking ticket that we made a beeline for the car where we we took turns changing out of our hiking clothes and resting. There didn't appear to be any meter maids around.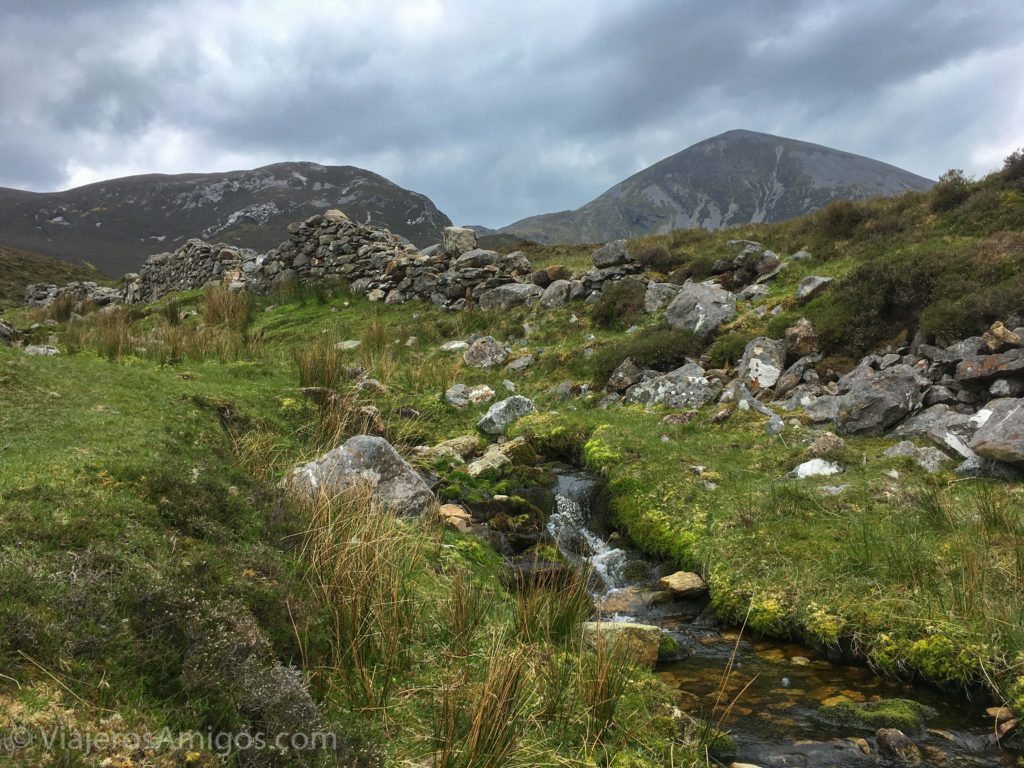 People were starting the hike well after we returned, around 430pm, which was also weird to us New Englanders. We reached the summit just before the clouds started rolling in for the day for the forecasted rain, and it only got cloudier by the end of our hike. Those people starting out probably had some boring views at the top.
We needed some refreshments after the hike, so we stopped at the restaurant/gift shop at the bottom. I got a coffee for a few euro while Kevin got a sandwich. There wasn't too much variety there but it was great after a tiring hike.
When you're finished with your hike, cross the street and check out the Irish Famine Memorial.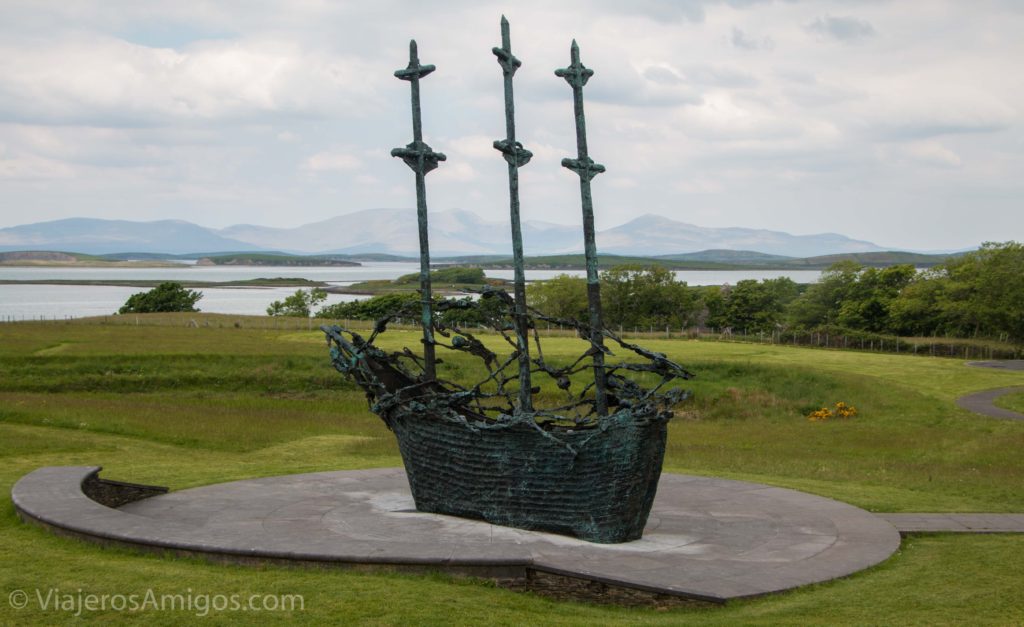 Hiking Stats
Kevin used his Apple Watch 3 to track our hike for better detail.
Here's the stats for our ascent…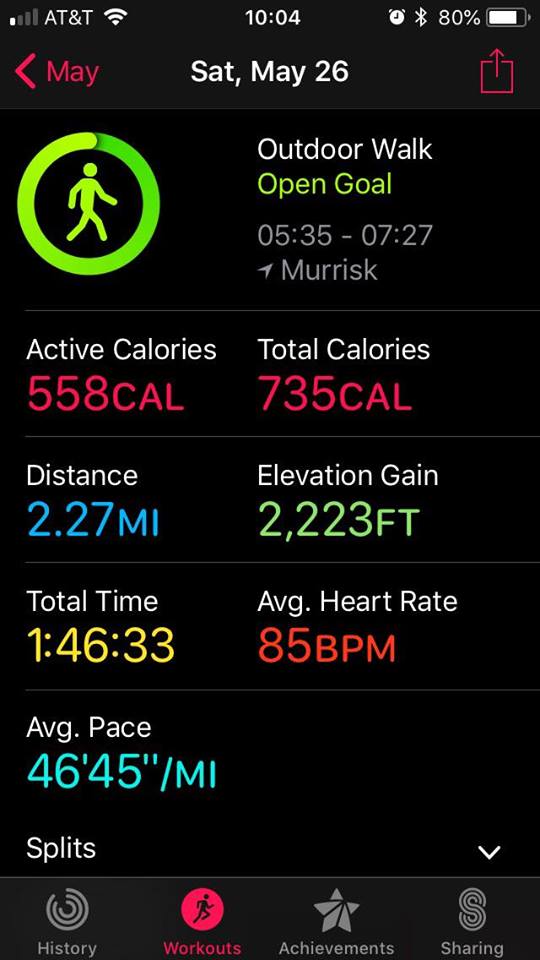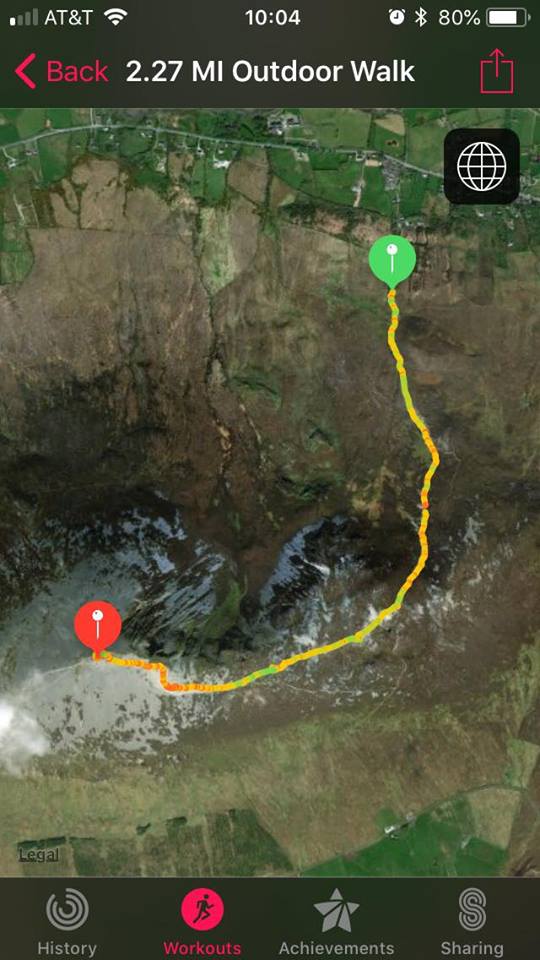 and here's the descent.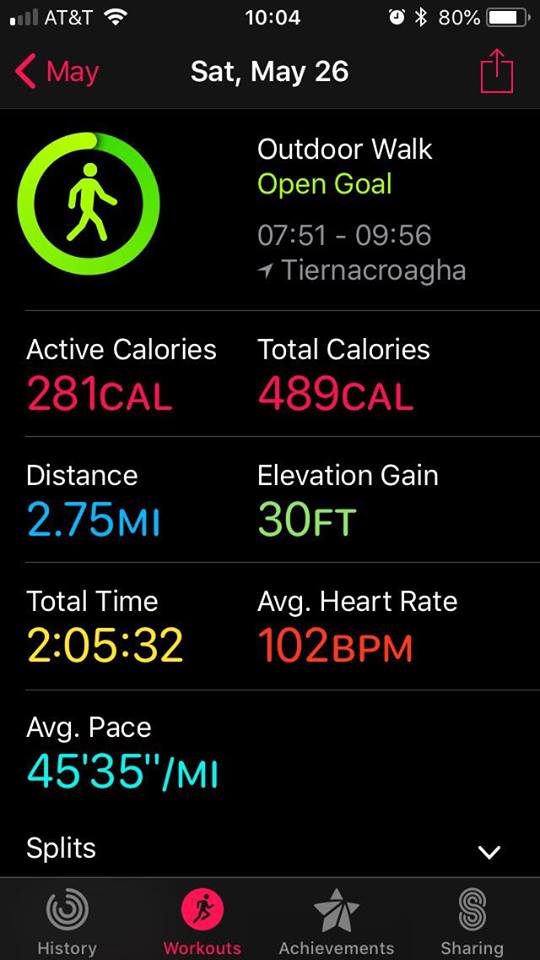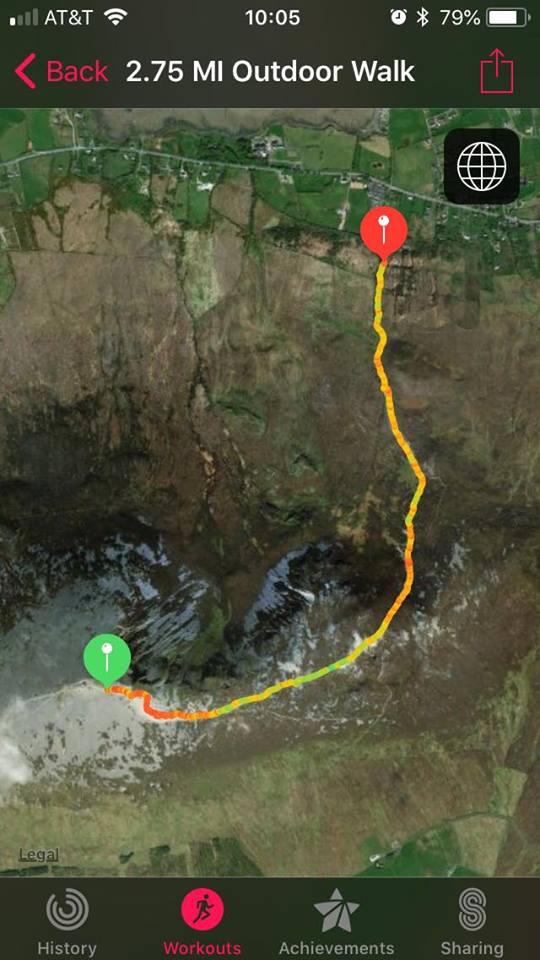 What to Wear for Your Hike
I packed very minimally for this trip to Ireland and refused to bring actual hiking boots (too heavy for lots of walking around in towns and cities), so I made do with my Kodiak Combat boots, which weren't too bad.
I ended up feeling some rocks through the soles but Kevin had the same problem with his hiking boots. They aren't actually made for hiking, so I shouldn't complain. People hiking around me were wearing worse footwear for the hike.
I opted for a Nike Dri-Fit shirt, and some North Face shorts. I layered a long sleeve shirt over that and, towards the top of the mountain, threw on my Patagonia Houdini jacket for the wind, which I didn't really need. I'm used to needing something in New England, but the wind wasn't nearly as strong on the Irish peaks.
I threw everything in my Cotopaxi Luzon del Día backpack and had a great day!
Now get out there and try it!
And it someone has any tips for great travel hiking boots, let me know!
More Photos