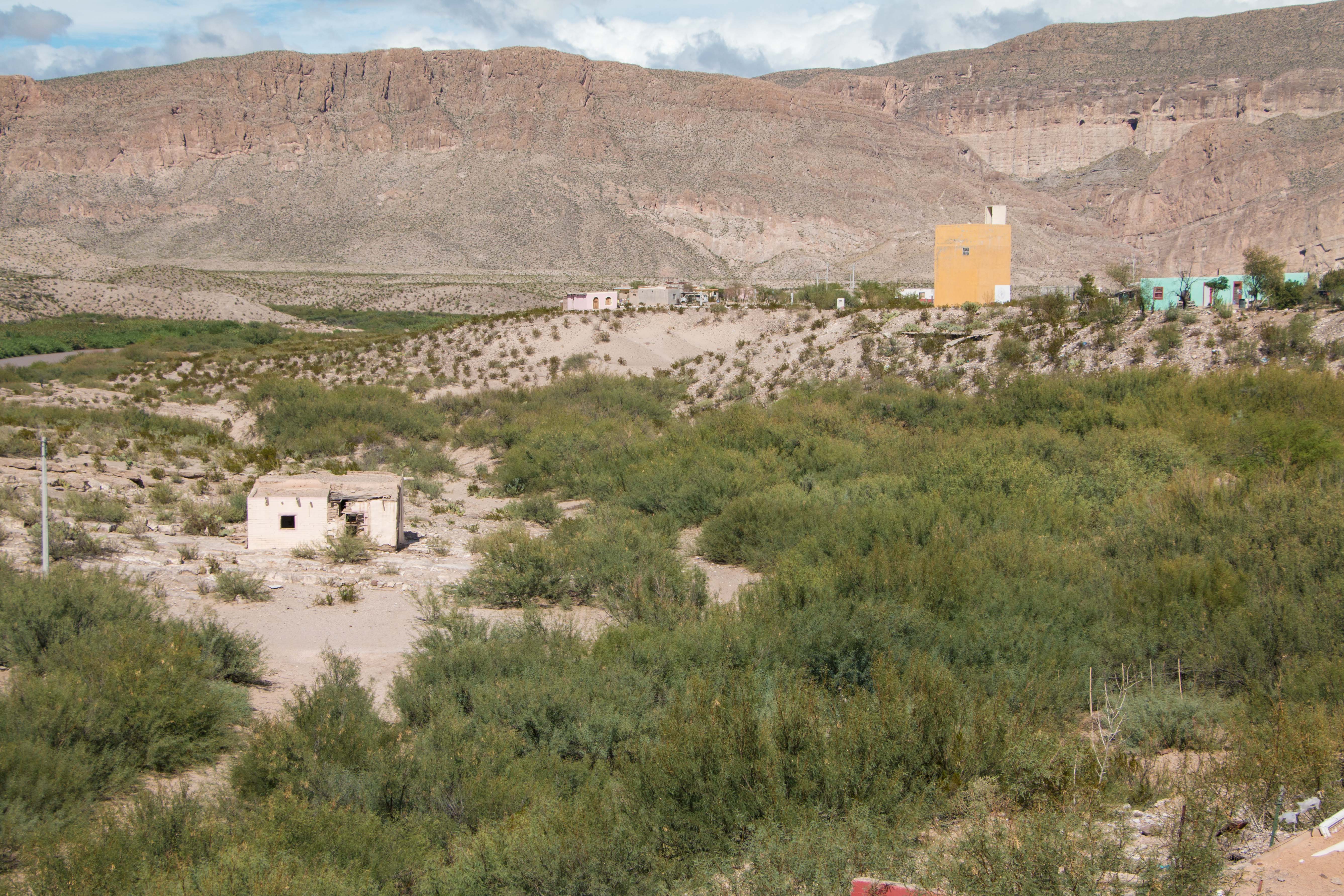 While researching Big Bend National Park, I came across a couple web pages that wrote about crossing the border over into Mexico. I've never been to Mexico before, so I was intrigued. It turns out that there is a border crossing within the park.
Boquillas del Carmen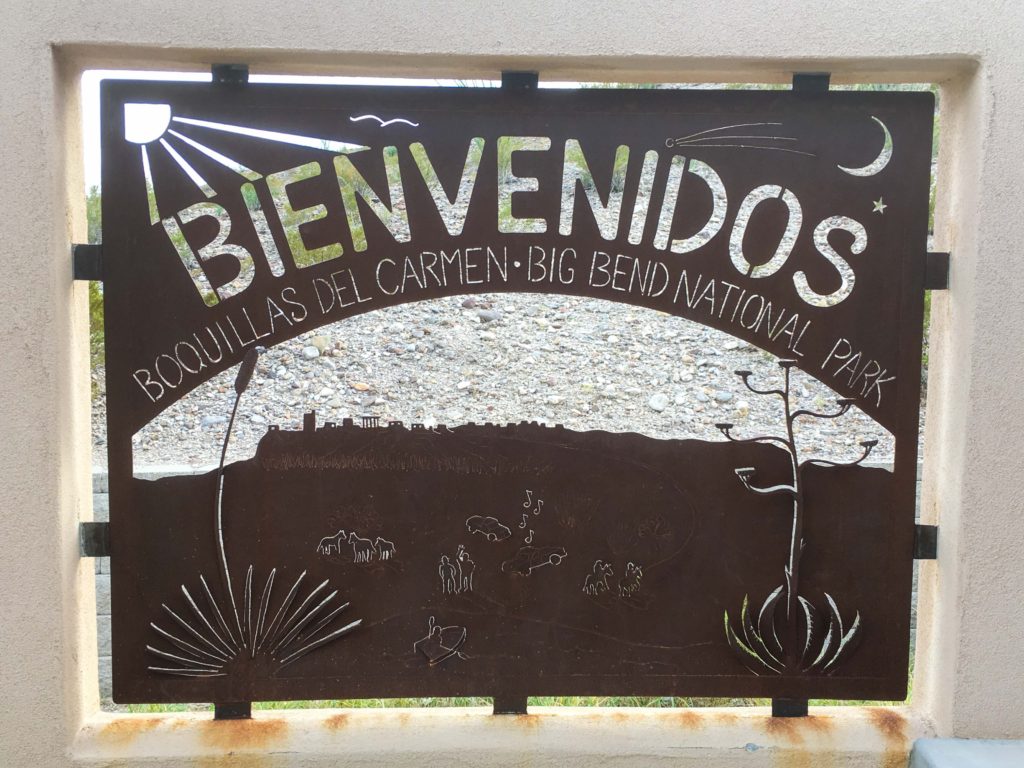 On the other side of the Rio Grande in Mexico, lies a small, remote village that relies mostly on tourism money, named Boquillas del Carmen (or Boquillas for short). It is a very isolated town (the next closest Mexican town is over 100 kilometers away along rough roads) and only recently received solar-powered electricity from the government. Prior to electrification, the town relied on gas generators.
Boquillas has always relied on visitors from the United States border for income. As a result of the frequent interaction with American tourists, most of the residents speak fluent English.
I know that when most Americans think of Northern Mexico, they think of gangs and drug lords. Ciudad Juarez, in particular, has tainted the image of Mexico in many American's minds.
Let me reassure you that Boquillas is nothing like that. The residents have every motivation to ensure a safe reputation since they rely on visitors coming over from the United States.
This economic reliance on tourism really made itself obvious after border security in the United States tightened up. From Wikipedia:
The events of September 11, 2001, destroyed Boquillas del Carmen's traditional way of life. In May 2002, the border crossing from Big Bend National Park to Boquillas was closed indefinitely…Most of the town's residents had been forced to move away by the closure of the tourist crossing and destruction of the town's traditional economy… After multiple delays, the new Boquillas Port of Entry was finally officially opened on 10 April 2013.
Crossing the Rio Grande to Boquillas del Carmen
Nowadays, it's still pretty easy to cross the border. From what I've read, it's the easiest border with Mexico to cross. Going into Mexico we didn't need to do anything.
We followed the obvious path to the river where we waited for a rowboat to cross over to us. It cost us $5 USD to be ferried over and back. You could always cross on foot, but the current seemed pretty strong, so I would advise against it.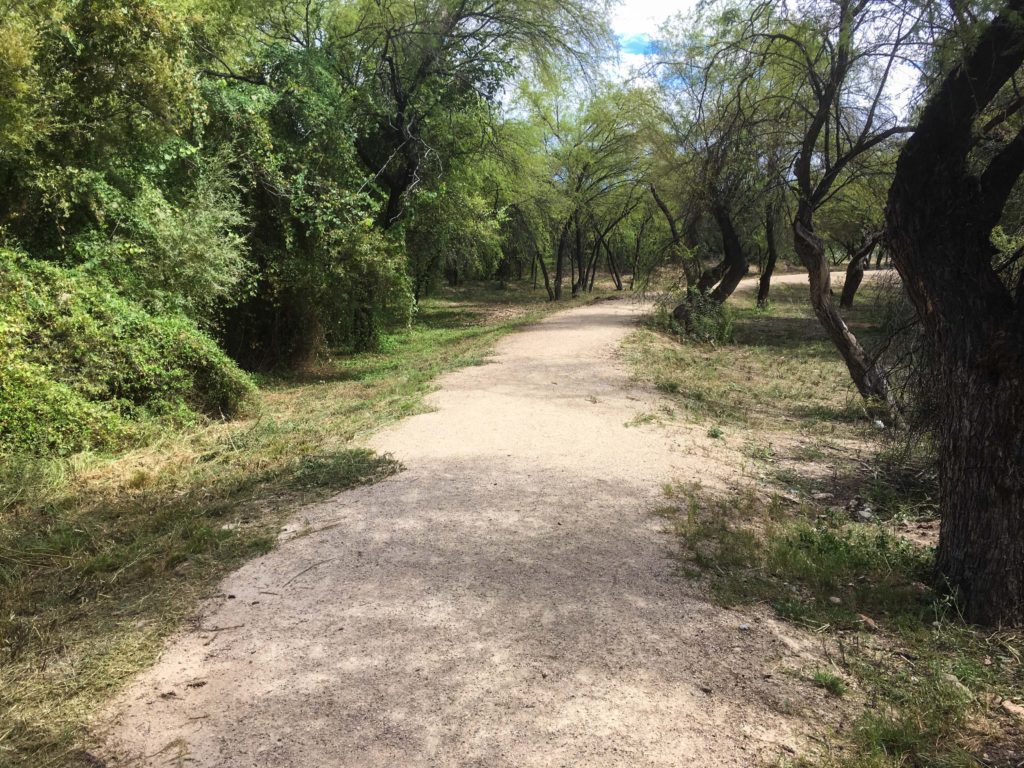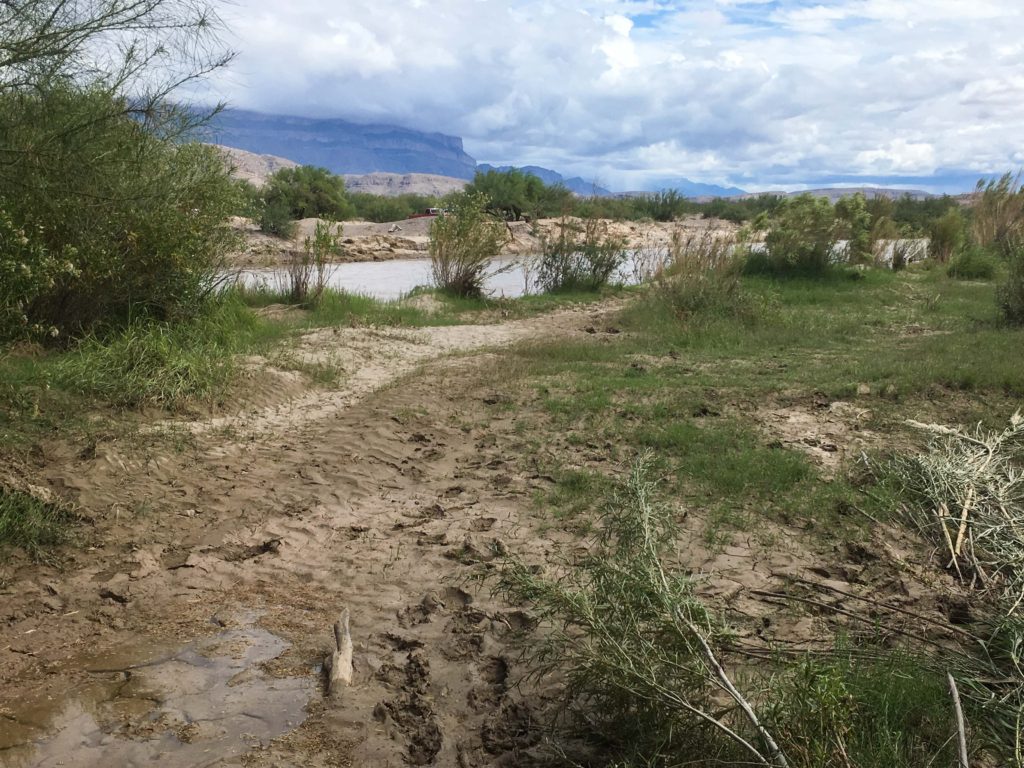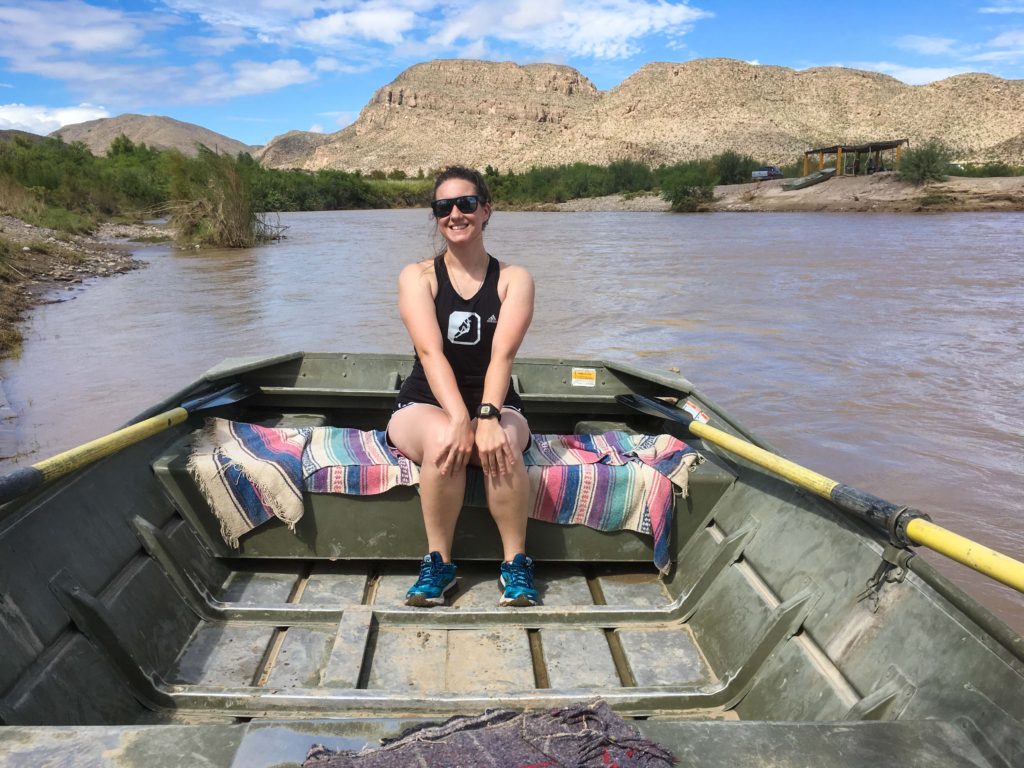 Once across, you could pay for a donkey ride, or get a ride in a pickup truck. We decided to walk the mile over to Boquillas.
A man named Esteban decided to walk with us and guide us over (of course we were expected to tip) and we were thankful that he did, because we would have gotten lost walking over to the town, and it was pretty hot out in the sun.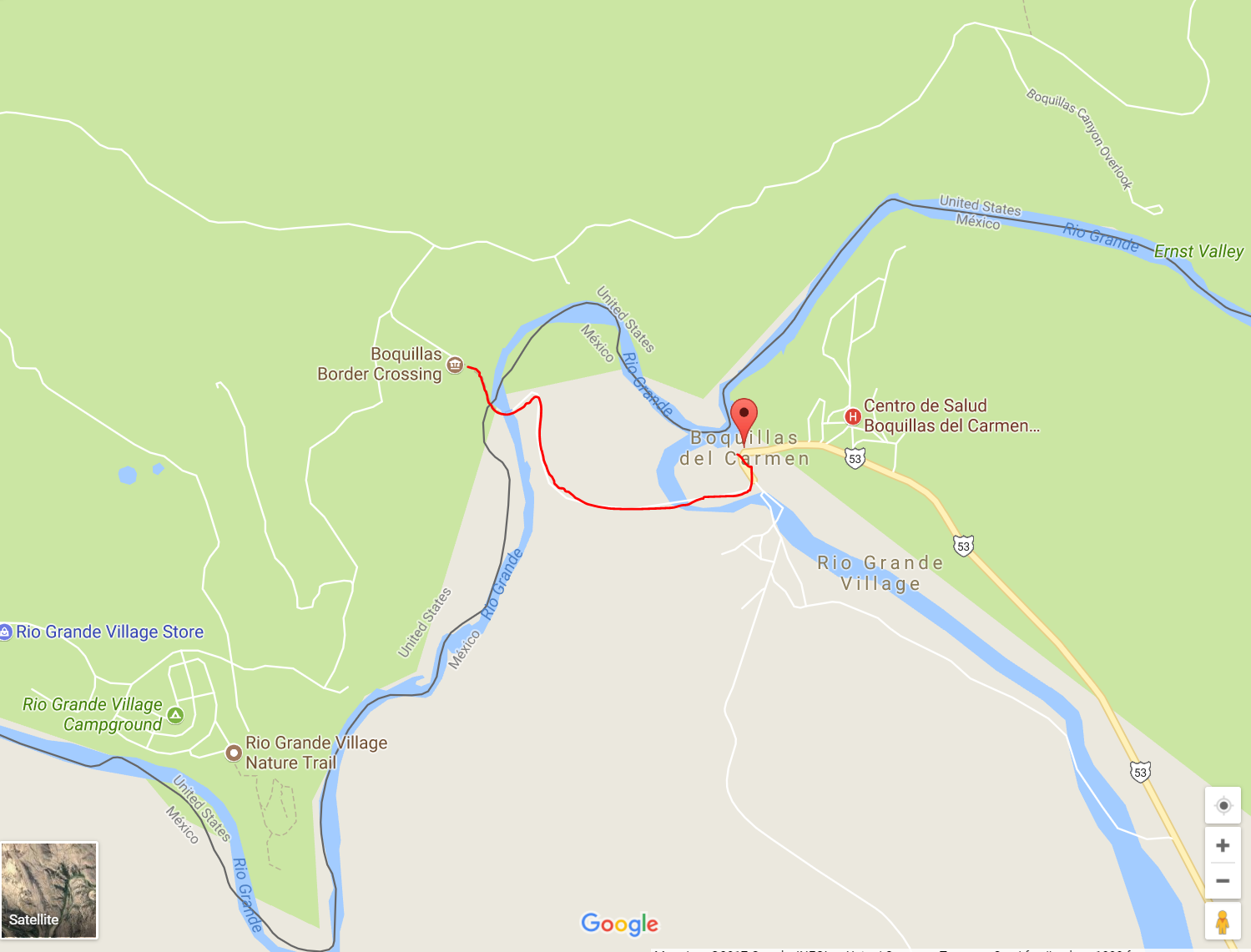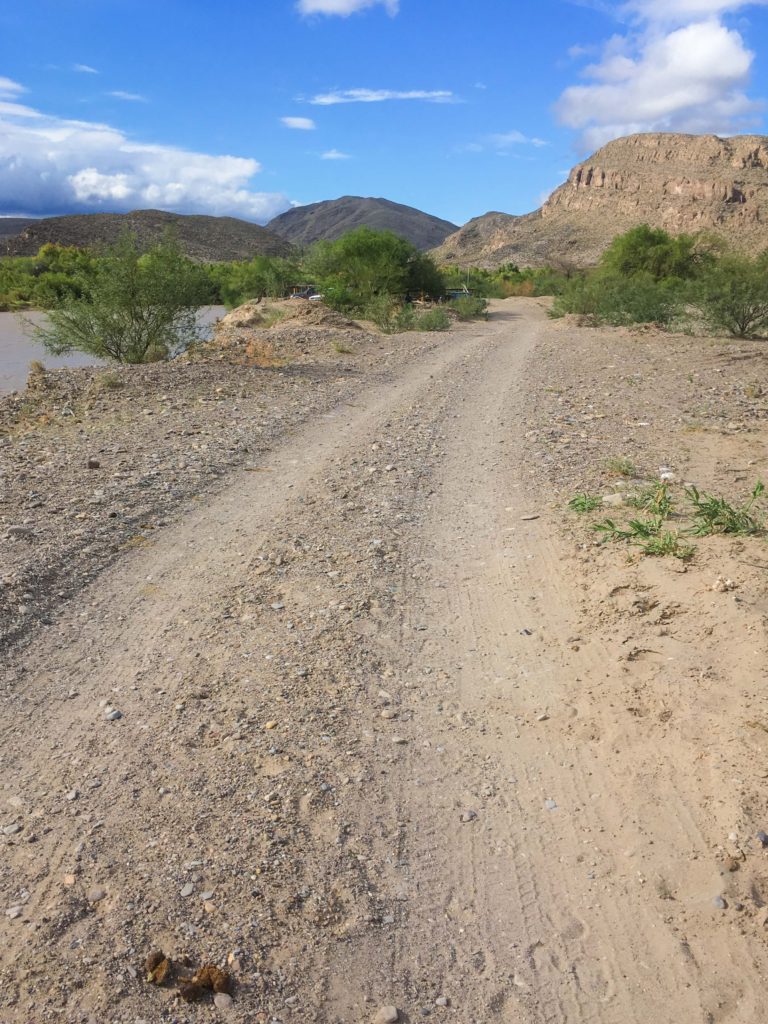 Esteban told us all about the hills and how he makes money guiding people around the old mines. He said geologists like to go study the minerals and rocks in them. He gave us a business card so we'd remember him.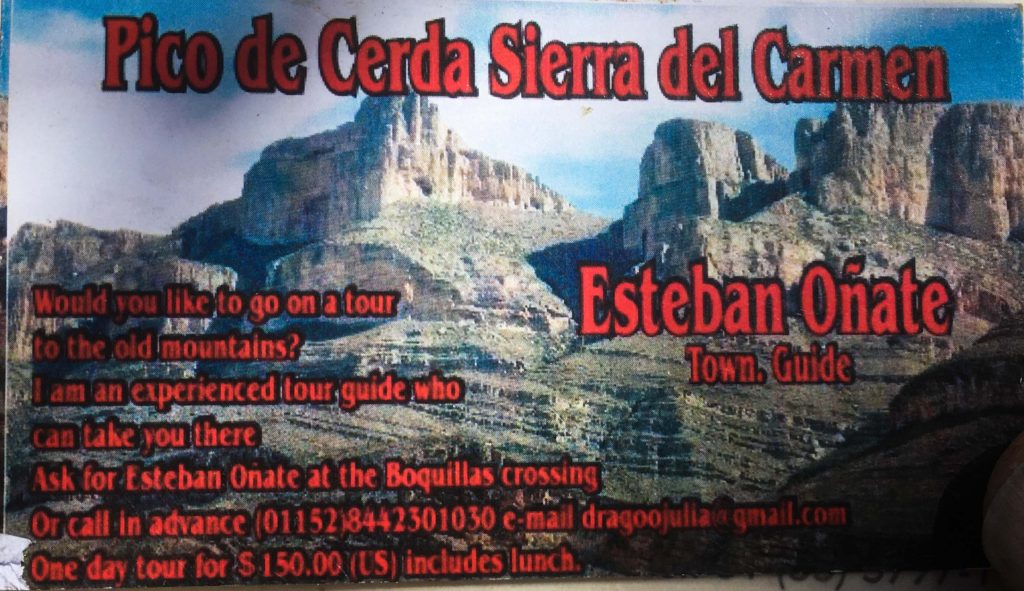 When you get into town, the first thing you need to do is stop by the immigration office. This was another reason we were happy to have a guide as he directed us straight there. All we had to do was fill out an immigration card and they gave us a temporary visa and stamped our passports. Quick and painless!
The Quintessential Mexican Desert Village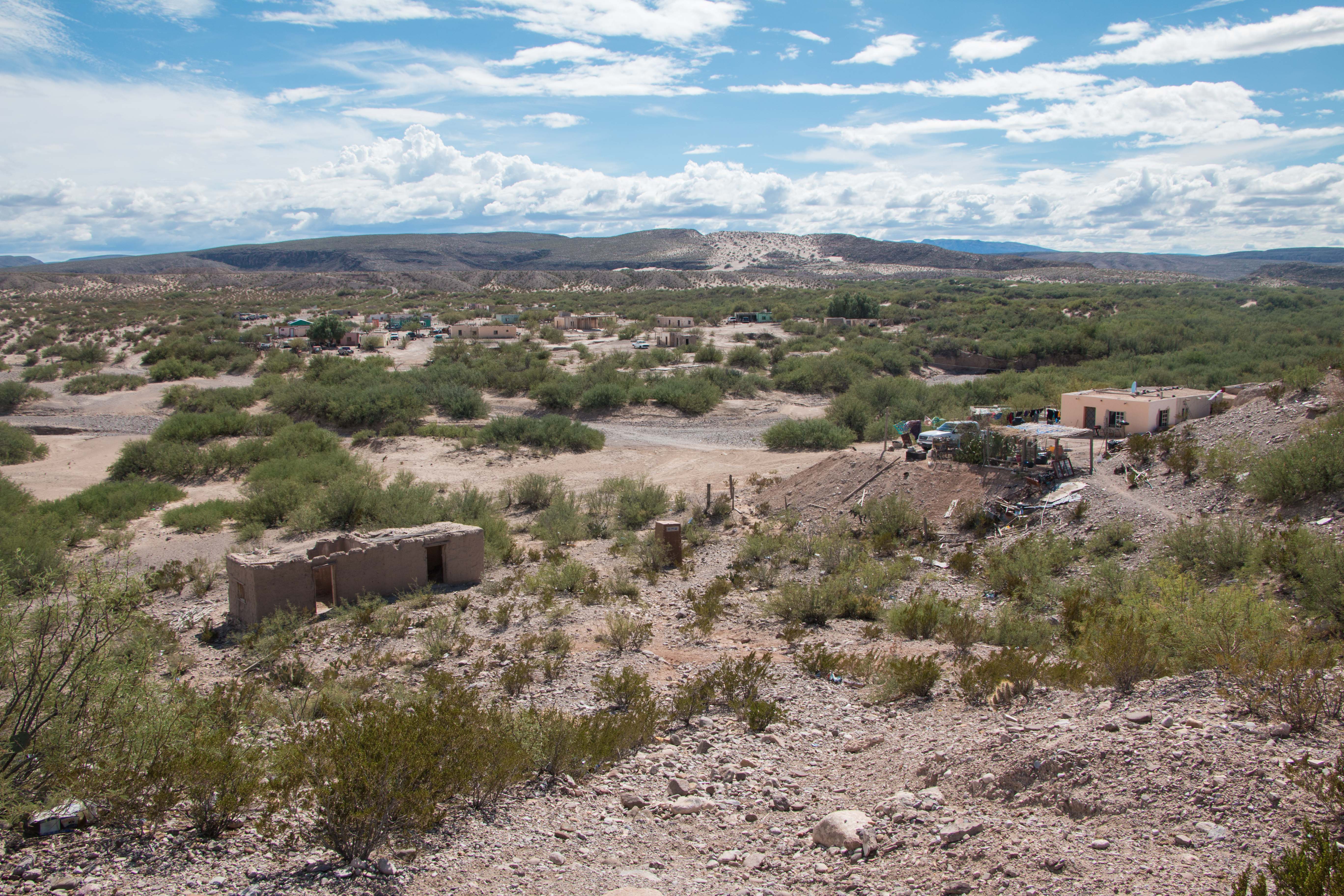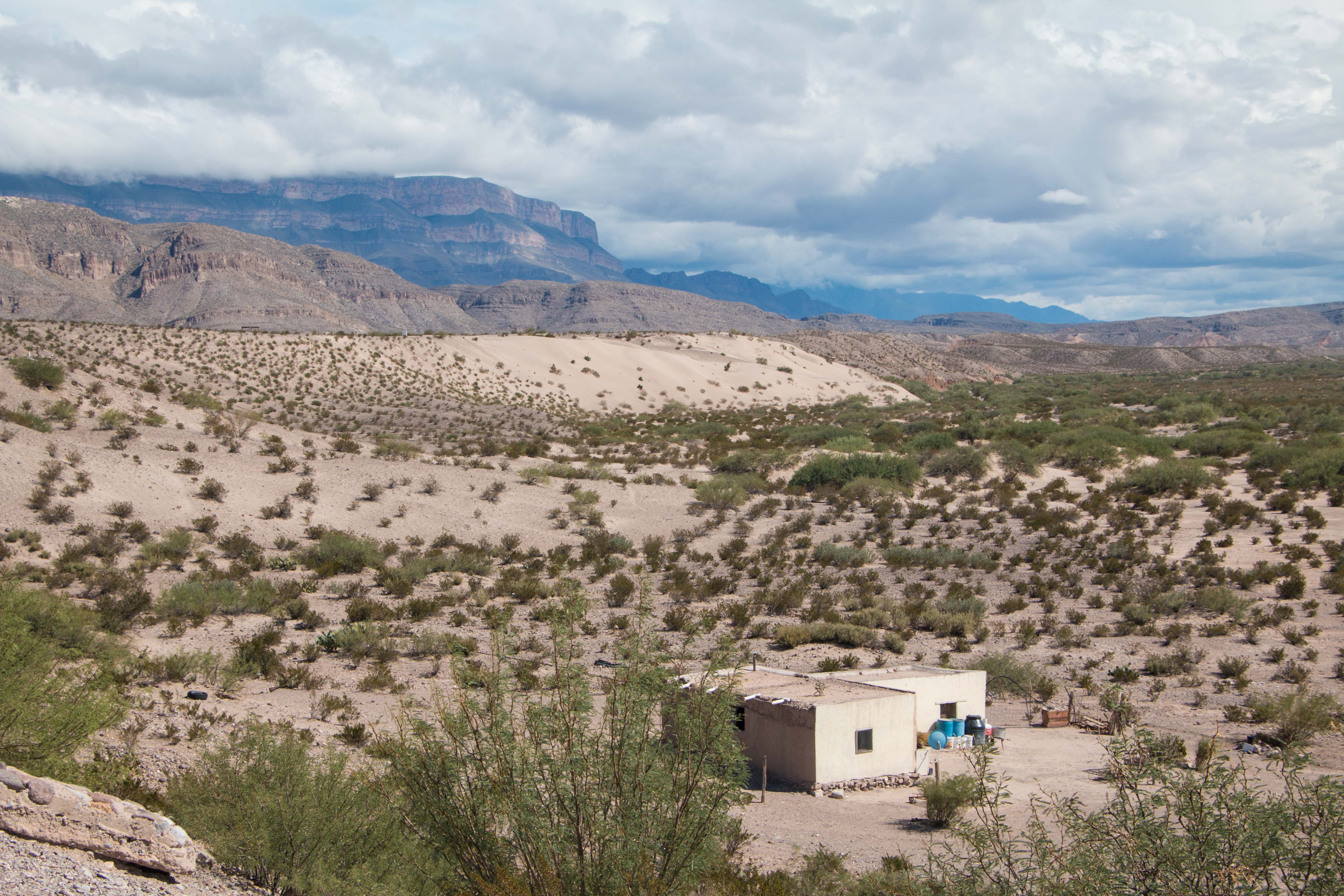 Boquillas looks a lot like the classic desert Mexican town of movies. It was very remote. It had chickens walking around in a pen. There were donkeys and pickup trucks. There were some old abandoned adobe(?) homes.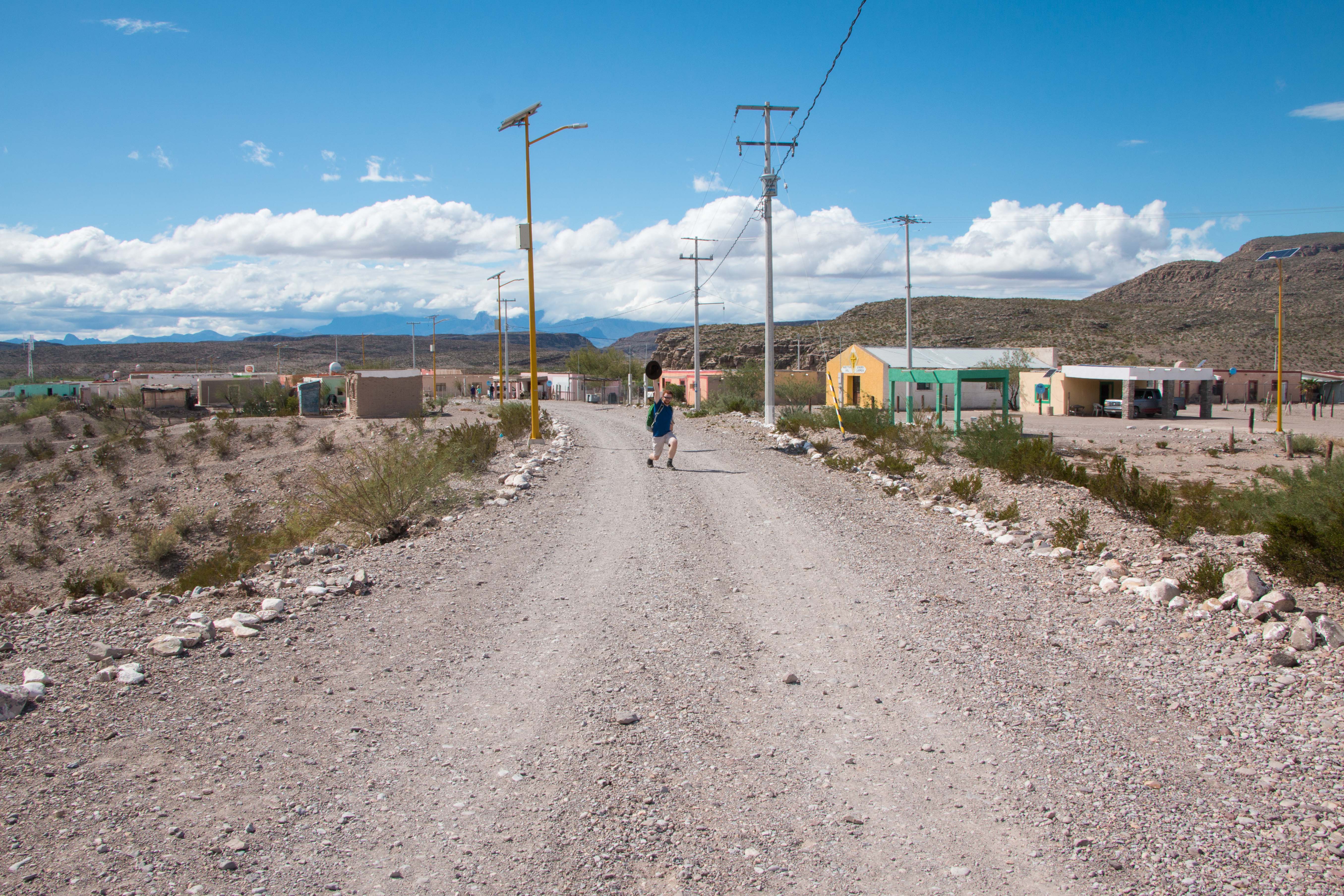 There are only two restaurants in the town plus one cantina. Most of the residents make money either at the crossing, selling crafts, leading tours, or working at one of the restaurants. Our guide really wanted us to stop at his sister's restaurant, but after we said goodbye to him and explored the town to take photos, we ended up choosing to eat at Jose Falcon's.
Jose Falcon's: One of the Two Restaurants in Boquillas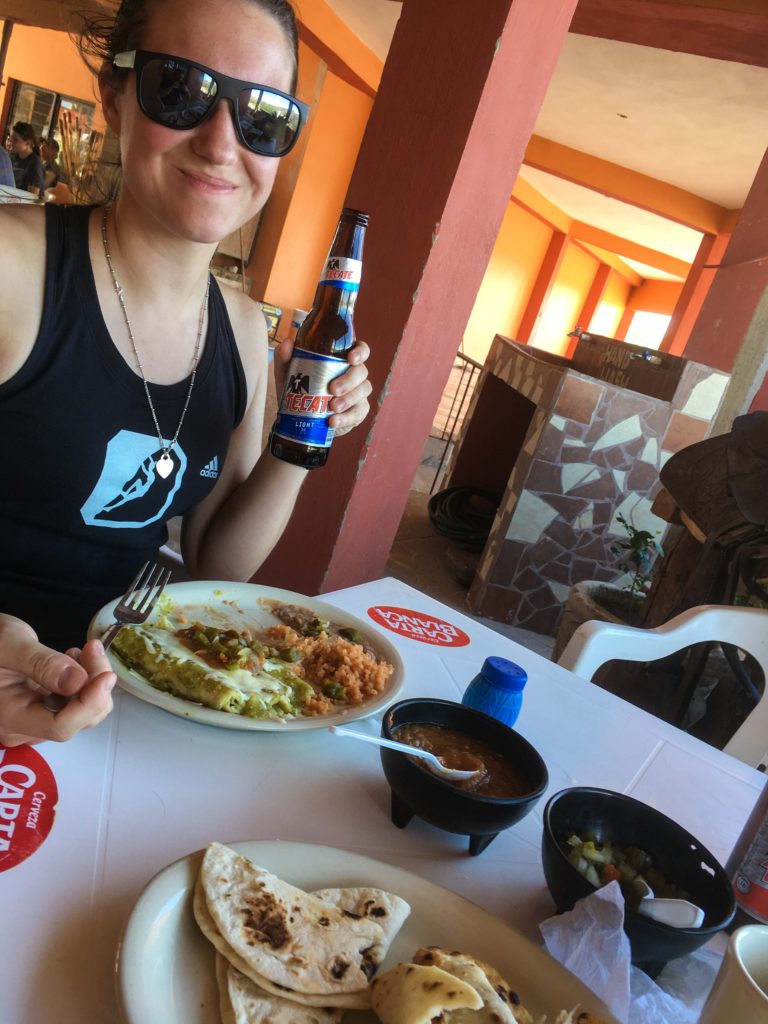 Jose Falcon's has an outdoor dining space that overlooks the Rio Grande and some of the mountains. It is shaded, and very windy which felt great but made using napkins quite difficult. It also had a platform with a vista of the river.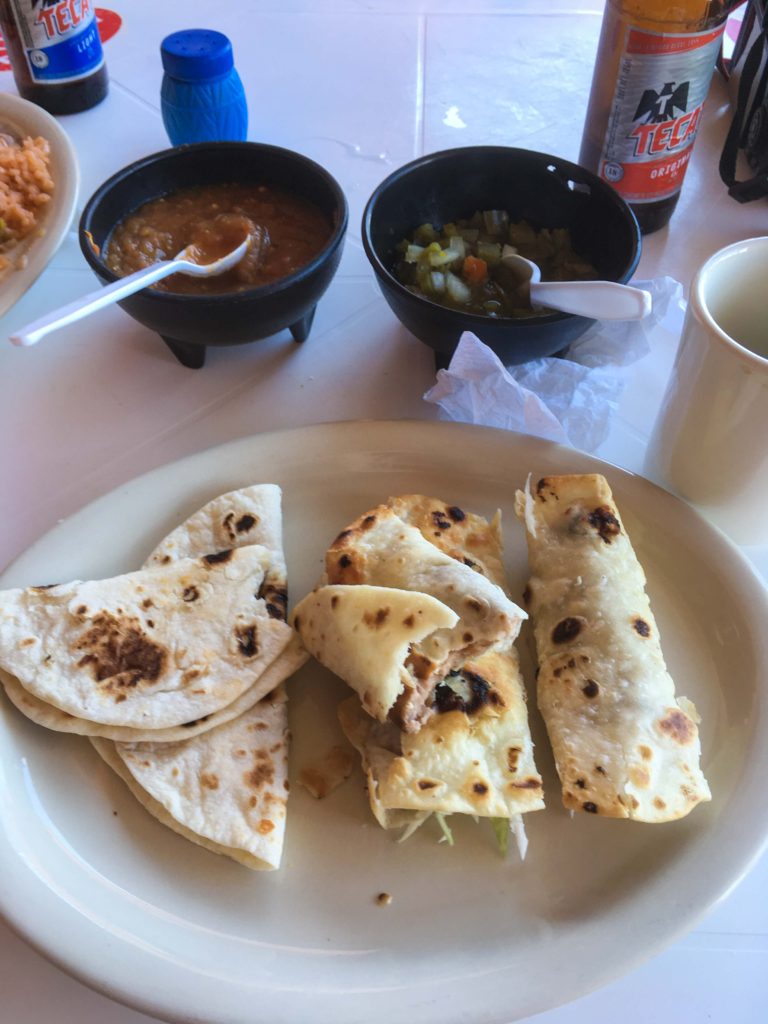 The food here was dirt cheap by American standards. Not only was it cheap, it was really delicious! The food was all really simple, but was the best Mexican food I've ever had! Katie ordered some sort of enchillada with hot sauce while I got a few vegetarian tacos and some bean burritos. I regret that I didn't order more. We also ordered a couple Tecate beers to cool down with. Each part of our meal was only $3 or $4 each.
It was great to take our time eating and enjoying the breeze amid the escape from the hot afternoon sun.
Returning from Boquillas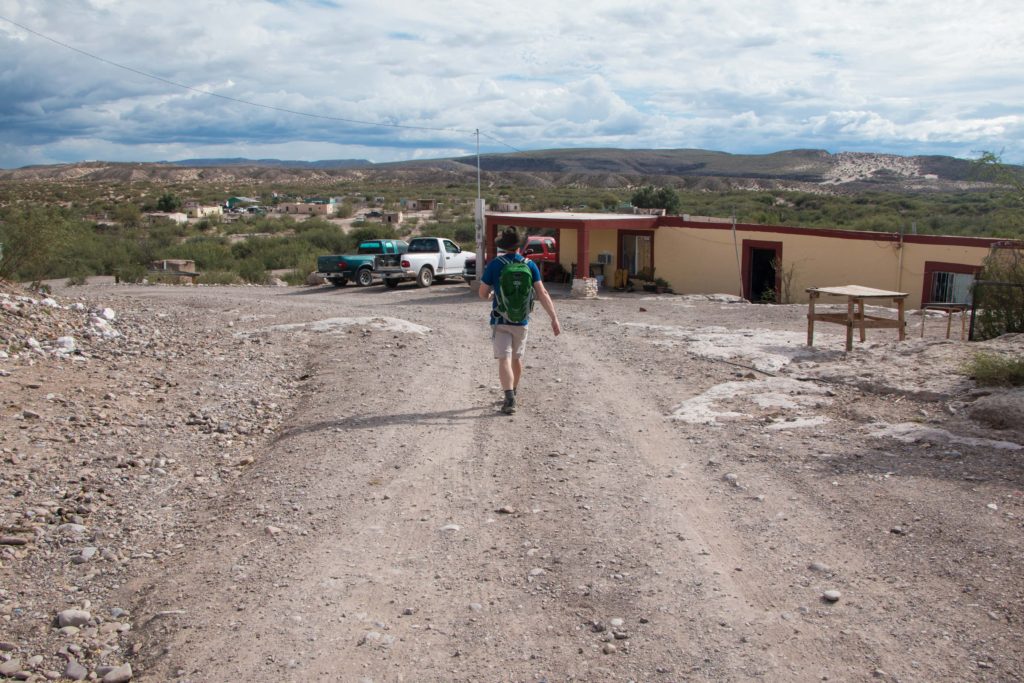 Once we were finished eating, we made our way back to the crossing. There is a pretty early closing time at the border crossing so you need to make sure you finish up your visit in a timely manner or else you're spending the night in Boquillas.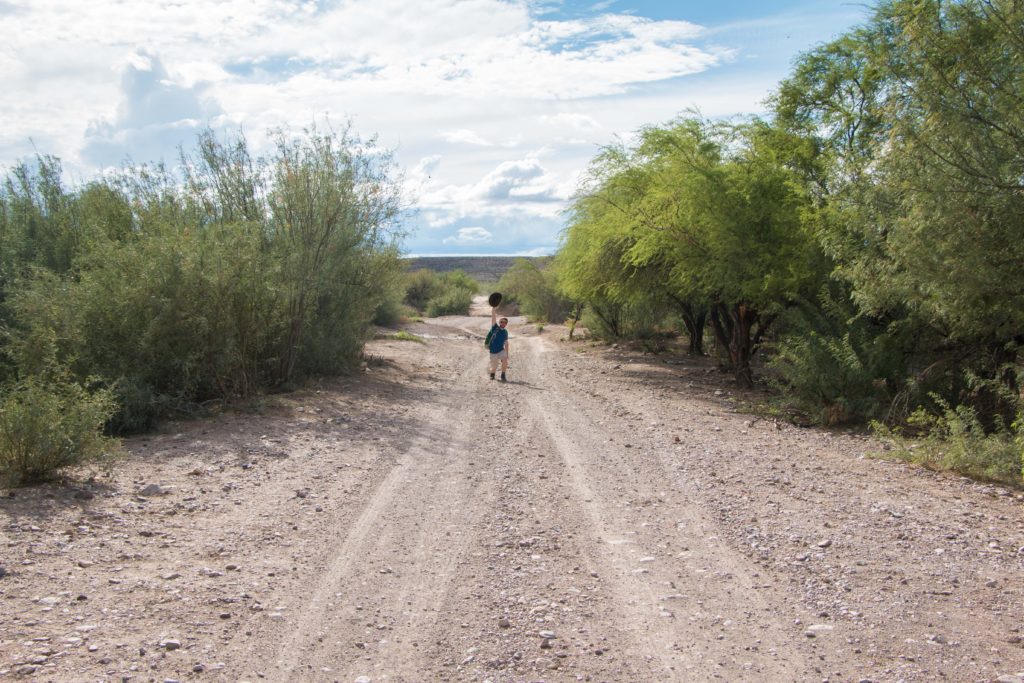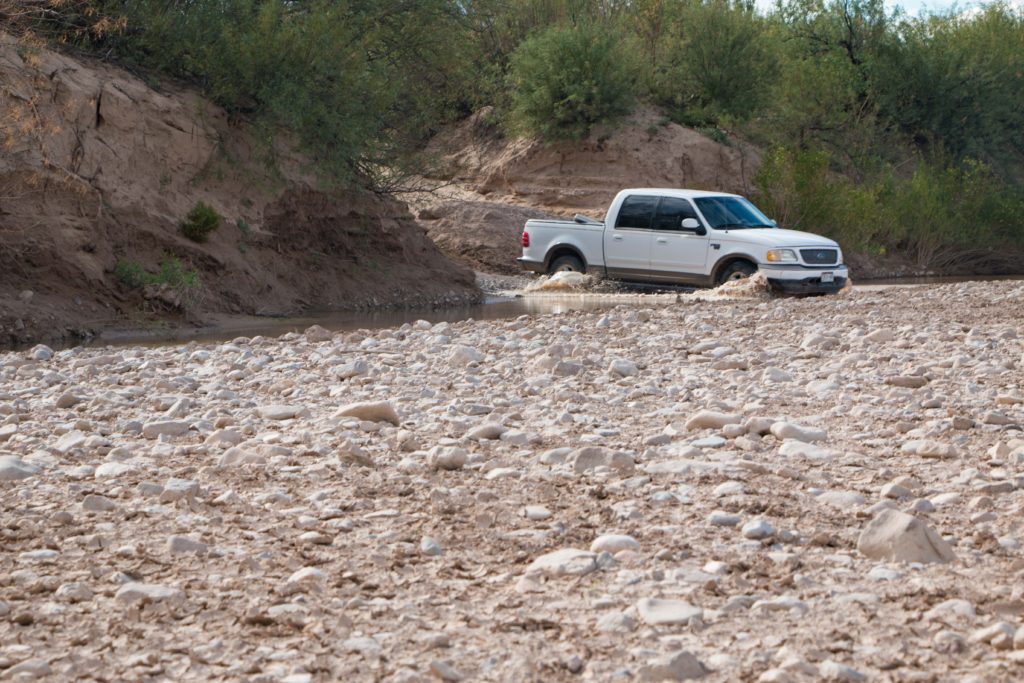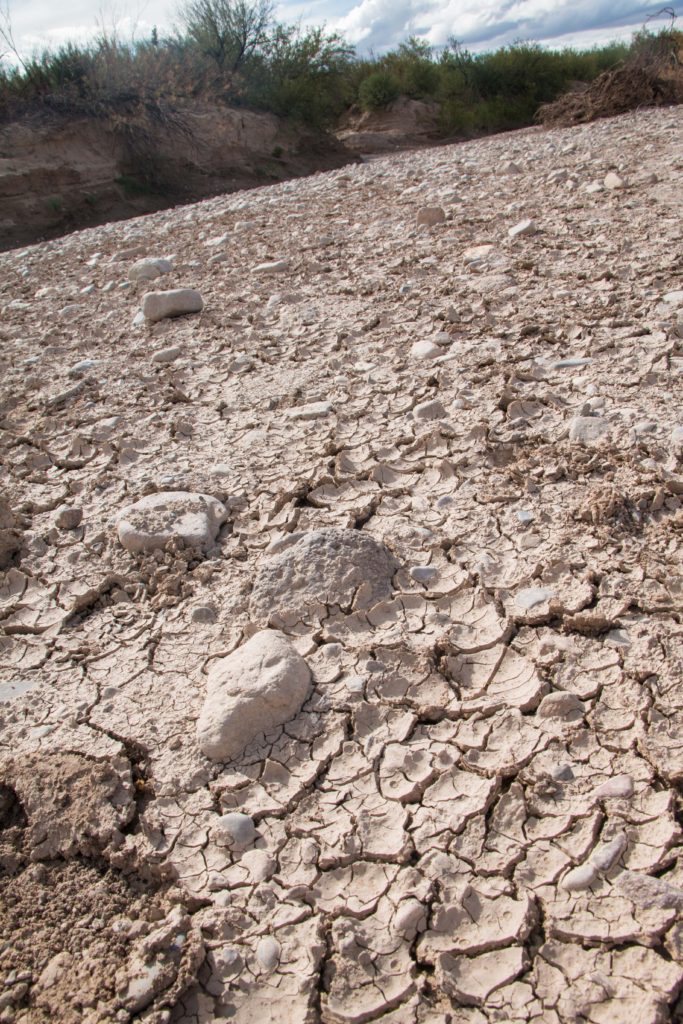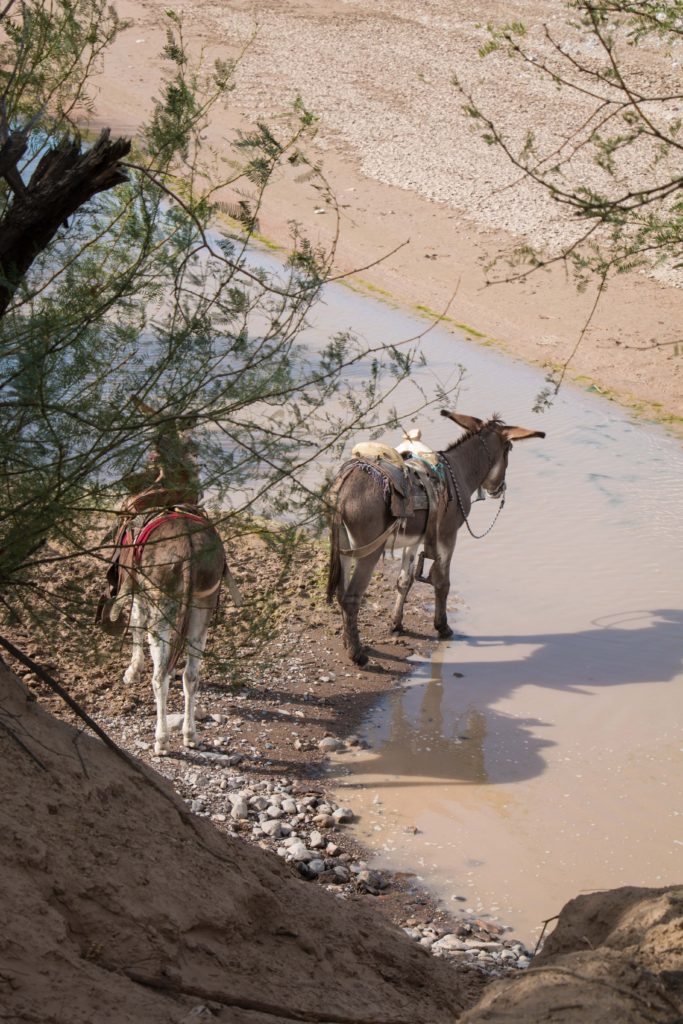 While it's a great town, spending a few hours there is really all you need. We spent about three hours there at a very casual pace and saw all that we wanted to see.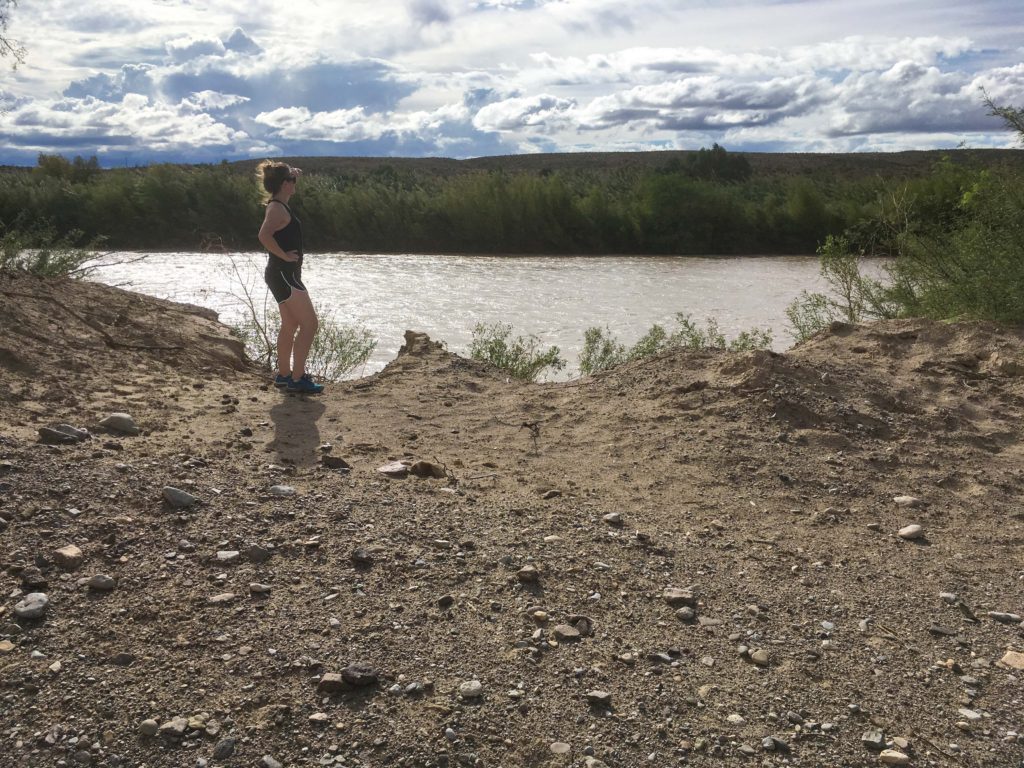 On the American side of the river, the attendant there is an employee of the National Park Service, so they have you walk up to a machine to scan your passport. You have to pick up the phone and answer questions from an immigration official over in El Paso. They basically just asked us what we were bringing back (nothing) and what the purpose of our visit was. It was a quick in and out and we were on our way back through Big Bend.
Visiting Boquillas
If you have the time and a passport, stopping over in Boquillas is definitely worth the visit. When we arrived at the park, we drove straight for an hour to the crossing so we'd make sure to have enough time in Mexico. I'm really glad we went; it was a very memorable day. With $24 for lunch and $10 for the ferry, we spent a total $34 USD combined for the two of us! The residents will be happy you came too.
From the National Park Service's website:
The Port of Entry is open Wednesday through Sunday, 9:00am-6:00pm (summer), 8:00am-5:00pm (winter). U.S. currency is accepted in Boquillas though visitors are advised to bring smaller bills or rely on Boquillas vendors to provide change for their purchases. The Rio Grande Village Store and the Rio Grande Visitor Center cannot make change for visitors travelling to Boquillas.
For more, visit the NPS' webpage as well as the town of Boquillas del Carmen's website
Some More Photos